To provide real estate and infrastructure related diploma and graduation programs, MIT – ADT University and CREDAI Pune Metro join hands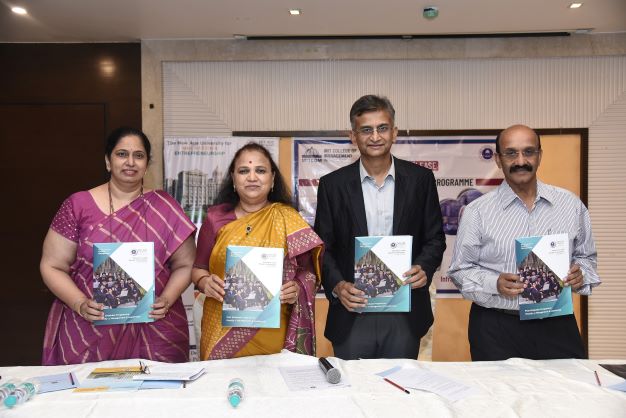 Pune, 2nd June 2022: MIT-ADT University & CREDAI Pune Metro in mutual interest have come together to collaborate in an academia-industry partnership program for training the graduate students from any discipline and qualify them for the Real Estate sector, post their training students shall be ready for employment in the sector upon successful completion of their courses.
MIT-ADT University is a prestigious university driven by the vision of delivering world class value based education. CREDAI-Pune Metro is an Association of real estate developers of Pune, Pimpri-Chinchwad and PMRDA region with a strong membership of around 1120 developers having their projects in the areas mentioned above.
Through KUSHAL, its training wing, CREDAI-Pune Metro has been empowering workers with skills that will help their career path. So far more than 70000 construction workers have been trained in various trades and also over 2000 Engineers.
Ranjit Naiknavare, Vice President CREDAI Pune Metro said, "There is a huge shortage of qualified & trained personnel specifically in the Construction Industry in both technical & non-technical side. Accordingly, to bridge this gap we at CREDAI Pune Metro have entered into this path breaking MOU with MIT-ADT University. With this step, we are sure that the programs offered will open job avenues for all the qualified students.
J. P. Shroff, Chairman Kushal said, "Skilled manpower is a need of an hour in all the industries. Through this unique partnership of industry and academia, students from all disciplines will be trained based on industrial requirements by Industry Stalwarts through these courses. This will increase the employability of the graduates and assure job opportunities in the real estate sector."
Courses offered under this program are as follows
Post Graduate Diploma (PGD/) in Real Estate & infrastructure management (from July 2022) – This One Year Post Graduate Diploma Program offered by MIT College of Management, MIT ADT University, is a tailor-made program designed in response to the needs and demands of the construction industry. This course aims to provide training and employment to graduates from the city and mofussil areas. Graduates from any discipline can apply for this course. There are many job opportunities in the construction industry for such students.
BBA Real Estate & Urban Infrastructure Management (from July 2022) – t is an undergraduate level Bachelor's Degree program. The course focuses on the domain of real estate, infrastructure and urban development. This course helps to deal with tasks like land, surveying, cost estimation, construction planning, hiring labour, regulatory processes and project management. Along with them, the course also covers subjects related to the field work in real estate including urban development, planning and infrastructure.
Commenting on this tie-up Dr Sunita Karad said, "I am extremely delighted to launch the two programmes; one at the postgraduate level namely Post Graduate Diploma in Real Estate & infrastructure management and the other at the undergraduate level; BBA Real Estate & Urban Infrastructure Management."
"We feel that intense competition in every field has necessitated the need for such sector specific programmes. Both the programs are designed in response to the needs and demands of the industry and will provide specialized knowledge and skills relevant to the real estate industry. These programs will enable students for a guaranteed job realising their dream as a high flying management career in the real estate industry", she added.
Infrastructure sector is the key driver for the Indian economy. The Indian construction industry employs around 51 million people – the second-largest employer – and contributes around 9% to the country's GDP. Additionally, it creates more than 45 million jobs either directly or indirectly. By 2022, the Indian construction space is predicted to become the largest employer and set to employ 76 million people from the current levels of over 60 million.