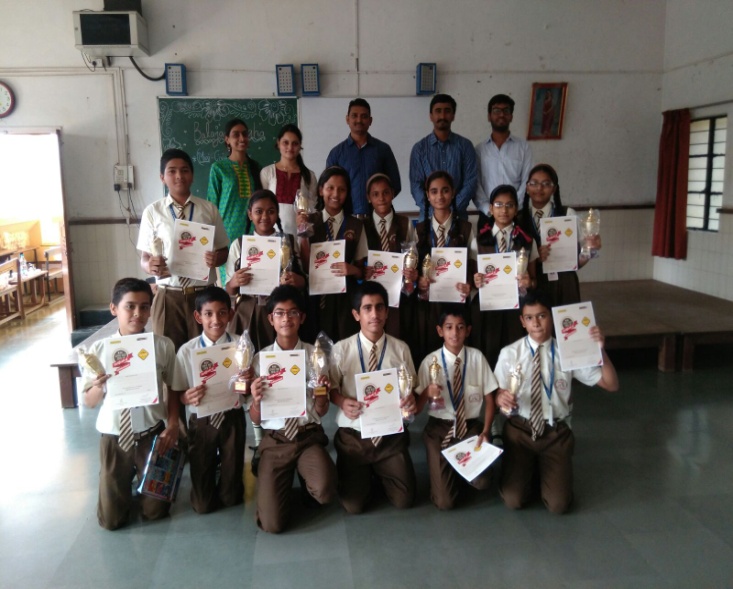 Pune : Janaagraha, a Bangalore-based NGO that works with citizens and the local government to improve the quality of life in Indian cities and towns, has been successfully running a practical civic awareness (citizenship education) program called Bala Janaagraha for the past 13 years in Bangalore and 23 other cities across India.
This program is provided free of cost to the Grade VIII students and aims at transforming today's children to active citizens of tomorrow.
The Bala Janaagraha program encourages the youth of India to become informed, responsible and active citizens by making good citizenship values an integral part of every child's education. It is a uniquely designed, carefully thought out practical civic education program conducted for Grade VIII students of Government, Aided and Private Schools in urban centres across the country.
Civic project is a part of this program in which students have to choose one road near their school and find out the civic problems after then they propose solutions for solving those problems and act accordingly.
Nine schools participated in the 1st Mini civic fest of Pune .The schools are Nagarvala Day school, Nagarvala Residential school, Sardar Dastur Hormazdiar school, Pune International School, Phoenix School, Anjali English School, Pune District Education Assosiation's English Med School, St Francis De Sales School, Sunrise school and Winner team Anjali English School.
The students of Anjali School choose the road near Brahma Suncity society in Vadgaonsheri. They conducted a survey of that area and collected data. After analyzing the data they came to know that the major problems are – Garbage accumulation, No dustbins, footpath don't exist even though there is space for footpaths, open drainage which can cause accidents.
For solving those problems they visited the corporator of that area. He promised them to start the work of footpath after Diwali. He also told them that PMC van comes daily to pick the garbage but because of lack of awareness people use to throw garbage on the road. For creating awareness students organized a cycle rally. After the rally those students went to the garden in front of Brahma Suncity and interacted with the localities requested them not to throw garbage anywhere. Students also gave some cartons to the vendors to use them as dustbins.
About Janaagraha
The Janaagraha Centre for Citizenship and Democracy is a non-profit organisation based in Bangalore, India. We aim to improve quality of life in urban India, through systemic change. Janaagraha sees 'quality of life' as comprising two distinct, but inter-related aspects – 'quality of urban infrastructure and services' (the quality of urban of amenities such as roads, drains, traffic, transport, water supply etc.) and 'quality of citizenship' (the role that urban citizens play by participating in their local communities). We work with both citizens and government to catalyse civic participation from the grassroots up, as well as governance reforms from the top down.
Founded in 2001 by Ramesh Ramanathan and Swati Ramanathan, Janaagraha started as a movement to enable citizen participation in public governance.It has now evolved into a robust institution for Citizenship and Democracy.
About Bala Janaagraha
Bala Janaagraha, a practical civic education program aims to transform today's children into informed, responsible, and active citizens, with a focus on addressing local civic issue.
Bala Janaagraha is conducted for Grade 8 students across government, aided, and private schools in 11 urban centres across India.Bala Janaagraha uses an interactive child-focused pedagogy with three core components:a structured module of classroom sessions, a hands-on practical civic project, and a civic fest which is an exciting platform for students to showcase their civic projects to each other and to compete for the chance for recognition for outstanding work. A curriculum book called 'I Change My City' is provided to support the curriculum and covers topics to do with understanding how local governance in their city functions, understanding sustainable urban development, and contributing as an active urban citizen. At the end of the Bala Janaagraha students should be able to:
Describe and explain 'quality of life' in the context of local governance, its key aspects and their thoughts and opinions on these.
Describe and explain what 'active citizenship' means to them and for them – with special reference to its key aspect of 'civic sense'.
Identify the key actors of local governance and their roles – in as much as it relates to a high quality of life and how the functioning of these actors can be made more responsive by the practice of active citizenship.
Understand how to source data to make evidence-based decisions on every day issues that affect all citizens and how to work with the local governance system to solve the issues.
‪#‎BalJanagraha‬ ‪#‎RoadSafety‬ ‪#‎CivicSense‬ ‪#‎pune‬ Dr(mrs)Erin n. Nagarvala Day School, Sardar Dastur Hormazdiar Junior College,Pune International School, Anjali English School, Jagdish Mulik‪#‎UrbanDevelopment‬