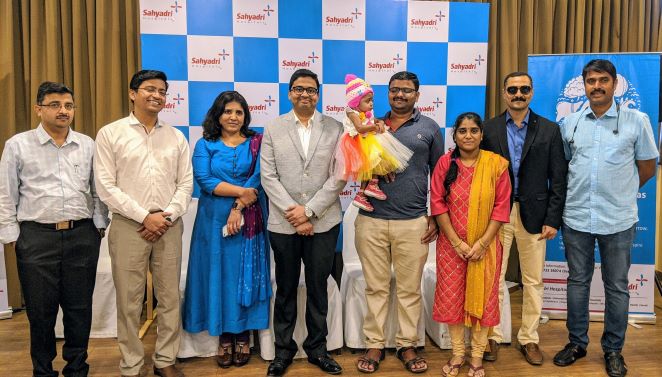 Pune 23 January 2020 : A two and half year old girl from Karad fought rare metabolic disease in a miraculous way . A team of doctors at Sahyadri Hospitals successfully conducted a liver transplant on the girl who was battling with liver failure right from the age of one, along with complications which followed. From diagnosis of rare metabolic liver disease to liver failure to progressing kidney failure, to hint of liver cancer and then rejection of new liver post transplant, the team of doctors successfully managed the extremely complex situation.
Explaining the case Dr Bipin Vibhute, Head of Liver and Multi-organ Transplant department at Sahyadri Hospitals, said that Swara had developed signs of advanced liver failure at 1 year of age with ascites (accumulation of fluid in the abdomen), jaundice and failure to gain weight. She was stabilised with medical management without a specific diagnosis. At 1 ½ years of age her condition continued to deteriorate and was managed with supportive treatment until she was diagnosed with a rare metabolic liver disease named Tyrosinemia which causes liver failure progressing to kidney failure if not timely managed. She was advised to undergo a liver transplantation but could not arrange the finances for the same. The baby's condition further deteriorated with kidney involvement. As a result her body became deficient in vital electrolytes and nutrients like sodium, potassium, calcium, magnesium, phosphorus and vitamin D. Because of this she developed deformities of all the bones mainly of the upper and lower limbs and the chest leading to multiple fractures.
Dr Snehawardhan Pande Paediatric Hepatologist, Sahyadri Super Speciality Hospital Nagar Road said that Even with the deteriorating disease condition and lack of finances her father did not lose hope and went to many cities in India with a hope to find some assistance to save her daughter. When the child reached Sahyadri Hospital at 2 ½ years of age, the baby was very sick. She had a weight of 5.9 kg (which is the weight of a well 4 month old child) with deformed arms, legs and chest. She was extremely irritable with a distended abdomen with severe dehydration and a pneumonia. The child was admitted in the paediatric ICU and managed aggressively for these complications.
Dr Sagar Lad, Paediatrician , Sahyadri Super Speciality Hospital Nagar Road informed that her father approached the liver transplant team at Sahyadri Hospital who decided to help the spirited father. The hospital administration facilitated the funding for the transplant and post transplant care through various in hospital and non government organisations. The child was on the ventilator support due to Pneumonia. Her dehydration and electrolyte imbalance was corrected and nutritional rehabilitation was done with nasogastric feeds. Her USG and CT abdomen showed evidence of liver cancer which made the transplant more risky. However, after detail investigations and discussion with the family it was decided to go ahead with the transplant. The mother decided to be the donor for the surgery.
Dr Sheetal Mahajani, Director – Hepatology, Transplant Hepatology, Gastroenterology and GI Endoscopy Department added that Swara underwent liver transplant after 10 days of hospitalisation and stabilisation. The transplant surgery was extremely challenging due to these medical issues and lasted for 14 hours. The baby regained consciousness after 2 hours of the surgery and shifted to her room. Post transplant she developed severe acute rejection due to the body's immune mechanism which tried to reject the new liver. This was managed by medication and other immune suppressants and she showed improvement of her liver functions. She gradually showed improvement in general condition, increase in appetite and overall well being. The electrolyte imbalances further worsened as the new livers demand for growth increased. This was very well managed by strict monitoring and dose modifications of various medicines. She was stable but unfortunately developed high grade fever due to an abdominal infection which did not seem to be responding to any antibiotics. Her condition worsened one day when she went into shock and had to be shifted on the ventilator. The Infectious Disease specialist team identified a rare antibiotic to which the infection responded which was procured and timely started. She showed steady improvement thereafter. Her clinical condition improved and she was removed off the ventilator. It was a tricky situation for the transplant team in balancing the doses of immune suppresive medications on one side which lowers the immunity to protect the new liver from the rejection and the antibiotics which increase the body's immunity to fight the infection. With the help of the expertise and the efficient team work of the transplant surgeons, peadiatric hepatologist, peadiatric intensivist and infectious disease specialists the child improved with resolution of infection, stable graft function and improvement in renal function. She was discharged after four weeks of her surgery and is on regular follow up.
Dr Dinesh Babu , Transplant Anaesthetist Sahyadri Hospitals said that the fact that the girl was undernourished weighing merely 5 kgs with liver and renal failure made the surgery very complex. The post transplant care which also witnessed a lot of difficulties had to be effectively managed.
Dr Vibhute assured that the family continues to receive assistance from the hospital for routine blood investigations and care even after discharge.
Dr Ketan Apte , Unit Head Sahyadri Hospitals said that we would like to congratulate the team of doctors who successfully managed her medical condition which was complex. We have dedicated our Nagar Road Unit for paediatric transplants under our initiative, Mission Prerana where for this case Pravin Agarwal, Founder of Pravin Agarwal Foundation and Transplant – Help the Poor Foundation lend their support.