Unknown History of Railways and Vadar Laborers in British India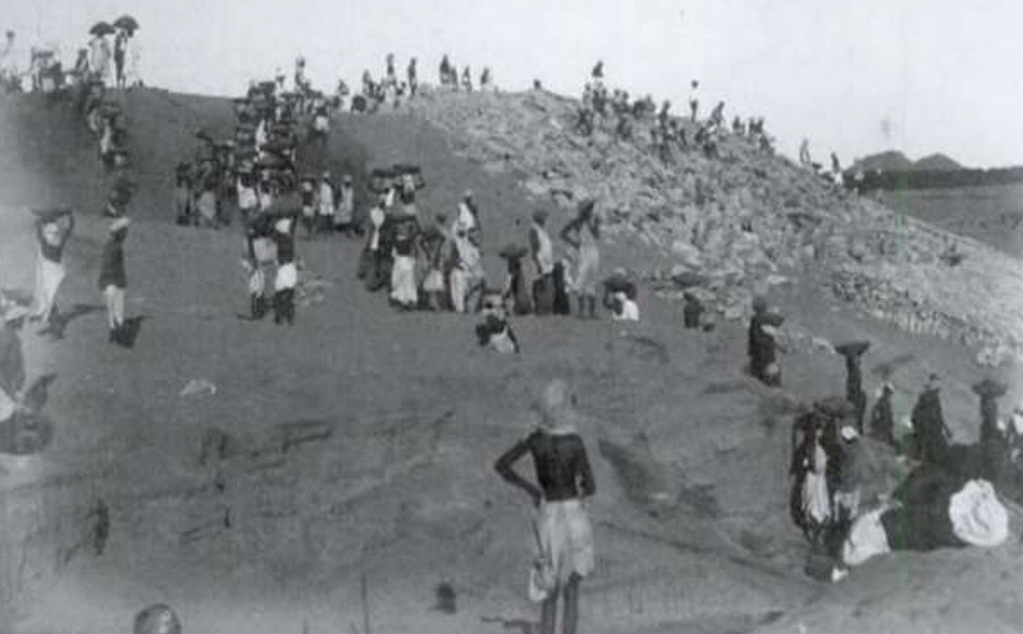 Dr Jagannath Sawant
Islampur, Dist. Sangli. Maharashtra
26 August 2021: Vadars are known as the hardest working community in India. Finding and digging quarries, breaking-stones, stone carvings, construction of roads, dams, and buildings, and digging of lakes and wells, etc. 
Traditional works have been done by the Vadar community since ancient times. Documents and reports from the British Public Works Department as well as the Forest and Railway Department show that the construction of buildings, lakes, roads, railways, bridges, and dams, etc., was mainly done by Vadar labourers. 
On November 27, 1852, a British engineer from Vellore, G. C. Collyer had sent a letter to the then Railway Commissioner T. T. Pears. And that letter describes Vadar labourers and their excellent work skills.
Collyer writes in the letter, 'Vadar labourers do stone construction work. They work hard to build roads, bridges, irrigation canals, dams, and lakes. They work in groups with small and large contracts and have a chief, and he works to pay the labourers in the group. All men and women, from old to young, work in pairs. Stone, brick, earthen and strong constructions, stone quarrying are done only by their families and their wages are their wealth. They are very smart and good labourers. There is no doubt about the work of the Vadars. They have the smell of hard work and are excellent road workers. There is no doubt that they are always in greater numbers. When they feel right, they come to the place of work in a crowd'. 
In 1837, Vadar labourers were very much involved in the construction of the first railway line from Red Hills to Chintadripet near Madras and 1852 between Mumbai to Thane. As Vadar was physically strong and hard-working, he was given many works in British India. His method of constructing excellent buildings, roads, and railways was known not only in British India but also in Europe. On January 8, 1862, T. H. Going (Esq., Foreign life member) sent a letter from Madras to M. B. Mullins, a famous engineer in Dublin, Ireland. The letter mentions the excellent working skills of the Madras Railway and the Vadar labourers. 
In the letter, T. H. Going says, 'The Wudder labourer in India builds railways in a different way than the usual railways in England." This description of going is in reference to the Vadar labourers while constructing the Madras Railway. 
Going describes the Vadar community of that time as, 'The Wudder is a hardy, sinewy fellow, whose stock in trade consists of a house, which, when on his travels, he transports on the back of his donkey, or else on the head of his wife (no remarkable instance of tyranny, since it consists of nothing but a mat and a few bamboo stays); then he has a heavy crowbar, a few iron wedges, some earthen pots, a dog, and a small stock of rice.' 
They were not getting enough food even after working hard on roads and railways. Despite not getting enough food, they built the best railways in British India. Due to the Perseverance and hard work of the Vadar labourers, they and their techniques were used by the British engineers and capitalists in the construction of railways, dams, irrigation, lakes, and roads. 
According to the Bombay Province Gazetteer of 1885, 'The MatiVadars or earthmen carry on their asses the earth wanted for buildings, repair dams and take earthwork contracts on roads and railways. They are excellent workers; almost always working by the piece.' 
According to the 1931 Royal Commission Report, 'Vadar labourers were heavily involved in the construction of the railway line.' 
The construction and repair of British-era railways, roads, buildings, and dams, etc., appears to have been carried out mainly by Vadar labourers. According to the Coimbatore District Manual dated 1887, it is mentioned that in many places the work of digging stones, digging wells, and building bridges was mainly done by Vadar labourers. In 1890, Vadar labourers were involved in the construction of a railway bridge over the river Krishna at Vijayawada (Andhra Pradesh).
Vadar labourers contributed a lot to the construction of bridges on the rivers Krishna, Kaveri, Godavari, Bhogawati, and Panchganga. Vadar labour was a major source of construction for many roads, railways, buildings, dams, and irrigation in British India. 
According to the Bellary District Public Works Department report of 1852, 'labourers were being supplied to work in other districts.' Apart from Mumbai and Madras, Vadar labourers were being supplied to build railways in the United, Central, and Bengal Provinces and Burma (Myanmar). According to the then government report and the reports of Western scholars, a large number of Vadar families were migrating to build railways, roads, and bridges. According to William Crook, 'Vadar is a labourer working on railways and canals'.
Edgar Thurston says, "Vadars are labourers in this country." R. E. Enthoven says, 'The skill of Vadar in earthwork and masonry has led to a demand for their labour in all parts of India'. The good working skills of the Vadar labourers seem to have been in great demand in British India. The men and women of the Vadar community are physically strong, honest, working very hard for a low wage, so the British companies and the capitalist classes have used their labour in many constructions. How many hours do we work and how much is the value of labour, Vadar labour always seemed to be ignorant about this because he lacked educational knowledge. Vadar labourers, who worked very hard at a low price, remained the main source of income for the capitalists and their contractors. 
The Scottish scholar Francis Buchanan came to India in the eighteenth century, He mentions in his travelogue 'A Journey from Madras through the Countries of Mysore Canara and Malabar' that, Vadar was doing various works in South India. Francis says, 'The Woddas or Woddaru, They dig canals, wells and tank's, built dams and reservoirs; Make road.' 
Francis Buchanan goes on to say, that the woddaru lived in huts outside the village. On the whole, in pre-British and British times, it is seen that the Vadars lived outside the village. Due to the Indian caste system, the Vadars did not have access to villages. The established upper-class people in the villages have always deprived them of village life; but due to the traditional occupation, the Vadars kept in touch with the village. For many years after the independence of India, the Vadar community lived outside the village. With no modern techniques and uneducated Vadar labourers and artisans have contributed a lot to the art and architecture of British India with the help of tools like Crowbar, Sutya, Cube, Spade, Hammer, Chisel, Plumb and Rope, etc. 
Despite being uneducated, the various constructions and construction skills created by the Vadars show how profound their knowledge, art, and technique were. The art in Vadar labourers is not just traditional; it is his passion, skill, and dexterity. Western scholars come to India and study the artisans and labourers here, but Indian historians and scholars seem to have neglected the Vadar labourers and their excellent handicrafts and knowledge. It is a fact that to date no complete history of artisans and labourers has been written. The best work done by labourers and artisans in India and they are always underestimated. This is because the children of our country are not taught to respect labour. Labour is not respected in Indian society because any activity based on labour is despised within the framework of the caste system.
(The author can be reached on email  human5580@gmail.com
Mob. 7350408686)