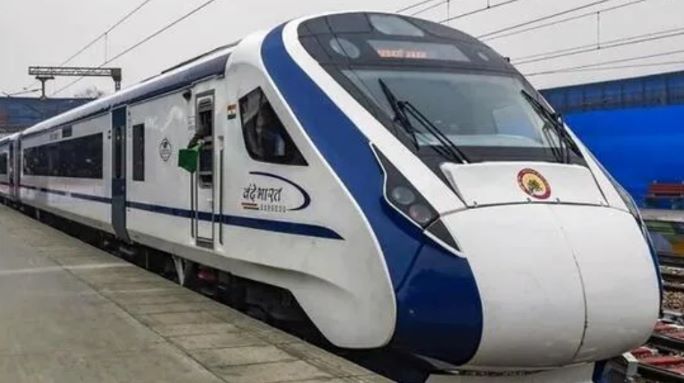 Mumbai, 3rd June 2022: Maharashtra's rail travel to boost up as the state is due to receive its first Vande Bharat trains, with Mumbai and Pune as one of the routes. This semi-high-speed train is the quickest in the Indian Railways system.
After the Vande Bharat trains are implemented between the routes, travel time between the two cities will be decreased to 150 minutes or two and a half hours. Even though the railway has yet to set a date, the two new trains are likely to begin service on August 15.
The Deccan Queen, which takes three hours and ten minutes to travel between the two cities, is the fastest train at present between the two cities.
Also Read Pune – Mumbai Expressway Becoming A Dangerous Spot For The Commuters
A senior Central Railway official said, "We took the decision to introduce Vande Bharat trains between the two cities because the trains have chair cars and can be operated smoothly on the route."
The Vande Bharat trains now only have chair cars as seating arrangements, hence the Mumbai-Pune route was chosen.
In 2023, the railway ministry plans to install phase 2 of the Vande Bharat trains with AC sleepers, which will run between Mumbai's CSMT and Punjab's Firozpur Cantonment railway station.
Also Read Pune: Hotel Owner Beat And Poured Hot Water On 3 Beggars As They Were Begging Near His Hotel; 2 Died While 1 Is In A Critical Condition
"Between Mumbai and Punjab, we intend to run the AC sleeper Vande Bharat trains. Travel time between the two states is currently about 33 hours, but this will be considerably reduced," said a senior Central Railway official.
In a letter to zonal railways in May, the railway ministry announced that Wadi Bunder railway yard in Mazgaon and Jogeshwari would be utilised to build maintenance depots.
Also Read Road Rage In Pune: Youth Beaten For Gesturing Motorists To Go Ahead
The Central and Western Railway had been tasked with inspecting the locations and planning the development and upgrade of the Vande Bharat trains' maintenance infrastructure.
These new trains, according to transportation experts, will be a game changer between Mumbai and Pune, but they will face challenges in the ghat sector.