Vilas Adhav Presides Over Activities At Sangamner College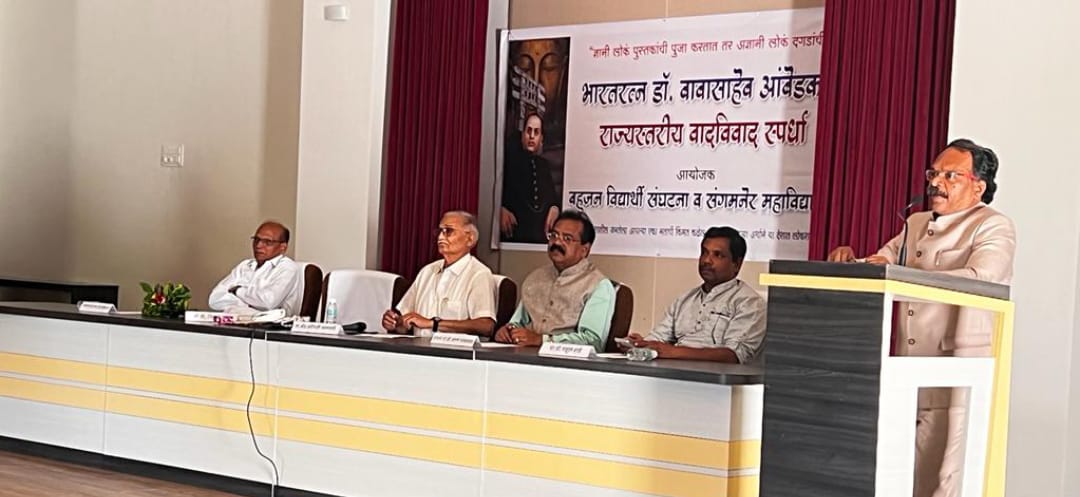 Sangamner, 16th October 2022: On Saturday, 15th October 2022, Prof. Vilas Adhav, Director and Head of Lifelong Education and Extension; Professor and Head of Economics Department; Senate Member ofSavitribai Phule Pune University, had been invited to Sangamner College, Sangamner, to inaugurate and preside over various activities.
Dr Adhav inaugurated the Dr Babasaheb Ambedkar State-level Debate Competition and attended the competition. In his speech, Dr Adhav stated that the sacrifices made by the revolutionary personality, Dr Babasaheb Ambedkar, are unforgettable for India. Dr Ambedkar authored the Indian constitution through extensive research, which has strengthened the Indian democracy today.
The program was chaired by Adv. Pradeep Malpani, Vice President, Shikshan Prasarak Sanstha. The dais also saw Principal Dr Arun Gaikwad, the coordinator of the competition Dr Arun Hande, Prof. Popat Satpute, and others.
On the occasion of the birth anniversary of Dr APJ Abdul Kalam, Reading Day was observed and Adhav Sir also garlanded the photograph of Dr Kalam. A total of 112 students participated in the reading competition. Dr Adhav also visited the three-day book exhibition organized at the college by Diamond Publications, Pune. The grand central library of Sangamner College was also visited by him.