Wagholi Residents Battle Against Water Tanker Mafia Amid Heavy Rainfalls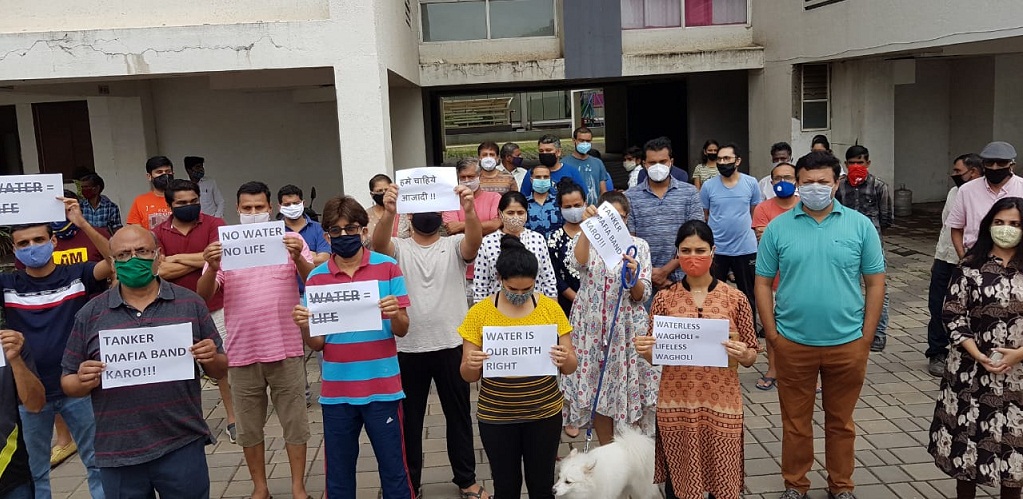 Mehab Qureshi
Pune, October 17, 2020: The water crisis is looming large for the residents of Marvel Fria, located in Wagholi. This area has been facing water problems for the last two days as the water supplier allegedly cut their water pipelines due to the outstanding bill's nonpayment.
The brawl got ugly when the residents protested against the illegal action by the water supplier Satav Patil on Friday. "We residents have taken charge of society from July 1, 2020. Till June 30, the builder was managing the society and has not paid past water tanker bills. We got into a contract with a nearby well owner, laid a water pipeline and installed a pump", said resident Amit Singhal.
Patil could not digest this news and started harassing the residents by cutting their water lines from time to time. "We have invested almost Rs seven lakh for the same. Since we started taking water from this well, Patil has been continuously disconnecting our power supply and tried to damage our pipeline. He has been threatening the well owner to stop the water supply till we pay the balance payment", said another resident of Marvel Fria society.
Despite meeting Patil several times, he allegedly disrupted the water supply. "He has been threatening the well owner to stop the water supply until we pay the balance payment. We have met them multiple times and informed them that the outstanding amount is from the builder and not us", Singhal told Punekarnews.in.
Acknowledging that the issue cannot be solved peacefully, the residents marched towards Lonikand police station, where they met Police Inspector Pratap Mankar. "We gave our complaint in writing, and Mankar instructed him not to do such things in the future as water is a sensitive issue. He also told him that the outstanding amount issue is with the builder, so residents should not be held responsible".
However, Patil has not accepted any of the charges by the residents.
Follow and connect with us on WhatsApp Facebook Twitter Linkedin YouTube Instagram  
Follow Punekar News: