Wakad Police Recover Stolen Valuables, Vehicles Worth Rs 15 Lakhs From Three Thieves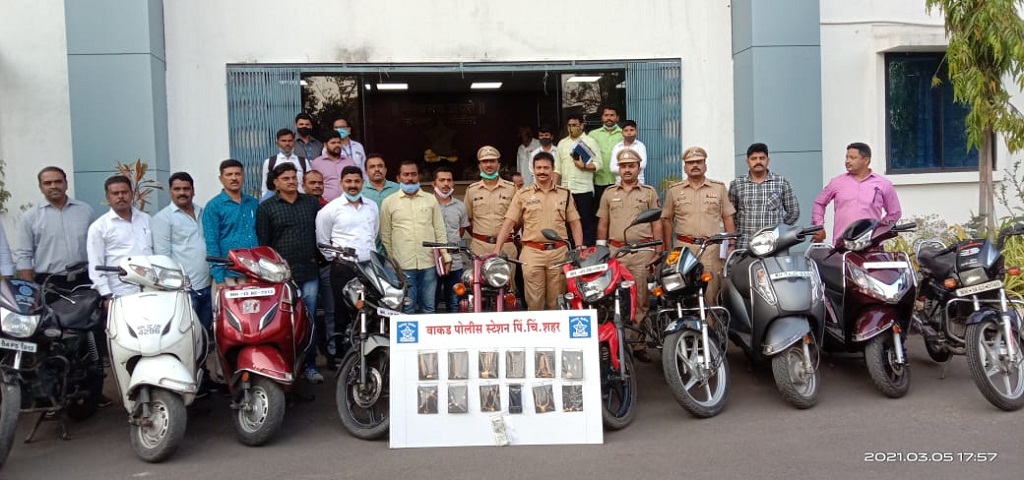 Pimpri Chinchwad, 5th March 2021: The officials from Wakad police station under Pimpri Chinchwad police have arrested three thieves in two separate operations and recovered stolen vehicles and valuables worth Rs 15 lakhs.
Appreciating the efforts of the team, Commissioner of Police Krishna Prakash has announced a reward of Rs 35,000 and appreciation certificates for the team members.
In the first operation, acting on a tip-off received by policemen Prashant Gilbile, Suraj Sutar and Tatya Shinde, a team nabbed two thieves on Service Road in front of Nilkamal Hotel in Tathawade. The arrested persons have been identified as Dilip Vishwanath Kale (38) and Ravi alias Rohit Anil Marve (21), both residents of Maharalgaon in Kalyan taluka of Thane district. They have committed 13 offences with the help of their accomplice Arjun Shankar Kale, a resident of Maharalgaon, police said.
During the investigation, police recovered 175 grams of gold jewellery, two two-wheelers, Rs 6,000 cash and a mobile phone and an Apache two-wheeler used in the crime. The arrested accused Dilip Vishwanath Kale has been booked in Thane city for burglary, robbery and possession of firearms while Ravi alias Rohit Anil Marve has been booked for eight cases of burglary.
In the second operation, policemen Bibhishan Kanherkar, Nitin Gengje and Vikram Jagdale had received information about Akshay Anil Kashid (24) of Thergaon and he was caught near Ambience Hotel in Wakad. A total of 13 two-wheelers worth Rs 5.3 lakh were seized from his possession.
The actions were taken under the guidance of Commissioner of Police Krishna Prakash, Additional Commissioner of Police Ramnath Pokale, DCP (Zone 2) Anand Bhoite and ACP (Wakad division) Ganesh Biradar.
The team included Senior Police Inspector Dr Vivek Muglikar, Police Inspector (Crime) Santosh Patil, Assistant Police Inspectors Abhijit Jadhav, Santosh Patil, Police Sub Inspector Siddhanath Babar and police personnel Suraj Suttar, Prashant Gilbile, Bibhishan Kanherkar, Tatya Shinde, Bapusaheb Dhumal, Babajan Inamdar, Nitin Dhorje, Rajendra Marane, Sham Baba, Sachin Narute, Vijay Gambhire, Vikram Kudal, Javed Pathan, Vikram Jagdale, Nitin Gengje, Pramod Kadam, Kautay Kharade and Nutan Konde.
Follow Punekar News: