Walk Of Freedom: Injured Animals Released Back Into Wild In Joint Effort By Wildlife SOS And Maharashtra Forest Department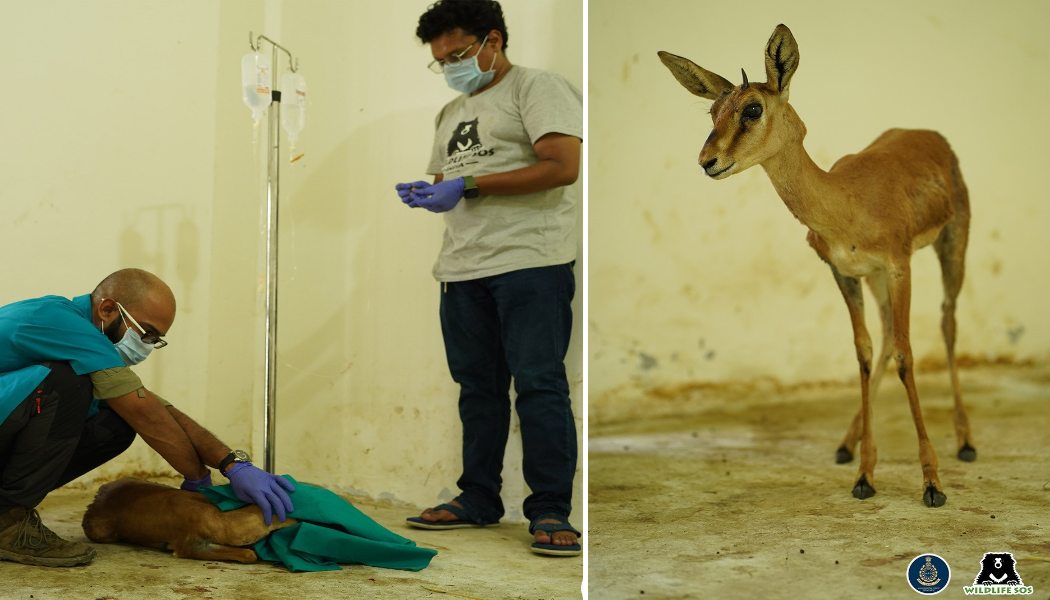 Pune, 22nd June 2023: Wildlife SOS, in collaboration with the Maharashtra Forest Department, successfully rescued and rehabilitated several injured animals from various places in Maharashtra. These animals were provided with extensive treatment and care at the Wildlife SOS Manikdoh Leopard Rescue Centre (MLRC) and have now been released back into their natural habitats.
In a remarkable turn of events, a four-member team from Wildlife SOS, with the support of Maharashtra Forest Department, rescued several animals including an Indian gazelle, a langur, and a jackal in Maharashtra.
The first of the many rescues was an injured Chinkara (Indian gazelle) rescued by the Forest Department from Belhe in Maharashtra. The approximately 8 to 9-month-old female Chinkara, was in need of urgent medical aid as it was attacked by a pack of feral dogs. It was rushed to the Manikdoh Leopard Rescue Centre where the animal underwent extensive medical care for a week under the care of the Wildlife SOS veterinary doctors. As it exhibited a steady recovery, the Chinkara was released back into its natural habitat.
In another incident, an approximately 17-year-old male Grey langur was found in distress on the roadside in Khed in Maharashtra. The forest department staff swiftly brought the langur to Wildlife SOS facility where it received vital treatment and care.
This was followed by the rescue of a Golden jackal, approximately 3 to 4 years old from a 25-foot-deep open dry well at Waghule. Fortunately, the animal did not show any sign of distress or open wounds. After a preliminary examination by the Wildlife SOS vets, the jackal was released back into its natural habitat, ensuring its safety and well-being.
Dr. Chandan Sawane, Veterinary Officer, Wildlife SOS, said, "Through continuous monitoring and specialised care, we witnessed a gradual recovery and readiness of these animals to be released back into their natural habitats. Our goal was to ensure these animals have a second chance at life, where they can thrive and contribute to their ecosystems."
Ajit Shinde, Range Forest Officer, Junnar Forest Range, said, "The successful rescue operation conducted by the forest department and Wildlife SOS is a testament to the extraordinary impact that can be achieved with collaborative efforts to save India's wildlife. I am thankful that we could provide relief to these animals in need."
Kartick Satyanarayan, Co-founder and CEO, Wildlife SOS, said, "The Maharashtra Forest Department, in collaboration with Wildlife SOS, has been at the forefront of wildlife conservation efforts in the region. The successful rescue and release of these animals exemplify the commitment and dedication of both organisations in preserving and protecting India's rich biodiversity."
We are thrilled to witness the triumphant return of these animals to their natural habitats, where they truly belong. The release of these rehabilitated animals represents the positive impact we can make through collaborative efforts and dedication to wildlife conservation.