WALKING WITH SHIVAJI MAHARAJ AND HIS ABLE ARMY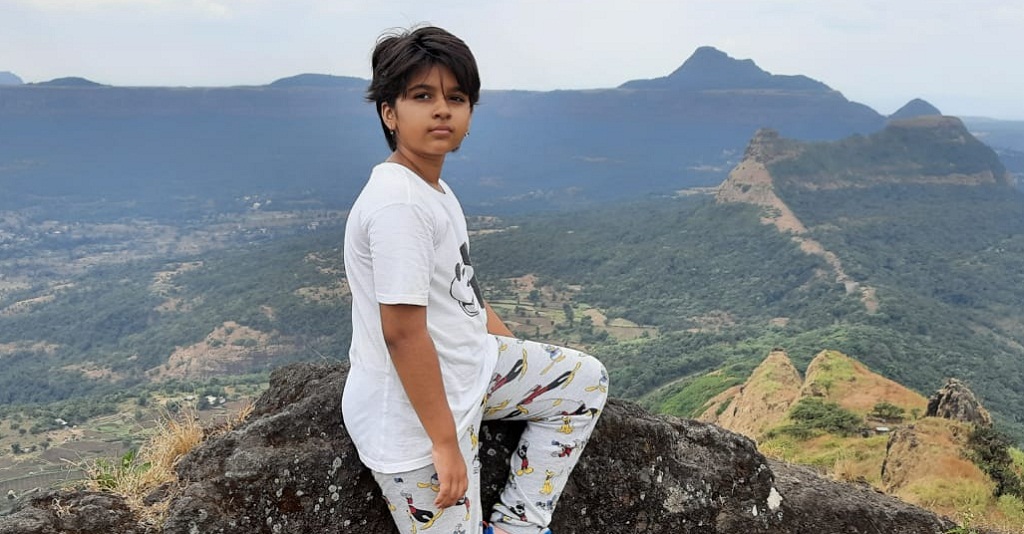 Shakti Bishnoi
Pune, 11th December 2021: With indomitable grit, eight-year-old Kanan Bishnoi climbed 13 forts in 10 days. She spent a lot of time at every fort to relive the glorious past of Chhatrapati Shivaji Maharaj. 
She has grown up listening to stories of great human beings of our country. Shivaji Maharaj has always inspired her and she keeps requesting her mother (Shakti Bishnoi) to tell his stories over and over again. Fulfilling her dream to visit the forts and feel mighty Shivaji Maharaj' presence at the places he walked many years ago made her very excited. 
She was looking for clues to imagine the stories being alive. She would not miss a chance to be a warrior guarding our nation posted at the forts. She will look at the strategic holes provided for the archers. And the kind of weapons they used kept her in constant awe of the great warrior.  
A S Bishnoi, her father who has done advanced mountaineering course himself made sure that Kanan does not face injury and gets adequate rest between forts. She enjoys trekking on all terrains, especially with clouds and making her own snow candy on the way. Since the age of two, she has been going to mountains and walks enthusiastically enjoying the environment around her. 
Her only requirement before attempting anything is her mother's company. All three family members climbed the forts jovially as her mother's humor keeps their spirits high at all times. Her mother's constant commentary on the fort and feeling the presence of the great Shivaji Maharaj on every step made it an enriching experience for Kanan Bishnoi.  
The target was to be on the forts and live the way our ancestors lived and protected our nation against the invasions. Even after many years and endless rains, the soil still remains on every fort with the blood and sweat of our ancestors. 
"As it was evening time on Guru Purab when we started the trek for Korigad, a little dog felt the need to guide us to the top of the fort. Kanan affectionately called him Noddy. The dog even protected Kanan from a ferocious monkey while climbing the stairs. Once at the top, Kanan was running on the boundary of Korigad fort and flew a kite. Frogs were jumping towards the centre of ponds as she walked around them. While climbing down it was dark but Purnima enlightened us and showed us the path", Bishnoi said.
Next day Kanan trekked Tung fort. She enjoyed trekking on the tough terrain. She was expecting spotting a snake or two, but they didn't show up. Once at the top, Kanan was seeing the other forts she would climb coming days. 
Lohagad was conquered twice by Shivaji Maharaj because of its importance. The most wonderful aspect apart from walking with Shivaji Maharaj and his army was watching the fearless kestrel flying on top of the forts enjoying the winds. Visapur was clearly visible from Lohagad fort and Kanan was excited to explore the vast spread of the fort. Due to landslides, the climb is very interesting but tricky.
Kanan carefully made her ascend to the top and explored the fort for hours doing the full Parikrama. She enjoyed praying at the same Shiv temple where our warrior ancestors prayed. She was not very keen on returning from this fort as it's a very interesting one.
Next day it was raining heavily and Kanan didn't want to take risk for her mother, so they decided to relax and enjoy their favorite foods at Interval restaurant in Lonavala. But as they finished their early lunch, the rain stopped and Duke's nose was close by. They quickly went for the climb and as they reached the top, it started raining again. Kanan was smiling with joy as she disclosed, it was her dream to do trekking in rain. We all prayed in the Shiv temple purified by the rainwater. Although the rain didn't stop, the descend was safe due to her father's guidance.
We started early for Rajmachi the next day but the road to the fort is hardly made. Big boulders were surprising our car every second. Once at the base of the fort, we climbed effortlessly to the top and returned to the old man' house that lives near the temple. He had finished his chores and smiled lovingly at us. Even we felt love and respect for ourselves for continuously climbing the forts for past few days.
While returning it was treacherous route due to the rough road but we decided to climb another fort. We reached Morgiri' base dhabha which is Kanan's favorite as she feeds roosters, hens, and chicks. It lies on the route to Tung fort and she enjoyed feeding them earlier. She said yes to climb second fort for feeding chicks, which she revealed after reaching the top of the Morgiri fort. 
It was afternoon time when we started our trek, so the man owning the dhabha called his two dogs (lali 1 and lali 2), and instructed them to take us to the fort. Kanan didn't doubt them as Noddy accompanied her to Korigad without any instructions. Both lalies were guiding us as a kind friend would. Once at top, the sun was very harsh and we all felt thirsty. When Kanan was about to drink, she looked at lali 1, and lali 2. She found a rock with little space for water and poured while lalies enjoyed quenching their thirst. While returning Kanan's father took little detour to reach the road, but lalies did not follow him and stood at the fork end where he left. When he returned lalies lead the path and took us to our car where all the hens and chicks started circling around Kanan for fresh buns.
While returning to our home in Pune, we decided to climb Tikona fort. It was a memorable trek for Kanan with butterflies flying along the path to the top. Daniad egg fly was flying on top of the windy fort around the flag of Shivaji Maharaj. It was eventful to see three corners of the fort surrounded by swifts flying like a boomerang. We started for our homeward journey.
Our next day target was Sinhgad. Kanan Bishnoi has been climbing Sinhgad fort every month ever since they shifted to Pune two years ago. She has climbed Sinhgad following the footsteps of Tanhaji Malsure path earlier in feb 2020. She climbed swiftly and hopped on the rocks while climbing down. Hopping on the rocks is Kanan' favorite part taught by her father. Khondhana was again a proud moment for us to walk with Jijabai and Tanahaji. We can all learn numerous aspects from Jijabai on preparing her beloved son for the nation. She taught shivaji, to operate weapons like arrows, swords and spears since childhood. She holds an important place in our history for fulfilling her role as a courageous mother who prepared her son every day for serving the nation. 
Shanirwarwada was the fort Kanan has been dreaming about ever since her dear friend Shreyasi didi, disclosed the rich history behind the thick walls. We could not enter the fort due to its timing. Kanan was disappointed but looked forward to next day trek to Torna. She was as anxious and confident as Shivaji Maharaj himself before conquering the fort at the young age of 16. Today's youth should imbibe important characteristics of Shivaji Maharaj. We went around the entire fort and imagined the fort in its full glory. The iron ladder was thrilling and as we got down we saw common kestrel perched on a rock. And it opened its wings and got lifted in the air effortlessly. We were so fascinated by its flight that we spent a lot of time admiring them fly. Descend is always fulfilling as we accomplished our target.
The next day we went to Rajgad: The capital of the Maratha Empire. It was very special to Kanan as Shivaji Maharaj spent almost 26 years of his life here and must have walked on every stone laid on the fort. The people who camped on the fort carelessly littered the fort breaking the heart of Kanan. She then asked "who is looking after the fort? And why are these people not taught the importance of this fort and basic hygiene? How would Shivaji Maharaj and his army's soul feel if they see this condition?" We were equally surprised and felt the absence of responsibility in the group of young men holding Shivaji Maharaj flag and pushing through trekkers and shouting at top of their voices. Kanan fulfilled her dream of climbing the Balekila and was so impressed by the fitness of Shivaji Maharaj, who would have taken the road less travelled to conquer the 360 forts. Rajgad comprises of 04 forts. And knowing this Kanan jumped with joy by adding 04 fort in place of 01. We all laughed at her mischief. 
Purandar Fort is known as the birthplace of Sambhaji, son of Chhatrapati Shivaji Maharaj. And it's well maintained by the army. Due to rules at the fort, we could not take any pictures. The fort holds so many untold secrets of conspiracies by Aurangzeb and Britishers. Listening to the brief history of the fort Kanan felt anger, but winning back all the 23 forts by Shivaji Maharaj made her full of josh. And her father candidly asked, "hows the josh Kanan?". She laughed and said "high baba".
Malhargadh was the last fort built by Marathas in 1775, and the last fort we visited on our ten days bracket. There are two temples on top in excellent condition. Lord Khandoba, the avatar of Shiva also known as Malhar or Malhari, hence the name Malhargad. Second temple for Lord Mahadeva. The importance of names in our culture was understood by Kanan (Krishna). Kanan was very happy and grateful to the Sanori villagers who kept the fort clean and planted numerous native plants and looked after them. This fort holds a special place in our hearts.
Climbing and spending time at the forts of Shivaji Maharaj has taught us many wonders of his life, like bravery, compassion, devotion, grit, dedication, persistence, knowledge and leading by example. If an individual successfully masters one of his many wonderful qualities, her/his life will be surely meaningful. The promise to visit all the forts of Shivaji Maharaj shall be fulfilled by Kanan Bishnoi in the coming days…