We have to acknowledge and fight gender and experiential differences in Science field: Experts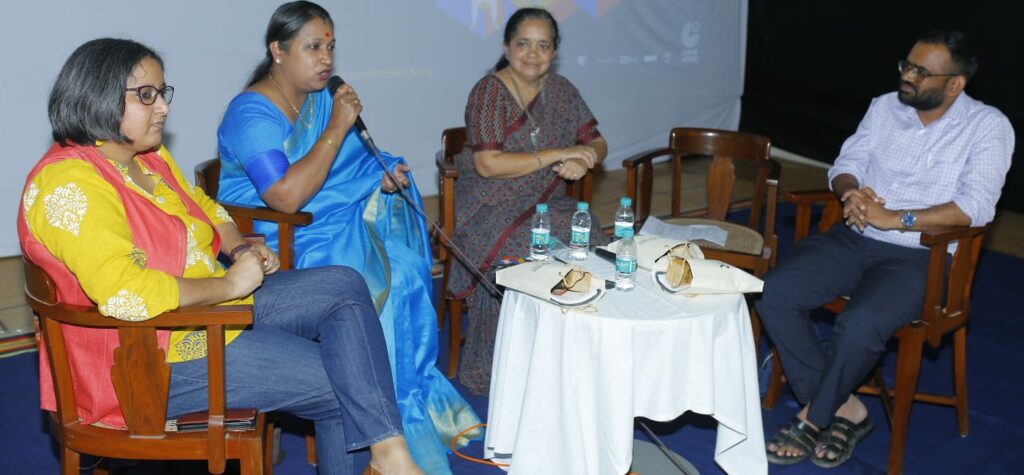 Pune, 13th October 2022: "In the field of Science research, there are various discriminations and differences like gender discrimination, experiential and cultural differences. These differences may not go away in the near future but we are on the path of progress as the gap is decreasing. We have to acknowledge these differences and develop a subversive strategy to fight back," said Dr. Shalini Sharma, Associate Professor, Humanities & Social Sciences, IISER, Pune.
She was speaking during the panel discussion on the topic 'Equal Opportunities in Science' which is an initiative concepted by Goethe-Institut / Max Mueller Bhavan, Pune at the Institut's campus. Several activities including science films and workshops will take place under the initiative from October to December.
Vikas Garad: Deputy Director, SCERT Pune, Rajnikant Mendhe, Assistant Teacher, Zilla Parishad School, Gorhe Budruk and Nandini Iyer, Head Department of Applied Sciences, COEP were present during the discussion. Vaishali Dabke, Project Manager Educational Services, Goethe Institut moderated the program and Miriam Bruns, Director of Goethe Institut/Max Mueller Bhavan was present during the launch.
"We have to address the disabilities in learning science by improving the infrastructure and communication and induce positivity and inclusion. When we look at equal opportunities in science communication, we create pathways so that people don't find barriers over access. There's a difference between public communication and science communication. Public communication is what you are capturing for public interest and making a product which the public finds palatable to consume. In science communication we are stuck as we don't understand the art of public communication. We have to make science communication more palatable, appealing and interesting by creating equal opportunities for scientists," Sharma added.
Nandini Iyer said, "We have to put more focus on Science, technology, engineering and mathematics (STEM) and it should start from home and school. The students don't know why they are studying the subjects. It is the responsibility of the educationists, parents and technocrats to make them understand the meaning of the subjects they study."
Mendhe said, "In urban areas, children's education builds the status of their parents. But in rural areas, parents do not pay much attention to the education of their children, so the decision of which subject to study is entirely up to the child. There are two main problems regarding science education, which is the non-availability of good educational institutions for higher education and science is taught in mother tongue in schools. Since the subject has to be studied in English after the 10th standard, there is a language barrier. To encourage students, especially girls, to study science, we are running a science lab program in the school and making them do actual experiments."
Speaking about the various activities that will be held under the Science Festival in Pune, Vaishali Dabke and Renu Jamgaonkar said, "We will hold screening for 3 science films on Friday, October 14 and will send all films to all our partner schools in Pune and PCMC for the students. From October to December, there will be films, discussions and workshops for students on the topic- 'Equal Opportunities in Science' for which we will send all materials and volunteers to each school."