Webinar by Prime Minister: Steps taken by Government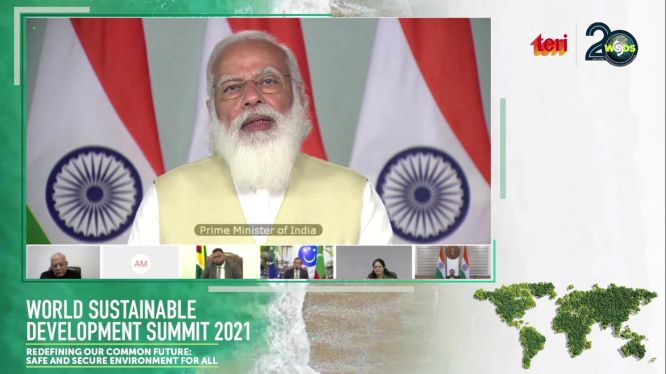 New Delhi, February 23, 2021: On Tuesday, Prime Minister Narendra Modi said that his government will adopt a holistic approach to not only improve the healthcare of the country but also focus on treatment and welfare. Prime Minister was addressing a webinar to effectively implement the provisions of the Union Budget in the health sector. He described the budget provisions set for the health sector as remarkable.
Prime Minister informed, "We are working together on 4 fronts to keep India healthy. The first front is for preventing diseases i.e. 'Prevention of illness and Promotion of Wellness'. The second front will take care of providing cheap and effective treatment for the poorest of the poor with the help of Ayushman Bharat Yojana and Pradhan Mantri Jan Aushadhi Kendra. Increasing the quantity and quality of health infrastructure and health care professionals would be looked at by the third front and the fourth front would be ready to overcome problems. Tribal and far-flung areas of the country would be taken care of by mission Indra Dhanush."
PM Modi said, "In the field of health and education, we have to reach even the far-flung areas of the country, it should be our motto."
He further said that the private sector can support PPP models in creating a network of public health laboratories along with a stake in PMJAY. There may also be a partnership with the National Digital Health Mission, helping to keep digital health records of citizens, and other Cutting Edge Technology.
PM Modi said, "According to the present budget plan, the amount allocated to the health sector is unprecedented. Our country needs a wellness center, district hospital, critical care unit, health surveillance infrastructure, modern labs and telemedicine. Adding to this, we have to work hard for promoting every level." He also added, "Along with Indian medicine and vaccine, our spices and decoction are also contributing a lot. Our traditional, ayurvedic medicines have also made a place in the world."
He further on said that working together on 4 fronts is a symbol of our commitment to provide better healthcare to every countryman. "Today, the reputation of India's health sector and trust in it is at a new level all over the world. The world has marked the strength and experience India's health sector has shown during Covid-19."
Follow Punekar News: