105 students create Ganesha idol from bamboo!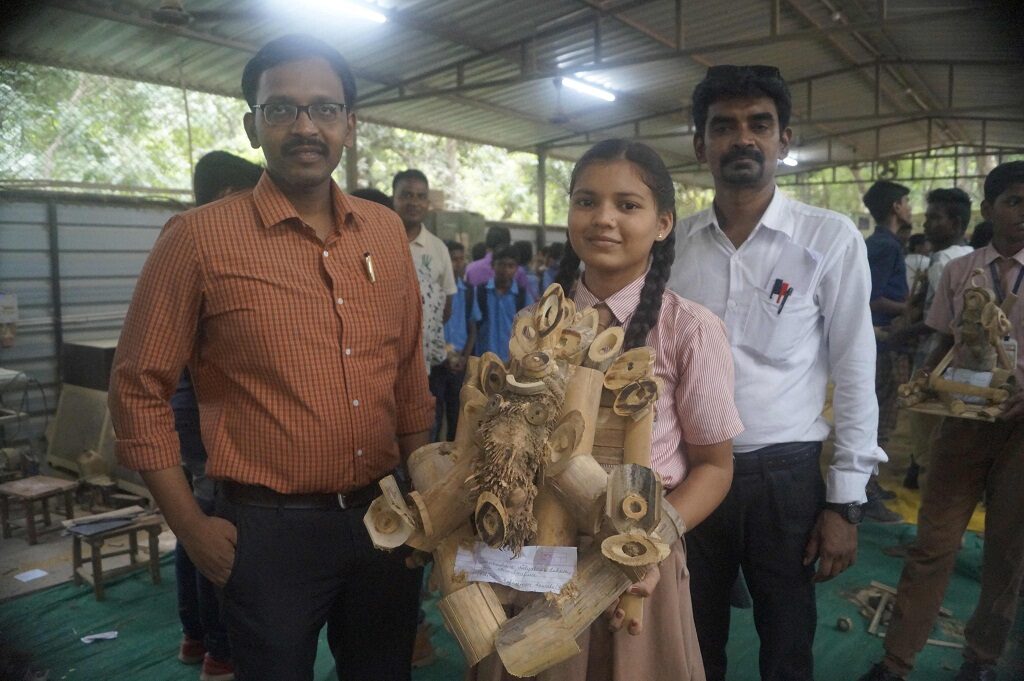 Mumbai, 7/9/2019 : 'Bamboo Research & Training Centre' situated in Chichpalli of Chandrapur district had organized Lord Ganesha idol making competition -'Our Bamboo Lord Ganesha'.  105 students and even teachers from 15 schools from Chandrapur district participated in this competition.
Forest Minister Sudhir Mungantiwar said, this skill of students is very astonishing and it will plant in their heart the thought of preserving the environment.
 Students made beautiful and clean-cut Ganesha idols from bamboo roots and waste bamboos. Idols made by these students have won the heart of many devotees in the state.
It is said that the sky is the limit for imagination.  Along with Shadu and natural clay, now Ganesha idols are made from paper pulp, vegetables, and betel-nuts etc. eco-friendly materials. Surprisingly, students from Chandrapur have made 'Bamboo Ganesha'.
Employment Opportunities
Bamboo is exempted from Forest Department's transport permit considering the fact that bamboo can create many employment opportunities. Bamboo Development Board is formed. Bamboo Research & Training Centre has implemented many innovative ideas. It includes garment production from bamboo pulp, papermaking, bamboo mats, handmade bamboo objects, bamboo house, household things, industrial products, bamboo-made lamps, cycles, rakhis, flags etc.
Shri. Mungantiwar informed that Tata Trust and Bamboo Research & Training Centre has signed a MOU to promote bamboo business and provide a global market for bamboo-made products.
          If a child is taught to preserve the environment, he will continue to do so whole life.  Centre Director Rahul Patil told that the idea of making Ganesha idol from bamboo was executed considering this fact.