After Mishap, Pune Cantonment Board Orders Structural Audit Of 20 PMPML Bus Stop Shelter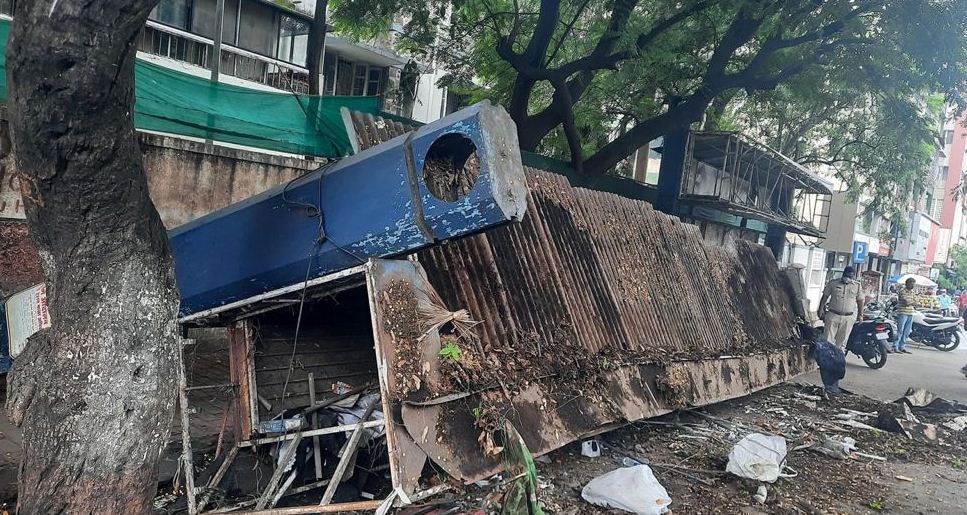 Camp, 19th August 2021: A bus stop shelter near West End theatre had collapsed on Wednesday resulting in injuries to two persons.
In order to prevent such mishaps in future, the Pune Cantonment Board (PCB) has ordered a structural audit of 20 bus stop shelters of Pune Mahanagar Parivahan Mahamandal Limited (PMPML) located in PCB jurisdiction.
According to PCB officials, the stand which collapsed was over 20 years old. The Pune Municipal Corporation (PMC) has claimed that it was handed over to the PCB for maintenance. The PCB said that it was leased out to an advertising contractor for five years.
PCB CEO Amit Kumar told PunekarNews.in that the contractor is responsible for the maintenance of the bus stop shelter as per terms of the contract. The board may take action against the contractor.
"Now we have ordered a structural audit of all the 20 bus stops in our jurisdiction", the CEO informed.
Around 1 pm on Wednesday, commuters were waiting for the bus stop on Moledina Road in Camp, when the shed collapsed. The injured persons have been identified as Devendra Shinde (52) and Santosh Kombal (40).
Lashkar police station under Pune city police is also conducting an enquiry into the incident.