Bharat Matrimony "Online Matrimony Trends Report 2022"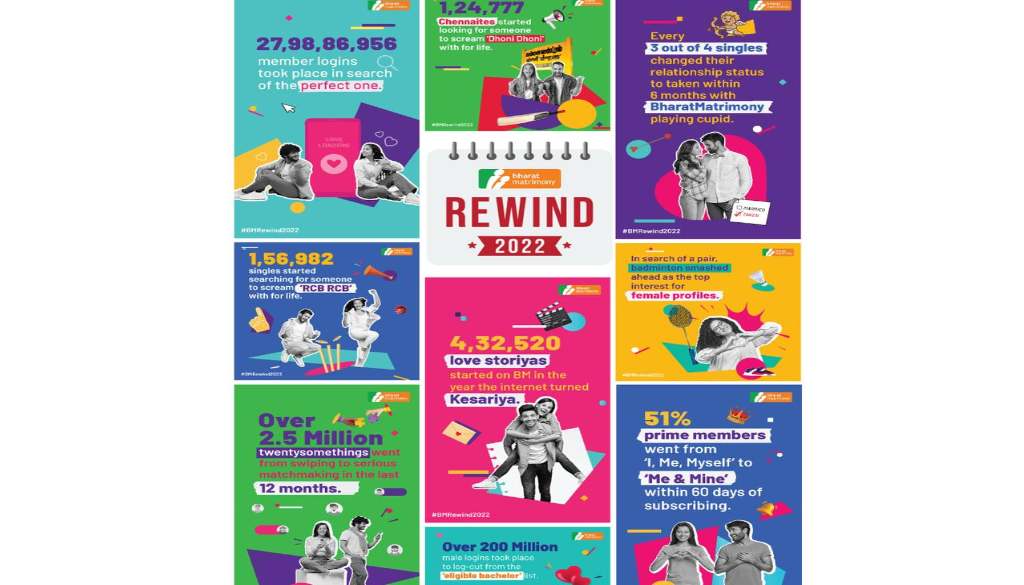 Hyderabad/Chennai, January 23rd, 2023: Leading online matrimony service Bharat Matrimony released its annual Online Matrimony Trends Report 2022 today
This report, which is an annual feature, is based on the activities of users on Bharat Matrimony, India's biggest matchmaking platform helping over 5 million singles find their life partner. 2022 saw a whooping 280 million member logins from singles across India and abroad.
A total of 4,32,520 members confirmed meeting their life partner on Bharat Matrimony last year.
Thanks to Bharat Matrimony, an average, of 13,000 interactions per minute happened between members to find their life partner. Commenting on the success rate and the trends in 2022, Mr Murugavel Janakiraman, CEO, Matrimony.com, said, "We are extremely glad to report over 4 lakh success stories in 2022 on Bharat Matrimony. It shows the trust and faith Indians put on our platform. On our part, we continue to remain focused on reaching out to every segment of the society with an endeavour to make help every Indian find a suitable life partner and lead a happy married life."
In regard to the most active age group of people who are looking for a spouse, singles between 25 and 29 years emerged the clear majority on Bharat Matrimony – with Sundays being the most active time when online sessions peaked.
Commenting on some emerging trends, Mr Janakiraman added, "We noticed that certain engineering profiles increased by 18% and architects' profiles increased by 10% y-o-y."
Over 5 lakh IT and ITES professionals registered with BharatMatrimony.com in 2022 – a nod towards professionals from the software & tech space preferring online matchmaking.
In terms of interests like sports, the report revealed that badminton was the most preferred sport among women and, unsurprisingly, cricket for men.
Quite surprisingly, there were a sizeable number of men who shared cooking among interior designing and video blogging as their hobbies. Among women, the frequently listed hobbies included cooking, dancing, and social media activities. Clearly 2 years of pandemic has successfully hooked on Gen Z and Millennials to cooking at home!
The trend to watch out for in the coming year is the younger generation becoming more liberal with caste & community in 2022, close to 60% of Indian youth answered as being open to marry outside their caste & community while emphasising on compatibility based on lifestyles, hobbies, education qualifications and overall connection & rapport instead when it comes to choosing their life partner.
Matrimony.com is India's leading consumer Internet Company. It is a signature consumer internet conglomerate, managing marquee brands such as BharatMatrimony, CommunityMatrimony and EliteMatrimony. BharatMatrimony is considered the largest and most trusted matrimony brand which has also established a considerable retail presence with over 120 self-owned retail outlets across India. The Company delivers matchmaking and marriage related services to users in India and the Indian diaspora. The Company has pioneered several new business models such as WeddingBazaar.com, Mandap.com and CommunityMatrimony.com, a consortium of over 300 community matrimony websites.