Bovelander Foundation launches Maharashtra Grassroots Hockey Program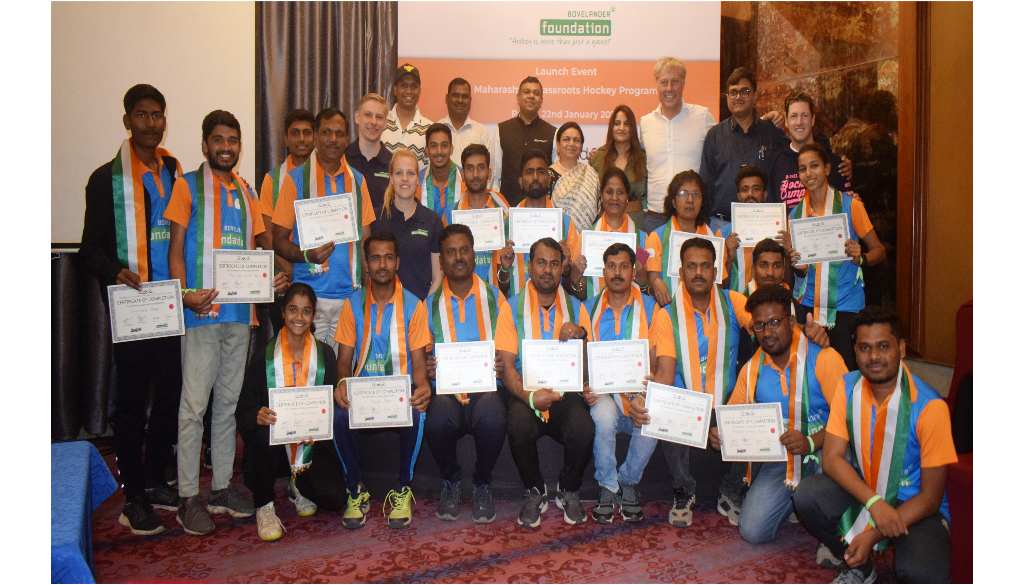 PUNE, January 22, 2023: Today, the Olympic gold medalist and World hockey champion from the Netherlands, Mr Floris Jan Bovelander, launched the Maharashtra Grassroots Hockey Program in Pune. Designed and run by the Bovelander Foundation, the program aims to train 24 hockey coaches in Pune, Pimpri, Kedgaon and Phaltan towns. These coaches will teach the game of hockey to over 600 students (10 to 14 years) from 12 schools.
Aryamond India Pvt. Ltd, the Dutch Ministry of Foreign Affairs and the Bovelander Foundation support the first phase of the Grassroot Hockey Program in Maharashtra.
The Bovelander Foundation has plans to scale up this hockey training initiative with expansion lined up in Baramati, Lasurne and Satara towns that would help teach the game of hockey to nearly 3,000 students from 50 schools and communities by 2025.
To kick off the program, 24 hockey coaches have come together for a 5-day coaching course by Bovelander Foundation in Pune. The training of the coaches is happening at Sangam World Centre in Pune. The participating coaches work on hockey skills with three top trainers from the Netherlands.
As part of this program, the coaches organized a Bovelander Foundation Kids' hockey event at the Aanand Vidyankiketan High School with 75 children in Pune at 10 am this morning.
Mr Bovelander has been leading the Bovelander Foundation since 2015. He has organized and runs several hockey training programs in India. Some of the highlights of the Bovelander Foundation's work include the following:
– The grassroots program in Khunti, Jharkhand. At 77 locations, hockey is offered; weekly, 40 coaches engage 3100 children – over the past five years, more than 10.000. Partnering with local NGOs, educational programs such as menstrual health, child rights and financial literacy were added.
– Regional Development Centre: 90 talented players have been selected for additional training in Simdega. From here, children were selected for various hockey academies.
– The Naval Tata Hockey Academy in Jamshedpur. Founded 2017. Currently with 40 boys. Starting later this year, girls will also join this Academy.
– The Naval Tata Hockey Academy in Bhubaneswar. It kicked off in 2019 with 30 girls; later, boys joined. This centre of excellence is housed in Kalinga Stadium. This location now hosts the Men's FIH Hockey World Cup.
About Bovelander Foundation
Formerly known as One Million Hockey Legs, the Bovelander Foundation believes in a world where all children have equal opportunities and grow into well-educated, healthy, and confident (young) adults. Hockey is more than just a game; it brings children, young adults and their communities together and supports their personal, social, athletic and educational development.
The founder is Floris Jan Bovelander, a former hockey player of the Dutch national team, World Champion of 1990 and gold medalist at the Olympic Games of 1996.
The Bovelander Foundation is based in the Netherlands and leverages its network in Netherlands and India to support as many children as possible through hockey structurally.