Chemicals & Plastics Exhibition CAP India 2016 to be held in Mumbai from March 20-22.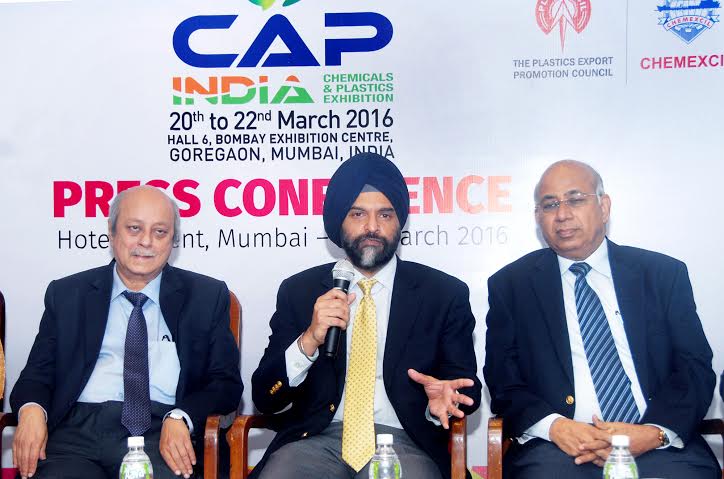 Over 250 exhibitors and 125 foreign buyers are expected to participate in the 
CAP India 2016
 chemicals and plastics exhibition that will be held in Mumbai from 20-
22 March 2016
.  The event, jointly hosted by four export promotion councils,
CHEMEXCIL
,
PLEXCONCIL
,
CAPEXCIL
and
SHEFEXCIL
, will include conferences, discussions, buyer-seller meet etc.
Briefing the mediapersons about the initiative, Mr.B. S. Bhalla, Joint Secretary, Ministry of Commerce and Industry, said , "India is an important player in the global trade of chemicals, plastics and allied products. There is tremendous scope to increase our share in the global trade." He said initiatives such as CAP India 2016 are aimed to showcase the capabilities of potential sectors and serve as a strong networking platform between players round the globe.
Mr Bhalla said "finding newer markets for exports is part of Government's vision of achieving exports of US$ 900 billion by 2020 and raise India's share in global exports from 2% to 3.5%."  The value of global chemical industry is $ 3.26 trillion while India's chemical industry output is worth $144 billion.  The country's chemical industry is 12th largest in the world and third largest in the Asia-Pacific region.
Buyers and trade delegations from Tanzania, South Africa, Morocco, Kazakhstan, Uzbekistan, Tajikistan, Bangladesh, Indonesia, Vietnam, Pakistan, Mexico, Colombia, Saudi Arebia, Kenya, Belarus, Chile, Nepal, Sri Lanka, Yemen, Ethopia, Oman, etc . are likely to attend CAP India 2016,
Manufacturers and exporters of industrial and agricultural inputs covering a range of basic chemicals, agrochemicals, dyes & dyestuff, polymers, and other products, besides consumer goods manufacturers like house ware and stationary  will showcase their products at CAP India 2016.