Coronavirus: 100 Deaths in Pune District, COVID Cases tally 1828 now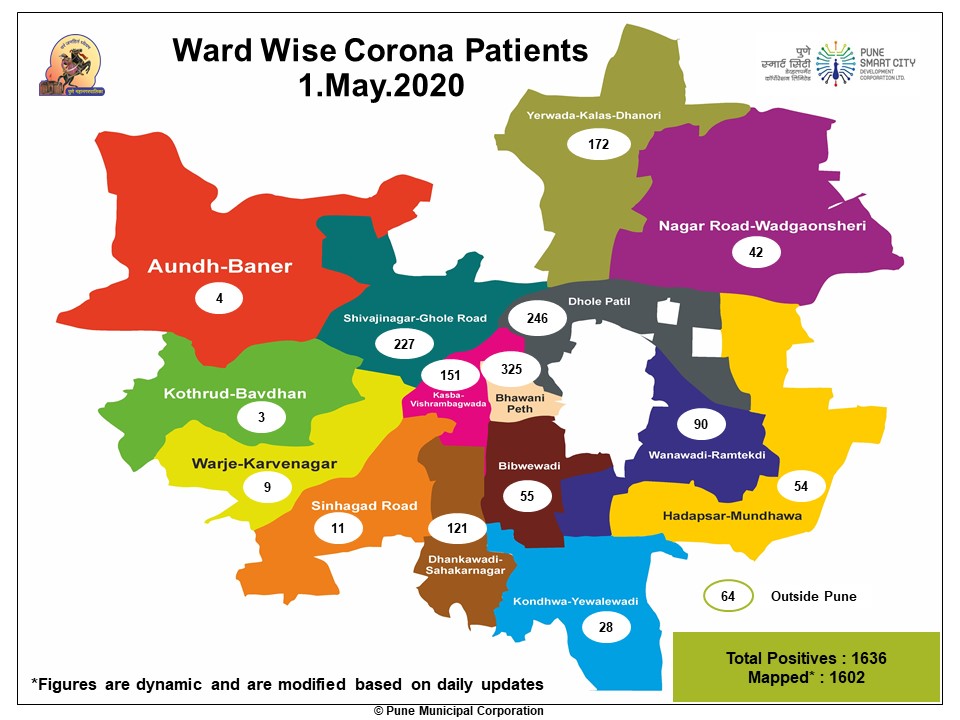 Pune, May 2, 2020: Today morning Pune district recorded its 100th death due to Coronavirus. Meanwhile, till 9 am today, the total number of COVID19 positive patients reached 1828 which includes 100 deaths, said District Health Officer (DHO) Dr Bhagwan Pawar.
A 68-year-old patient who had tested positive for COVID19 passed away in Pune today. The cause of death is acute respiratory failure due to ARDS with Myocarditis with COVID19 infection. Total death toll in Pune district is now 100. According to Pune Municipal Corporation (PMC), till yesterday night the total number of COVID patients had reached 1611 in Pune city. 325 of them have been discharged while 91 have died. In PCMC area out of total 113 patients 42 have been discharged and 5 have died including 2 from Pune.
Meanwhile, today the total number of COVID19 positive cases in India has increased to 37336 including 26167 active cases, 9950 cured/ discharged/migrated and 1218 deaths. 2293 new cases and 71 deaths have been reported in the last 24 hours. This is the highest number of cases reported in one day, said an official from the Ministry of Health and Family Welfare.
Yesterday, there was an increase of 1008 new Covid-19 cases reported today in Maharashtra taking the state tally to 11,506. 26 patients had died. Till yesterday night, the death toll in Covid-19 patients had gone up to 485 in the state, while 1879 patients have been cured and discharged till now. As per the guidance from the Government of India, cluster containment action plan is being implemented in places where clusters of patients have been found in the state. There are 792 active containment zones in the state currently.