Day 3 In Andaman Islands – Snorkelling in North Bay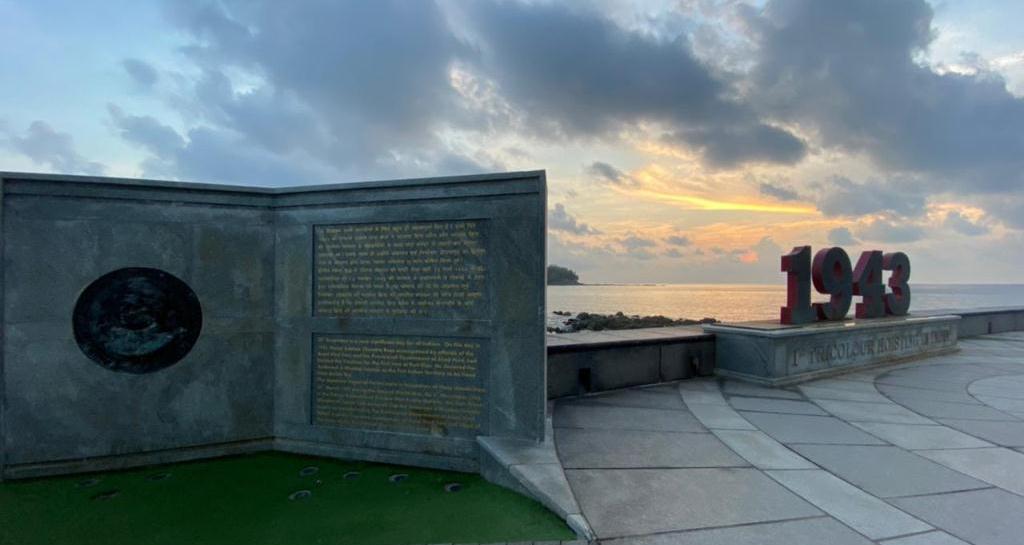 Saurav Chauhan
Andaman, 18 April 2021: Hey, travel buddies welcome back. As mentioned in the previous article today is a little special as we (Me and Mrs) both have holidays in our office and are planning to have some fun and share it all with you. So let's roll.
 Work From Anywhere Day 1: Can You Work From The Andamans?
Morning
As conveyed earlier, Morning in Andaman should officially be banned for those who do not wake up to see the heavenly sight of sunrise. Not one to miss out, Today again I woke up before 5 and ran to a popular spot nearby made to commemorate the 1st Tricolour Hoisting in 1943 by Netaji Subhas Chandra Bose. So with a heart filled with pride and eyes with colours sprinkled by the sun peeking through the clouds, I jogged and jogged until I was short of breath, which was just about after 100 steps.
I came back from the walk at around 6:30 AM and then, you guessed it right! Jumped back into the bed. Woke up again at 8:30 and by then Mrs was all ready and set for our adventures today. Once done with my morning routine, we had our breakfast. At  9 we got the call we were waiting for, our agent who booked us a boat to North Bay Island and Ross Island called to check on us. We were asked to reach the smaller jetty just next to the Michelin star diner New lighthouse (Wink). We reached there by 9:30, but because of some technical delays (not enough people for 1 boat), we only started at around 10:30.
One thing to be noted here, during all this I  was continuously getting calls from my office colleagues for work, which shows how good the mobile networks have become in Port Blair, and also how intruding our office lives have become since WFH. But I was not going to let this hamper my mood. So with our life jackets on we headed to the North Bay Island first. The boat carrying us carved its way through the blue water cutting through the waves thrown at us and then it hit me, the name of the boat was Sea Razor! What punny guy must have named it?
It took us around 10-15 minutes to reach North Bay. We were asked to be done with our activities by 1 PM to leave us enough time to spend on the next island.
A little background about North Bay island, it is unique because of coral settlement there. It boasts varieties of fishes and sea life which is not found elsewhere in Andamans. outside the sea,  There is not much to offer here except for the famous lighthouse printed on our 20 rupee note.
As we touched down we saw sacks and scuba gear everywhere. But we were looking for something else, we already had a great scuba experience on our last trip on havelock island so wanted to try something new. After 10 minutes of debate between semi-submarine and snorkelling, the latter won, nothing to do with the fact that my Mrs chose it.
For those interested in other activities see below the list.
1. Parasailing.
2. Sea Walk.
3. Scuba Diving.
4. Dolphin Glass Bottom Boat.
5. Coral Safari Semi Submarine Ride.
6. Snorkelling.
We quickly changed, For the first-timers, Yes you do need to carry an extra pair of clothes. After changing we were given our snorkelling gear, also assigned a trained swim buddy each. Holding hands with our trainers we entered the sea and after 10 minutes of swimming, were in 20, 30 feet deep water and the fun begins here. The sea now came to life, from Nemo to parrotfish all were there to greet us. The coral was full of life, from octopuses to colourful fishes, I was mesmerised by the beauty of it. Be it scuba or snorkelling I always see them as peeking from a window into the other universe, A universe with its laws, its own rules and its own life.
I was also mighty impressed by the Stamina of our two trainers, they were swimming and dragging us both for 20 minutes straight and still have enough energy to talk and detail us on the aquatic life below us. After around 25 minutes of Coral Safari, we came back to shore and out of water.
Now as the others, mostly honeymooners, were hopping from one activity to the next so they don't miss on anything. We were but content with what we just did and went to a nearby food stall to curb our hunger. Mrs got Maggi and I ordered a fresh fish.

While having our brunch we struck a conversation with the owner about life on the Island, he said no one other than Govt workers who work at the lighthouse, resides on this Island. All others come from Port Blair in the morning and leave before sunset. He also suggested we try and see the famous lighthouse (20 Rs note fame) which was at 15 minutes uphill track from there, surprisingly we were the only ones going in that direction and going from the thick jungle it felt a little adventurous. Once we reached we saw the red and white lighthouse standing on no man's land in all its glory since 1969, but unfortunately due to covid the entry to the lighthouse was closed, so we couldn't go on top of it. But it was still a good view.
We stayed there for the next 30 minutes or so clicking pictures and then started our descent. We reached our boat right on time at 12:45 but were surprised to see the other fellow boat travellers were still busy with their activities. We had to wait till 2 for them all. But it was all beautiful scenery so we couldn't complain. Once everyone was back we started for Ross Island.
As we reached deep water, one of the boat crew members brought out a fish cable, put a small bait on its hook and dropped it in the sea. After a few minutes the guy shouted at the pilot to stop the engine, which he did without skipping a beat. We thought the fish wire might get tangled in the engine, They both then came to the backside of the boat and started pulling the fish wire, after a few minutes of struggle we realised what happened, they caught a fish and that too a big one. We all cheered and clapped, then continued our ride towards Ross Island. This article has become a tad too long so will share this in two parts. So keep an eye on this space for our Adventures at Ross Island.
Are you an enthusiastic travel blogger or writer? Here's a shout-out to collaborate with Punekarnews.in
Follow Punekar News: