Delights, All Stars enter semifinals at The Poona Club Racquet LEAGUE 2023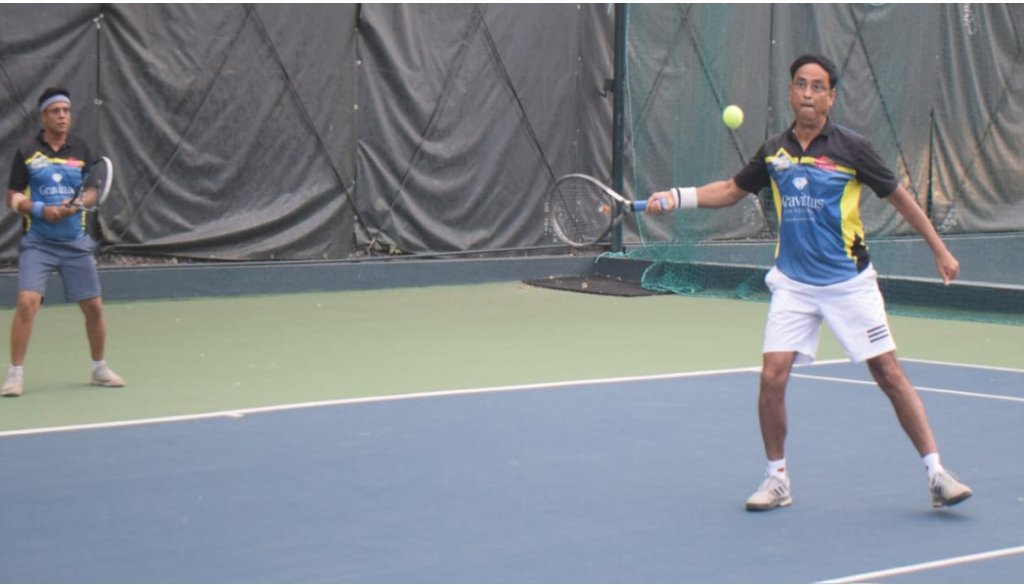 Pune,June 9, 2023: Delights, All Stars enter the semifinals of the Poona Club Racquet League which is being organised by the Poona Club Ltd and played on its Table Tennis, Tennis, and Badminton , Squash facilities and sponsored by Gravittus Foundation and co-sponsored by Convex.
In the quarterfinals, Delights put out Sharks 252-227, while All Stars scraped past Lions 235-229 to make it to semifinals .
Following are the results: Quarterfinal Round:
Delights bt Sharks 252-227
Badminton: Delights bt Sharks 64-51(Sonali Shinde/Krish Shah lost to Chetan Ghuwalewala/Prakash Bhootra 06-11; Vinay Rathi/Aryan Sharma lost to Dev Ghuwalewala/Neerav Bafana 13-15; Jaideep Patwardhan/Advika Parmar lost to Krishna Ghuwalewala/Chaitrali Navare 14-15; Ronak Shah/Satish Mundada bt Yuval Gulati/Umeed Kothavala 31-10);
Squash: Delights bt Sharks 72-50(Evana Gada bt Krishna Ghuwalewala 11-05; Jaspreet Singh bt Arsh Thawani 15-14; Karan Patel bt Shishir Gupta 15-04; Krish Dembla bt Ranjith Bala 31-27);
Table Tennis: Delights lost to Sharks 50-68(Anepurna Rathi/Aryan Sharma lost to Krishna Ghuwalewala/Pawan Sadarangani 10-11; Sachin Rathi/Vinay Rathi lost to Vivaan Patil/Rohit Sharma 06-15; Ronak Shah/Neelesh Khandelwal lost to Dev Ghuwalewala/Chetan Ghuwalewala 03-15; Jaideep Patwardhan/Riya Deshpande bt Sunil Asher/Shishir Gupta 31-27);
Tennis: Delights bt Sharks 66-58(Jaspreet Singh/Neelesh Khandelwal lost to Yuval Gulati/Arsh Thawani 07-11; Karan Patel/Vinay Rathi lost to Prakash Bhootra/Ranjith Bala 13-15; Ronak Shah/Ravi Pittie bt Dev Ghuwalewala/Shishir Gupta 15-14; Jaideep Patwardhan/Sachin Rathi bt Chetan Ghuwalewala/Krishna Ghuwalewala 31-18);
All Stars bt Lions 235-229
Badminton: All Stars lost to Lions 58-69(Laila Allana/Darien Mazda bt Kunal Sanghvi/Ish Kohli 11-08; Param Lunawat/Kiran Sanghvi lost to Yogesh Thube/Pavit Patheja 12-15; Aarushi Pande/Amit Parmar lost to Pankaj Shah/Arnav Sathe 10-15; Mrunal Shah/Sanat Parmar lost to Mokshit Porwal/Amarjeet Chhabra 25-31);
Squash: All Stars lost to Lions 38-63(Aaisha Khanyari lost to Pavit Patheja 00-11; Sidhaant Sanghvi lost to Amaan Khayari 02-15; Mrunal Shah lost to Kunal Sanghvi 05-15; Vivaan Ranka bt Yogesh Thube 31-22);
Table Tennis: All Stars bt Lions 67-51(Laila Allana/Adiv Shah lost to Arnav Sathe/Tanuushri 09-11; Kiran Sanghvi/Dhiren Shah lost to Anil Hingorani/Rishikesh Adhikari 12-15; Param Lunawat/Sanjay Shrivastava bt Mokshit Porwal/Pankaj Shah 15-11; Mrunal Shah/Rashid Khorshedi bt Ajay Jadhav/Trilok Thadani 31-14);
Tennis: All Stars bt Lions 72-46(Sanjay Shrivastava/Darien Mazda bt Pankaj Shah/Jeel Shah 11-07; Kiran Sonawane/Kiran Sanghvi bt Mokshit Porwal/Pavit Patheja 15-11; Mrunal Shah/Abhijeet Ganu bt Chirag Sabunani/Anil Hingorani 15-09; Aishwarya Shrivastva/Sohail Sanghvi bt Ajay Jadhav/Rishikesh Adhikari 31-19).