Do not dismantle Bopkhel bridge – Manohar Parrikar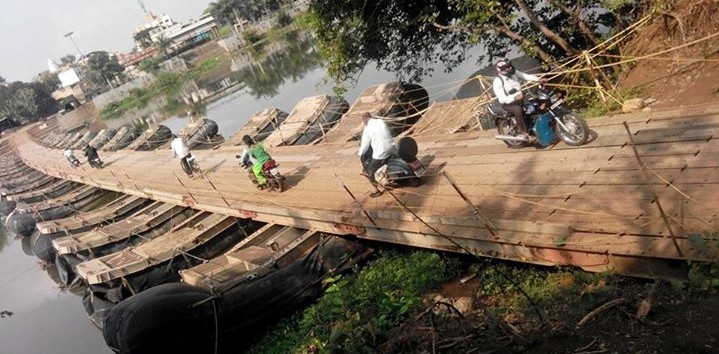 The residents of Bopkhel, Ramanagar and Ganeshnagar, will get a sigh of relief as Defence minister Manohar Parrikar has ordered College of Military Engineering (CME) not to remove the temporary bridge over Mula river.
The order was issued after member of Parliament in Rajya Sabha, Amar Sable approached Parrikar on Wednesday in this regard. Sable said that  that the minister has directed the CME authorities not remove the bridge till a permanent solution is found.
CME authorities had constructed the pontoon bridge last year after local residents protested against closure of 2.25 km road passing through the college campus and connected Bopkhel to Dapodi on the old Mumbai-Pune highway.  The closure had forced villagers to take 15 kilometer detour to reach the main road at Dapodi.
The CME officials had closed the road in May last year after the Bombay high court upheld its position over security concerns posed by unrestricted use of the road by villagers. There was a violent protest by villagers and several policemen as well as villagers were injured in the incident.
The district administration was asked to give options, but it turned out that constructing an alternate route would be expensive and time-consuming. The administration had suggested that CME allow the use of the existing road by upgrading its security measures. However, this was rejected by the institute and the court stuck to the earlier order.
The CME officials said that the bridge is a critical training resource and the college will utilise it frequently for training purposes. Besides, its maintenance is a considerable burden on the manpower and hence will have to be dismantled.
The temporary bridge connects Bopkhel to Khadki near the Ammunution Factory. However the factory officials have also opposed this route citing  security reasons.