Doctors at BR Life Kalinga Hospital successfully remove 30-year-old Football Size Tumor from Abdomen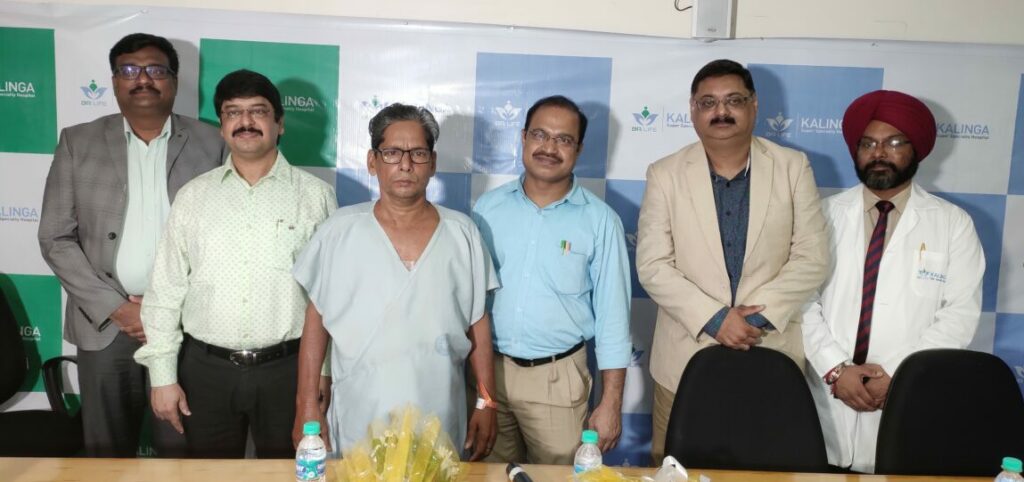 Mumbai, September 17, 2019: BR Life Kalinga Hospital, a leading hospital in Bhubaneshwar, recently performed a high risk tumor excision surgery on a 60-year-old patient to remove a 4kg football-sized tumor measuring 30 x 30 x 30 cm. The hospital, using its advanced surgical technologies, performed this surgical resection and removed the tumor that was connected to multiple organs and tissue.
60-year-old Pratap Kumar Satpathy, hailing from Athagarh in Odisha, complained of having severe abdominal pain, difficulty in breathing and swallowing for the past two months. He was referred to BR Life Kalinga Hospital where, upon clinical investigation, it was revealed that the patient had a huge football-size tumor weighing 4 kg for the past 30 years. The tumor was located in the abdomen, bulging anterior abdominal wall up to 10cm. The tumour was building immense pressure at lower chest, upper abdomen, heart, pericardium, major aorta and abdominal aorta. The tumour was also compressing left side of the ribcage, left side of the liver, pancreas, diaphragm, esophagus, and the stomach.
Speaking on the high-risk surgery, Dr. Brundaban Nahak, Surgical Gastroenterologist, BR Life Kalinga Hospital said, "This was one of the complicated surgeries we have performed in BR Life Kalinga Hospital where the patient was presented with a huge bony tumour measuring 30 x 30 x 30 cm connected to multiple organs and tissues. We performed En bloc resection (procedure of surgical oncology aiming to remove a tumoral mass in its entirety) on the involved anterior abdominal wall and the entire tumour that was connected to multiple organs and tissues. On an average, this surgery takes about 7-8 hours but with the help of the advanced surgical and clinical technologies and our well-trained medical team, we were able to perform the surgery within 3 hours. Post removal of the tumor, we corrected the other organs that were connected to the tumor."
Speaking about the case, Dr. Pradeep Kumar Mishra, Sr. Consultant- General Surgery, BR Life Kalinga Hospital said, "The patient was living with this tumor for the past 30 years. The gradual yet humongous growth of the tumor resulted in creating grave complications for other organs attached in the body. If the condition had persisted, the patient would have found it impossible to eat and breathing would have become a further struggle. Pratap's condition worsened due to the delay in seeking timely medical help. It is important for everyone to have regular health check-up done and consult the medical experts in case of such medical complaints during the early stages to avoid further deterioration of health."
Post-surgery, Mr. Pratap Kumar Satpathy said, "I did not realize that I had such a huge tumor for the past 30 years until during last two months when I started facing difficulty in breathing and swallowing, even while drinking water. I am thankful to Dr. Brundaban Nahak and Dr. Pravas Kumar Misra who saved me and gave me a new lease of life. I had almost lost hope of getting treated due to the criticality of the case. I was fortunate to reach the hospital on time and have the surgery carried out successfully."
Follow Punekar News: