Draupadi Murmu Nominated for the Presidential Election, PM Narendra Modi Became the Proposer; BJD, YSR leaders also Reached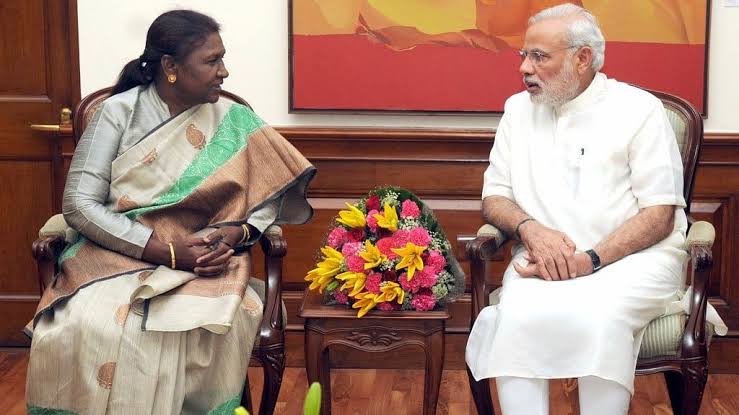 New Delhi, 24th June 2022: Presidential candidate Draupadi Murmu has filed her nomination from the BJP-led NDA alliance. PM Narendra Modi was also present with her during the nomination. The nomination was filed by Murmu in 4 sets. 
In the first set, PM Narendra Modi himself became the proposer. Apart from this, members of the BJP Parliamentary Party including Amit Shah, and Rajnath Singh approved her name. JP Nadda, Amit Shah and several central government ministers were also present during the nomination process.
Not only this, many Chief Ministers of BJP-ruled states including Yogi Adityanath, Shivraj Singh Chouhan, Manohar Lal Khattar, Himanta Biswa Sarma, and Pushkar Singh Dhami had also reached. Murmu went for nomination after paying homage to the statue of Mahatma Gandhi. She joined the BJP in 1997, has been a member of the Odisha Legislative Assembly and has also served as a minister in Naveen Patnaik's government. Not only this, but she was also the first woman governor of Jharkhand. 
Leaders of many parties including JDU, BJD, and YSR were present
After the announcement of Draupadi Murmu's name, BJP President JP Nadda had said that it would have been better had she been elected unopposed. Since the announcement of Draupadi Murmu's name, Naveen Patnaik and YSR Congress leader Jagan Mohan Reddy has declared support. Apart from this, Jharkhand Mukti Morcha can also support in the name of tribal women. In such a situation, her victory is considered certain. Several MPs from Biju Janata Dal and YSR Congress were also present on the occasion. From this, it is believed that the NDA did a show of strength with the nomination of Draupadi Murmu. It is clear from the presence of leaders of many parties including BJD and YSR Congress that NDA has powered its victory with this nomination.
Draupadi Murmu will be the first woman tribal president of the country
Coming from the Santhal tribal community, Draupadi Murmu is known for her life of simplicity and struggle. She lost several family members including her husband and two sons since 2009 and raised her daughters in the midst of a tough struggle. Born in the Mayurbhanj district of Odisha, Draupadi Murmu will be the first tribal woman president of the country if she wins the election. Before filing the nomination, Draupadi Murmu met many leaders including Amit Shah and JP Nadda.