INDIA USHERS IN THE NEW AGE OF ENTREPRENEURSHIP WITH THE LAUNCH OF THE LARGEST BORDERLESS INCUBATOR: INDIARATH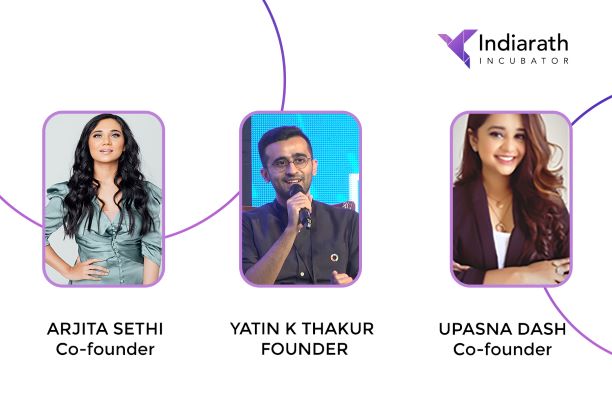 June 25 2020, New Delhi: A trio of Indian serial entrepreneurs, Yatin Thakur, Arjita Sethi & Upasna Dash today announced 'the country's largest borderless incubators- Indiarath', an initiative to enable the talented entrepreneurs to create, sustain & scale their ventures in the new age of entrepreneurship. The programme already has mentors from Google, Amazon, Facebook, Microsoft, Silicon Valley Bank, Morgan Stanley, Crisil, Cisco, Paytm, OYO, JOYY Inc, Akatsuki Inc, Blume Ventures, Global Entrepreneurship Network & more. The programme also brings experts from diverse ecosystems including India, the United States, Japan, Hong Kong, United Kingdom, New Zealand, Taiwan & more.
The 24-week long incubator program will have personalized sessions & coaching to enable startups of any scale/help with navigating any business challenge across verticals. The programme is focused on three broad categories that include upskilling entrepreneurs to handle real challenges through fundamentals, business re modelling, product designing, branding strategy etc provided by some of the best experts from the industry in the form of masterclasses. One on one mentor ship by some industry veterans to help entrepreneurs achieve tangible goals over the course of 6 months. Global Connects in order to build stronger market reach and build products and services keeping in mind the global markets/economies.
"India has the ability to build more than 200 unicorns among half a million startups over the next 3-4 years, up from the existing 50,000. The talent and ideas are already out there but what can accelerate these companies to become a unicorn or an impact-driven company is correct mentor ship, guidance and access to markets. Indiarath would be mentoring and shaping the course of the next big game-changing startups. We are looking forward to seeing some great applications as we onboard some amazing mentors, coaches and legendary investors", Yatin Thakur, Founder, Indiarath says "While the world is going through unprecedented changes, it has also given us the opportunity to re-write the rules of the ecosystem. We are on a mission to enable the most talented entrepreneurs to sustain their ventures and scale beyond Indian borders. We will guide them to build resilient startups and to reach their next milestone to serve the Indian market in the best possible way. Just like the power of a "chariot", Indiarath will look at accelerating the most talented ideas from across the country.", says Upasna Dash, Co-Founder, Indiarath Arjita Sethi, Co-Founder, Indiarath says," We're excited to bridge the gap between Indian founders & global experts in meaningful ways. We believe now is the right time to create a truly border less environment of learning, scale & impact to create the next generation of startups. As someone who has worked across global ecosystems, I'm excited to work with Indian startups to help scale their potential & access opportunities across the globe. We're thrilled by the support & encouragement by the ecosystem already and are excited to build this with our community"