Kotak Mahindra Prime Associates with Impact Guru Foundation to Launch 'Care on Wheels' Initiative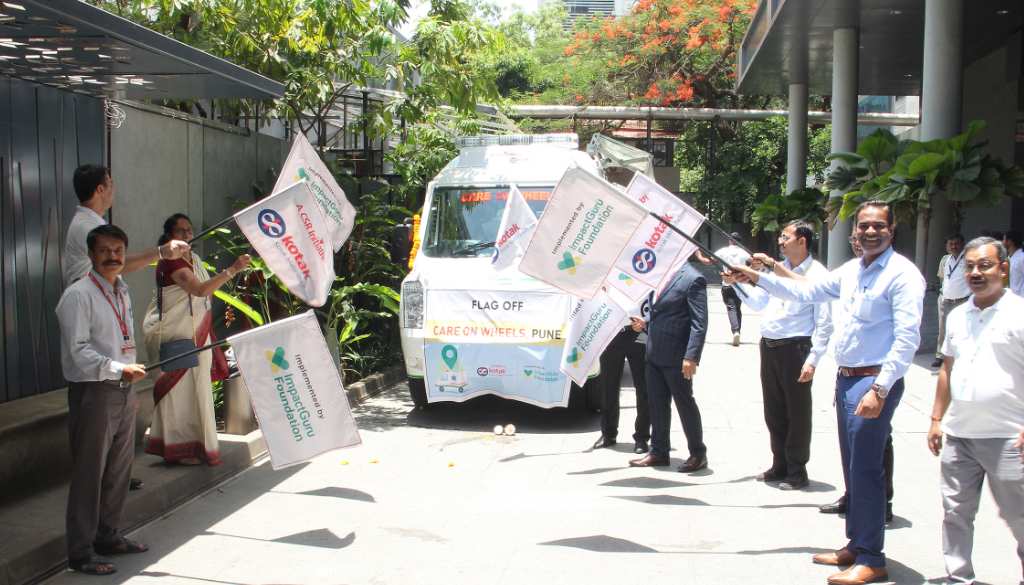 Pune, 02 June 2023 : Under its Corporate Social Responsibility initiative, Kotak Mahindra Prime Ltd. has associated with Impact Guru Foundation (IGF) to launch a year-long healthcare programme 'Care on Wheels' in around 40 localities in the Pune district. With the help of four Mobile Medical Units (MMUs), the programme will provide free doorstep healthcare services to around 1 lakh underserved patients, who have limited access to affordable primary healthcare facilities.
The initiative was inaugurated, on 29th May 2023, at an event at Nyati Unitree, Yerawada, Pune, at the hands of Dr. Kalpana Baliwant, Dy. Health Officer, Pune Municipal Corporation, Pune; Dr. Patil P.R., Medical Administrative Officer, PMC; and Dr. Sachin Yedke, Block Health Officer, Haweli Block. Other dignitaries present at the event were Mr. Sundeep Talwar, CEO, Impact Guru Foundation and Mr. Kiran Tangudu, VP, Kotak Mahindra Prime Limited.
The Care on Wheels programme will benefit individuals who are unable to visit a healthcare facility due to their health condition or limited mobility such as underserved communities, the elderly and government school children living in remote areas, etc. These Mobile Medical Units (MMU) are equipped with medical supplies for basic medical examinations, diagnostics, and treatments, along with qualified paramedical professionals, including MBBS doctors, Healthcare Workers, a pharmacist, and support staff, who will travel to various locations across Pune district.
Mr. Vyomesh Kapasi, MD & CEO, Kotak Mahindra Prime Ltd. said, "We are pleased to associate with Impact Guru Foundation to launch the 'Care on Wheels' programme that will provide critical last-mile healthcare connectivity to underserved communities. This initiative will play a pivotal role in perpetuating healthcare services to those in dire need of medical assistance and improving lives of as many lives as possible."
Sundeep Talwar, CEO, Impact Guru Foundation said, "Almost 4,300 people die every day due to a lack of access to basic healthcare needs. We are delighted to associate with Kotak Mahindra Prime to launch the 'Care on Wheels' programme that will bring primary healthcare directly at people's doorsteps. Together, we will strive to provide early health interventions to promote overall well-being and disease prevention among community members."