"LABOUR LAWS SHOULD BE UNDERSTANDABLE AND IMPLEMENTED WITH ALL SERIOUSNESS"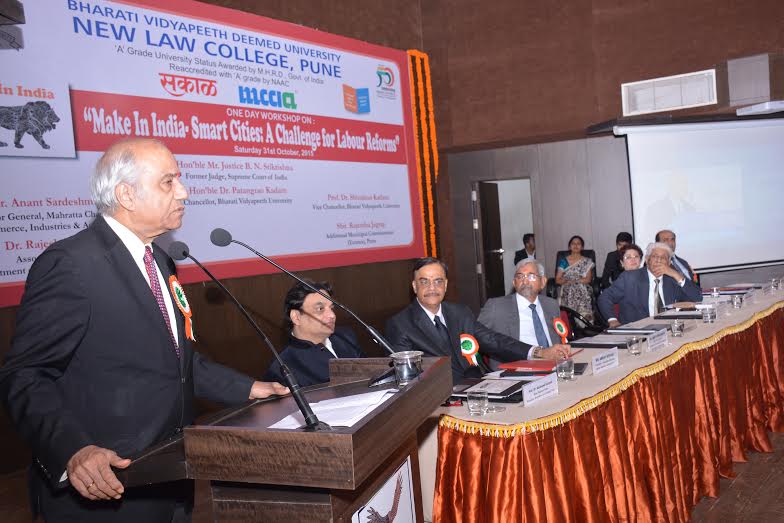 Pune, October 31 : Justice B N Srikrishna, former Supreme Court judge, said while speaking during a national one day workshop on "Make In India – Smart Cities: A Challenge for Labour Reforms" on Saturday at Bharati Vidyapeeth New Law College, Pune.
He further stated that : "Labour reforms is a complicated issue in itself, there are lot of legislations or laws for laborers. Balancing of Economy & Constutional mandate is key to labour reforms as labour is a 'input'. In democracy always there shall be balancing view as the issues are more for example, living condition of laborers, minimum wages to workers, etc. apart from that populist ideas are also implemented. What really activate labour reforms was the World War II, where manufacturer perished. In India 'Honesty should become a key then only India will be a paradise.'
Labour reforms to be suggested are remuneration to labourers, conditions of working shall be improved, security of service to labourers, etc are the necessary reforms to be made in all labour acts. In India all laws are implemented or deeply rooted for corruption 'Kaydyacha raj.' Labour laws should be implemented as a spirit and should be understandable. There should be National Labour Laws and National Wage Policy for whole country. There shall be security of employment, programs on skill development at multi levels for labourers, education to labourers and flexibity in laws in order to have good labour reforms. Laws are impelled by political reasons or corrupt reasons. Social security to labourers as well a citizens should be provided in all laws. There is a need of 'Elbow room' for open discussions for actual implementation of laws. Tension is an inherent part of democracy, so balancing of conflict interest can bring 'Acche Din'.
Prof. Dr. Mukund Sarda stated that, "Smart city contains' 1) competition amongst smart cities 2) Everyone shall have right to dignified life. Smart cities shall have smart labour and there is a need to abolish unnecessary laws for implementation of Make in India. The major issues that shall be resolved for labour reforms are 1) Multi legislations shall be abolished, 2) Abolished license raj, 3) Safety and security of labourers , 4) Skilled development and E-Learning.
Further Dr. Anant Sardeshmukh, Director General, Mahratta Chamber of Commerce, Industries & Agriculture, stated that, "By Make in India there will be increase in jobs, employment, increase in sells, open Indian market to foreign companies, infrastructure. Smart City would be through Information Technology, use of service of Modern Technology by citizens and government. For labour reforms 'Simplicity' and 'Vision' is required. For Make in India to become a dream come true "Pace is required."
The National One Day Workshop was inaugurated at the auspicious hands of Justice B.N. Srikrishna, Former Judge, Supreme Court of India, Dr. Patangrao Kadam, Chancellor, Bharati Vidyapeeth, Prof. Dr. Muukund Sarrdah Dean and Principal New Law College, Pune, Mr. Abhay Nevagi, , Prof. Dr. Uttamrao Bhoite, Dr. Rajeshri Varhadi, Adv. Shrikant Malegaonkar