Law Chargers, Tennis Tigers, Deccan Warriors win at the Third edition of Koodo India Team Inter Club tennis championships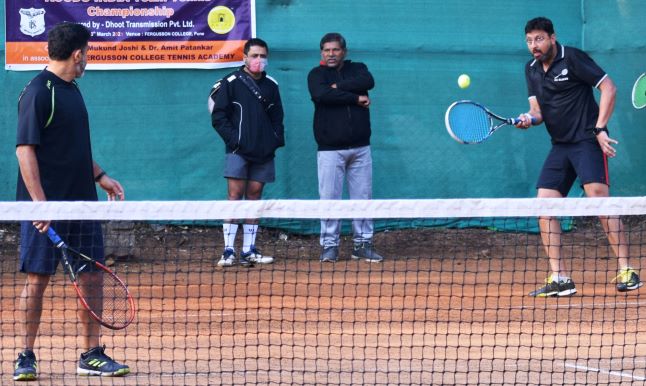 Pune, 5th March 2021: Law Chargers, Tennis Tigers and Deccan Warriors scored wins in their league encounters at the third edition of the Koodo India Team Tennis Championships organized by Fergusson College Tennis Academy under the auspices of Pune Metropolitan District Tennis Association (PMDTA) on the Fergusson College Tennis courts.

Law Chargers registered a 24-11 win over Solaris Dynamos, while Tennis Tigers ousted ODMT B 24-06.
In another league match, Deccan Warriors outplayed Rutuparna Dynamites 24-08.
Following are the results: Group League Round: 
Group D: Law Chargers bt Solaris Dynamos 24-11(100Plus: Nitin Khaire/Shriniwas Ramdurg bt Ravi Bhandekar/Deepak Disa 6-5(7-2); 90Plus: Parag Chopda/Kalpak Patki bt Mandar Kale/Deepu Galgali 6-0; 1st Open: Sameer Bafna/Rahul Mantri bt Santosh Dalvi/Kunal Puranik 6-4; 2nd Open: Nitin Khaire/Prakash P. bt Yashraj Ubhe/Parth Sahastrabudhe 6-2);
Group F: Tennis Tigers bt ODMT B 24-06(100Plus: Suresh Ghule/Jitendra Joshi bt Dnyaneshwar Jaid/Rahul Patil 6-1; 90Plus: Santosh Jaybhai/Rahul Pandharpure bt Ram Nair/Dnyaneshwar Katkar 6-0; 1st Open: Shivaji Yadav/Abhijit Marathe bt Piyush Khandelwal/Rishikesh Ghare 6-1; 2nd Open: Ketan Jathar/Gopi Jaibhai bt Rahul Patil/Raj Kapoor 6-4);
Group B: Deccan Warriors bt Rutuparna Dynamites 24-08(100Plus: N Bhave/A Patankar bt Anil Ramod/Nikhil Deshpande 6-2; 90Plus: Parag Desai/A Athawale bt Kedar Rajpathak/Nitin Jhamvar 6-1; 1st Open: K Pathak/V Umbrani bt Anil Ramod/Sanjay Kataria 6-0; 2nd Open: Adil Khalid/Vijay Gokhale bt Narayan Aghav/Nitin Lahoti 6-5(7-4).
Follow Punekar News: