Maharashtra Mens A, Womens B teams at Wheelchair Basketball Tournament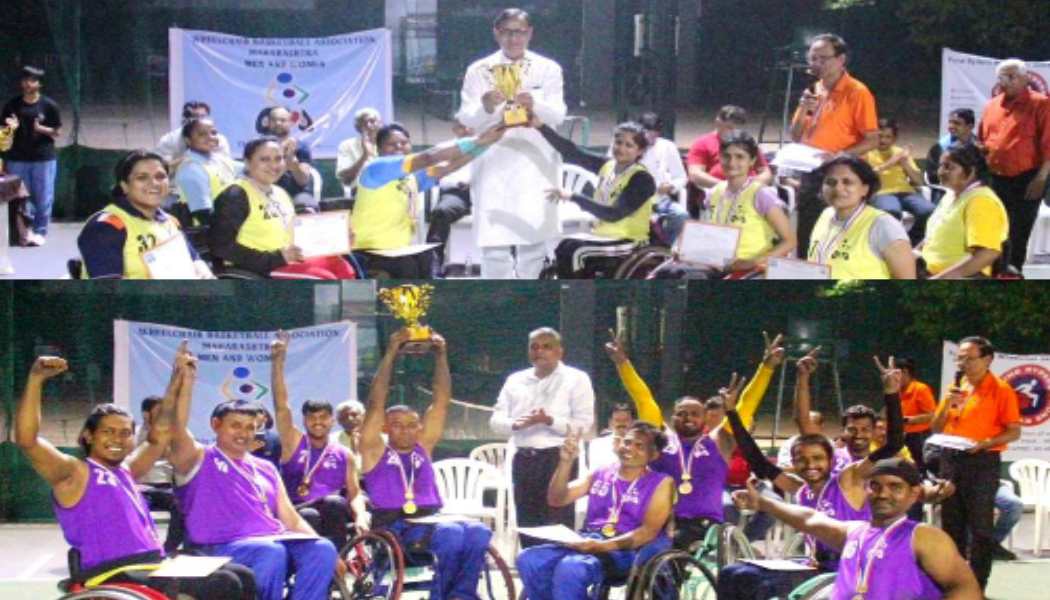 Pune, March 28, 2023: Wheelchair Basketball Association Maharashtra (WBAM) is a registered body since 07 March 2017 and is having its office in Pune. The Association is working to promote Wheelchair Basketball Sport in Maharashtra. The Maharashtra Men's team was formed in 2014 and they have won all the six National Championships conducted so far (2014-2019). The players are mainly ex-Army personnel from the Paraplegic Rehabilitation Centre (PRC) Khadki, Pune. The Maharashtra Women's team was formed in 2017 and they have won the last two National Championships which were held at Erode, Tamil Nadu (2018) and at Mohali, Punjab (2019). No National Championships were held after 2019 due to the Covid Pandemic.
Wheelchair Basketball matches were conducted at the PYC Hindu Gymkhana Basketball court on 25 and 26 March 2023 to give our players the much-needed match practice and also to select the Maharashtra Wheelchair Basketball teams to participate in the next National Championships likely to be held in the second half of 2023.There were three Men's teams and two Women's teams comprising of players from Mumbai, Pune, Amravati and from the Paraplegic Rehabilitation Centre (PRC) at Khadki (ex-Army Personnel). In the Men's section, three teams viz. Maharashtra's' A 'A'Team, 'B' Team and 'C' Team participated.
In the Women's section two teams viz.Maharashtra 'A' Team and Maharashtra 'B' Team participated. The matches were held on a round-robin basis.
Results in brief are as under:- Men's – Maharashtra 'A' Team beat Maharashtra 'C' Team – 33-15.
Men's – Maharashtra 'B' Team beat Maharashtra 'C' Team – 20-15.
Final Match – Men's – Maharashtra 'A' Team beat Maharashtra 'B' Team – 26-17.
Final Match – Women's – Maharashtra 'B' Team beat Maharashtra 'A' Team – 17-11.
The Chief Guests for the function was Shri Sunil Ramanand, IPS, Addl DGP & ShriAbhay Chhajed, Pune City District Congress Committee.Other dignitaries included Colonel RK Mukherjee, Medical Director PRC, Shri Manish Sabade, Chairman and Managing Director Guardian Corporation and Olympic Gold Quest Head of Pune Chapter, Shri Jitendra Pitaliya, Director Vardhaman Meditrade LLP, Shri Saikrishna Hattangadi, Asst. Commissioner Customs, Shri Sarang Lagu, Secretary PYC, and Shri Abhishek Tamhane,Basketball Secretary PYC.
The matches helped the players to come back after a long lay-off due to Covid. New players were seen in action in this tournament and some of these players will be part of the Maharashtra Wheelchair Basketball Teams for the next National Championships.
In these matches, players who represented the Indian Wheelchair Basketball teams were seen in action viz. Shri Suresh Karki, Shri Anil Kachhi, Shri MD Faiyaz Alam, Shri NS Thapa and Shri Sudhanshu Patel in the Men's section and Ms Geeta Chouhan, Ms Minakshi Jadhav and Ms Nisha Gupta in the Women's section. The matches were well conducted due to the extensive support received from PYC and the organising committee consisting of Shri Prasanna Choudhari, President Wheelchair Basketball Association, Maharashtra and other members like Shri Abraham Poulose, Captain Louis George Meprath, Ms Suvarna Limaye, Ms Meghna Munot, Ms. Shireen Limaye captain of the Indian basketball team, Mr. Justin and Dinesh Gandhi.