Major Yard Remodelling work at Hotgi (near Solapur) completed successfully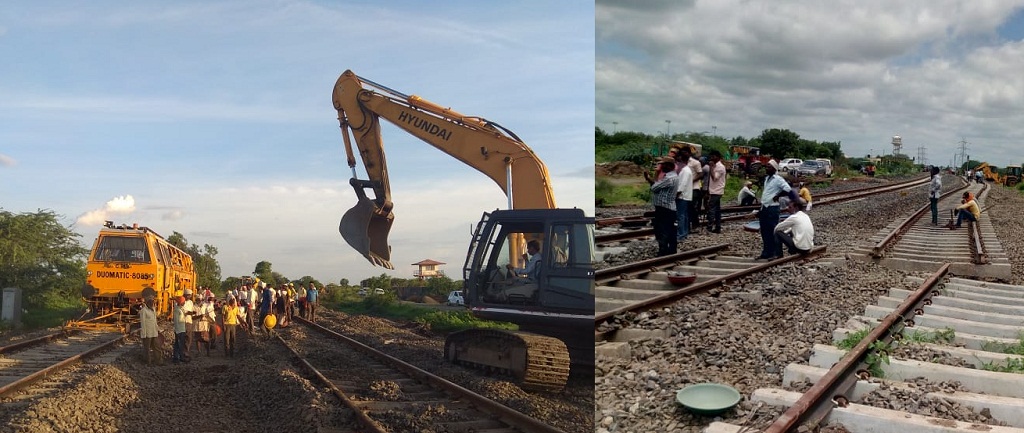 Solapur, 1 August 2020: Central Railway Construction wing of Engineering and Signal and Telecommunications in close co-ordination of Operating department completed major yard remodeling work at Hotgi in connection with 33 km doubling of railway line between Latchyan in Karnataka and Hotgi in Maharashtra on 29.7.2020. Due to this work, the section capacity of the railway line will increase. This will help in more loading and unloading activities in nearby companies/factories.
This jumbo work completed after 10 days Pre-Non-Interlocking work and 60-hour Non-Interlocking work (including 36 hrs under traffic +12 hrs off traffic). The dedicated team of officers and staff of the Operating, Engineering and S&T department rose to the occasion and executed the task before them in a systematic manner. Approximately 250 workers were working day and night for completion of this yard remodelling work.
Non-Interlocking work of testing & reconnection has been given in 4 hrs traffic block instead of sanctioned 12 hrs traffic block (saving of 8 hrs) by executing the work round the clock for 20 days while the supervising officers stayed at the site. The major works involved preparation and approval of engineering scale plans, signal interlocking plans, electrical works, General Arrangement Drawings (GADs) of bridges.
The salient features are given below:
1) Alterations in 59 routes in working central cabin RRI having 158 routes.
2) Alterations in 16 Routes, 15 new routes in working A cabin RRI.
3) Commissioning of 6 new signals & 2 shunt signals
4) Fixing & testing of 8-point machines & removal of 8-point machines.
5) Length of new track: 2.48 Km.
6) No of turnouts removed: 8
7) No of turnouts laid: 8
8) Slewing of NTPC chord line: 200m.
During Non-Interlocking work, all safety precautions and protocols of COVID-19 were adhered too.