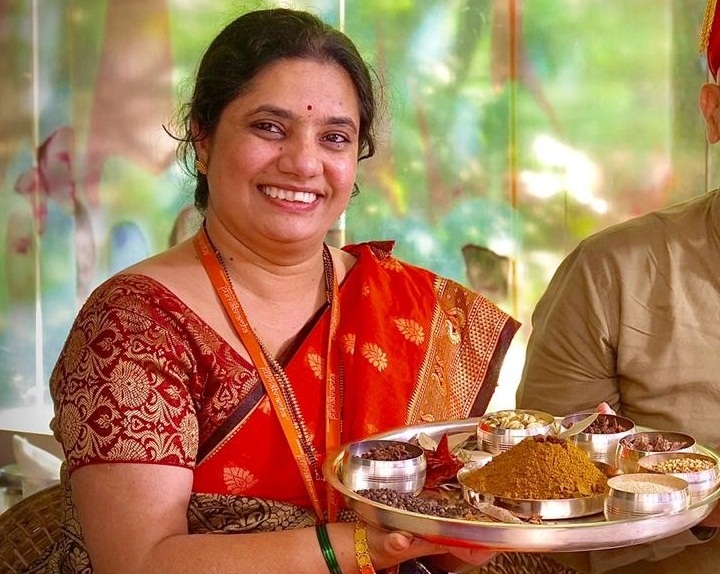 Shikha Chaurasia
Bengaluru/Pune, September 29, 2020: Jayanti Kathale is the superwoman behind the authentic Marathi cuisine restaurant chain 'Purnabramha'. She is now a proud owner of 14 restaurants across India and there are branches of her restaurant in Australia and the US too.
How was the idea of Purnabramha born?
Jayanti used to work in an IT company and had good earnings. She stayed in many countries due to her work. Jayanti and her husband, who was also working in an IT company stayed in Australia from 2006 to 2008.
The biggest problem they faced was that each and every restaurant used to serve non-vegetarian food. While Jayanti could eat non-vegetarian food her husband couldn't. They missed Marathi cuisine and vegetarian Indian food.
They shifted back to India in 2008 and were now living in Bengaluru. Jayanti said, "Though I enjoyed eating idli-sambhar and Dosa for three to four months, I started missing Marathi food again."
Jayanti was a working woman and with her job, it was not possible to cook at home all the time. She had then decided that something had to be done in this field. She also thought that there might be thousands of people out there who might miss Marathi food.
"Then for about three years with a job I kept doing my research. I went to different restaurants, looked at the menu there and used to taste their dishes. I also noted things which weren't in their menu", said Jayanti. 
She also went to many famous temples and tasted the food there. 
After watching all this for three years, Jayanti prepared her menu. During this time she also researched international food brands. 
Jayanti said, "My goal was to get the authentic Maharashtrian food available. The concept was ready in my mind, the menu was also ready. I researched about 700 recipes, out of these, I had to start with 180 recipes first."
This is how the idea of Purnabramha was born.
How did Purnabramha become a global brand?
Jayanti along with her three friends first started her first restaurant in HSR layout in Bengaluru in the year 2012. It got a very good response because no other restaurants in Bengaluru were serving Marathi delicacies like spicy misal pav, dal ka dulha, sabudana vada, mithi shrikhand puri and puran poli. Jayanti had proved that Marathi food goes beyond poha and vada pav.
They had to eventually shift to a bigger place. This went on from 2012-2016 and their business only grew more rapidly. They expanded their business and started their branches in Australia and the US. 
"The main goal of opening restaurants abroad was to make delicious Indian food available to the Indians living there. We now have 14 branches and Purnabramha has become a company. We also offer franchisees now", said Jayanti.
Due to the COVID19 pandemic imposed lockdown, Jayanti distributed food to one lakh people across Karnataka and offered discounts at every branch of her restaurant. She has a golden heart and feels that no one should go hungry.