Mesmerizing Arunachal Pradesh: Know Places To Visit And How To Plan Your Journey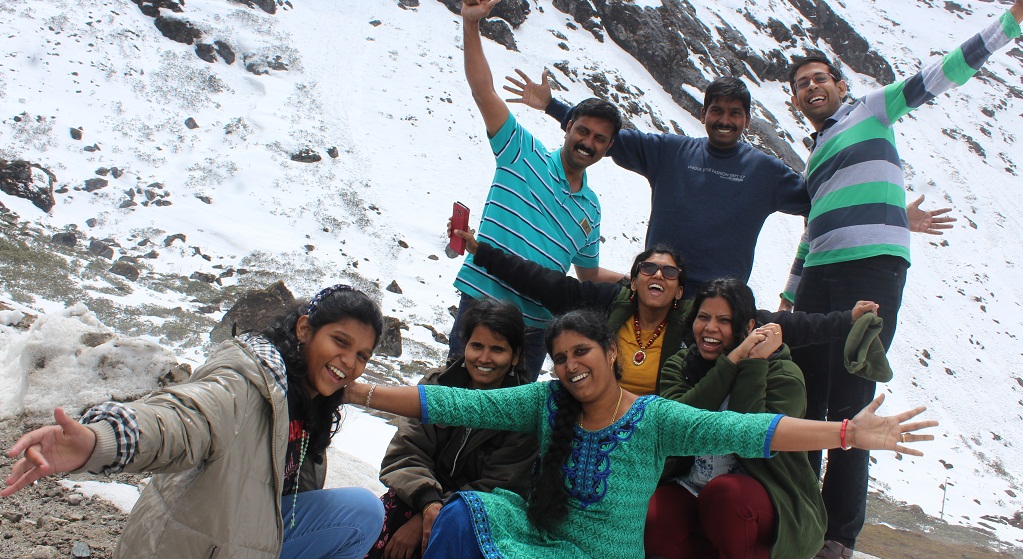 Anjelin Johnson
Pune, February 20, 2021: Consisting of eight states, north-east India has fascinating surprises for travellers. It is popularly known as 'Land of the Dawn-lit-Mountains,' and the first Indian soil to greet the rising sun. Eleven people in our group went to this mesmerizing place during early summer.
DAY 1-Places: Kolkata-Guwahati-Nameri (240 km-5hrs from Guwahati)
We commenced our journey from Kolkata to Guwahati by Air and went on to witness the Brahmaputra – the largest river in the world that runs through Tibet (China), India, and Bangladesh. and explored Kamakhya Temple, Umanandha Temple.
 From Guwahati, we reached Nameri-national park in the Eastern Himalayas foothills in the Sonitpur – district. With homely food, a tent in the middle of the forest, birds, and animal sounds, our stay at Lalimou camp- a true sense of Eco-resort (cottages) was excellent.
DAY 2- Places: Nameri-Dirang (180 km-7 hrs)
Our Resort arranged early morning river rafting at the Jio Bhoroli river. It is one of the classical experiences for us with the finest quality of rapids, scenic and calm landscapes, and thick jungle made our journey unforgettable. After lunch, we went uphill and entered Arunachal Pradesh. Our entry to Arunachal was smooth as our tourist agency has already arranged our inner line permit (ILP) and other documentation properly.
DAY 3-Places: Dirang to Tawang (150 km-8 hrs)
After breakfast, we checked out and went to Sangti Valley. This beautiful valley is surrounded by hills covered with fruit orchards and flowers. After our traditional meals from a village home, we went to one of the highest motors passes of northeast India- the Sela Pass covered by a thick blanket of snow (13700 ft ht) – between Tawang and West Kamang districts of Arunachal Pradesh.
After playing in the snow and a few funny and romantic clicks, we started our journey towards Nuranang waterfalls. It looks like a white sheet of water that descends from the height of 100 meters and is one of the most spectacular and stunning waterfalls in the country, yet unknown to many travellers and virgin places, deep in the forest of Tawang.
We went down to the bottom of the falls, where we enjoyed the waterfall's forceful sprinkles and played in the river. It came to the limelight when a song from the movie 'Koyla' featuring Bollywood actress Madhuri Dixit in 1997. More than Madhuri Dixit, our team clicked superb shots, especially Ruby and Dom's romantic and thrilling moments.
From there, we went to the Jaswantgarh War memorial; the bravery shown by Rifleman Jaswant Rawat, an Indian Army soldier of 4 Garhwal Rifles, was honoured by building a memorial at the post where he fought the Chinese Army in 1962. Local people believe that he has become a saint and his spirit protects the area. He killed more than 150 Chinese soldiers in the battle.
DAY 4- Tawang local sightseeing
Tawang is a town situated at an elevation of approximately 3,048 meters (10,000 ft) in the northwestern part of Arunachal Pradesh of India. We went to the Craft centre, Urgelling Monastery – the sixth Dalai Lama's birthplace, other nunneries, or the oldest Ani gompas and Tawang Monastery. In the evening, we went to the Tawang War memorial for a Sound and light show -by our Indian Army, which was heart-touching, and you will proudly salute our Army with tears.
DAY 5- Places: Bum La pass (40 km from Tawang)
We enjoyed the snowfall after breakfast and reached the Indo-China border at Bum La Pass (16500 ft ht). You need ILP to enter this mesmerizing place. Due to heavy snowfall and fog, we could not see China from the India border.
DAY 6 – Places: Tawang-Bomdila (190 km-8 hrs)
We went to heart lake, PTSO lake, Naghula lake, which was terrific, and our eyes clicked on everything we saw. The scenic beauty of the Himalayan mountain made our day remarkable. The zigzag roads on the hills and the drive to Bomdila can make you feel like a drive to the end of the world.
The place also inhabits many spots to look forward to, like museums, monasteries, souvenir shops, etc., which attract tourists from each corner of the nation. Our overnight stay at Bomdila was unforgettable as it was the last night to stay with our friends.
Day 7—Places: Bomdila to Guwahati
Even though the journey was quite long, you could lose yourself in its charismatic magic, a virgin paradise unexplored-the northeast!!.
Indian Army is taking care of tourists like their own family with so much sincerity and dedication. Nowhere we felt insecurity or any problems. I hope this article will help you explore Arunachal Pradesh without any hassles.
Stay
Day 1: Nameri Lalimou Camp
Day 2: Dirang Norphel Retreat Super
Day 3 ,4,5: Tawang Tashi Ga-Tsel
Day 6: Bomdila Tsepal Yangjom
Pre-book accommodation is a must-as there are very few hotels available with limited facilities.