MIT Bioengineering organizes ICRTB 2021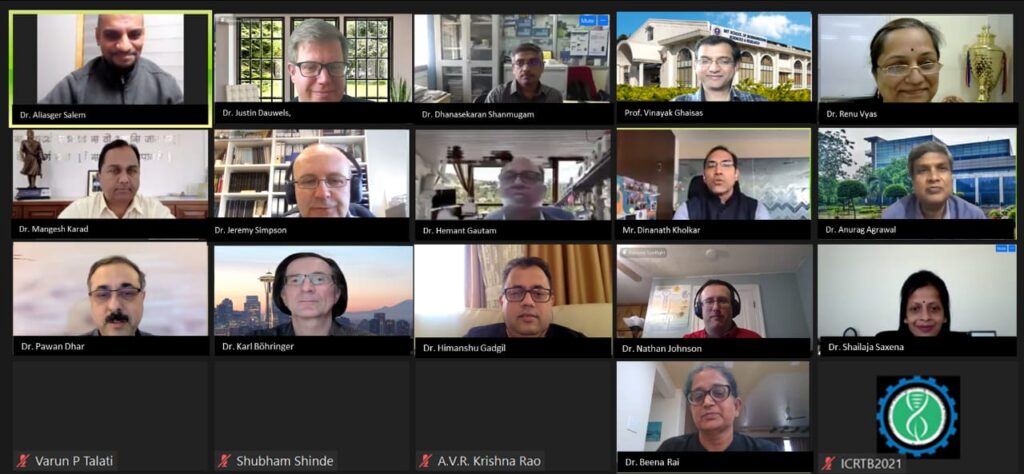 Pune 16th February 2021: MIT School of Bioengineering Sciences & Research, a constituent unit of MIT Art Design and Technology University, Loni Kalbhor, Pune organized the 4 the International conference on "Recent trends in Bioengineering" (ICRTB-2021) from 12th -13th February, 2021 via virtual platform considering the COVID-19 pandemic situation. The conference was inaugurated by Prof. Dr. Mangesh Karad, Executive President and Vice Chancellor, MIT Art Design and Technology University, Pune. Dr. Renu Vyas, Head of School and convenor
of the conference introduced the guests and deliberated on the theme of conference while welcoming the delegates from all over Indian subcontinent and abroad. Prof. Vinayak
Ghaisas, Founder & Director of School emphasized the role of bioengineering in healthcare sector. The Guest of honour of the conference Dr. Virendra Ghaisas, Executive Director, MIMER Medical College, Pune expressed his views on application of bioengineering in the
field of medical sciences. He also recalled the role of bioengineering during the pandemic situation.

The inaugural talk was delivered by Chief Guest Dr. Aliasger, University of Iowa, USA based on his excellent research findings and applications of bioengineering skills and technologies in the health sciences as well as drug discovery. Dr. Karl Bohringer, University
of Washington, USA spoke on microfluidics and sensors and Dr. Dinanath Kholkar, VP and Global Head of Analytics & Insights at TCS, India dwelt upon Digital Health as well as importance of advanced technologies used in bioengineering. The function included industry expo and poster exhibition along with inauguration of the OMIK Association of Bioengineering. Plenary sessions included talks by Dr. Justin Dauwels, Tu Delft Netherlands,
Dr. Shailaja Saxena, Head, Molecular Medicine and Regenerative Medicine, Reliance Life Sciences, Dr. Beena Rai, Principal Scientist, TCS, India.
The delegates from various states like Maharashtra, Karnataka, Andhra Pradesh, Telangana, Tamil Nadu, Kerala, West Bengal, Philippines, Brazil presented their research work in the form of oral and poster presentations.
The second day of the conference began with keynote addresses by Prof.Dr. Anurag Agarwal, Director, CSIR-IGIB, New Delhi, Dr. Pawan Dar, Dean Biotechnology, JNU, New Delhi, Dr. Nathan Johnson, Harvard Medical School, USA, Dr Himanshu Gadgil Director Enzene Biosciences Pune and Dr. Hemant Gautam, IGIB, New Delhi . The talks emphasized the prominent role of Machine Learning (ML), Artificial intelligence (AI), Bioinformatics and bioengineering in various diseases.
The distinguisher speakers and guests stressed on the importance of collaboration between industries and academic institutions for nurturing
innovation and promoting start up ecosystem. Prizes were announced for oral and poster presentations by delegates in the function. All the guests and delegates appreciated and congratulated the efforts to organize the conference by MIT School of Bioengineering Sciences & Research, Pune.