NDA Open Squash: A Showcase of Diversity and Dedication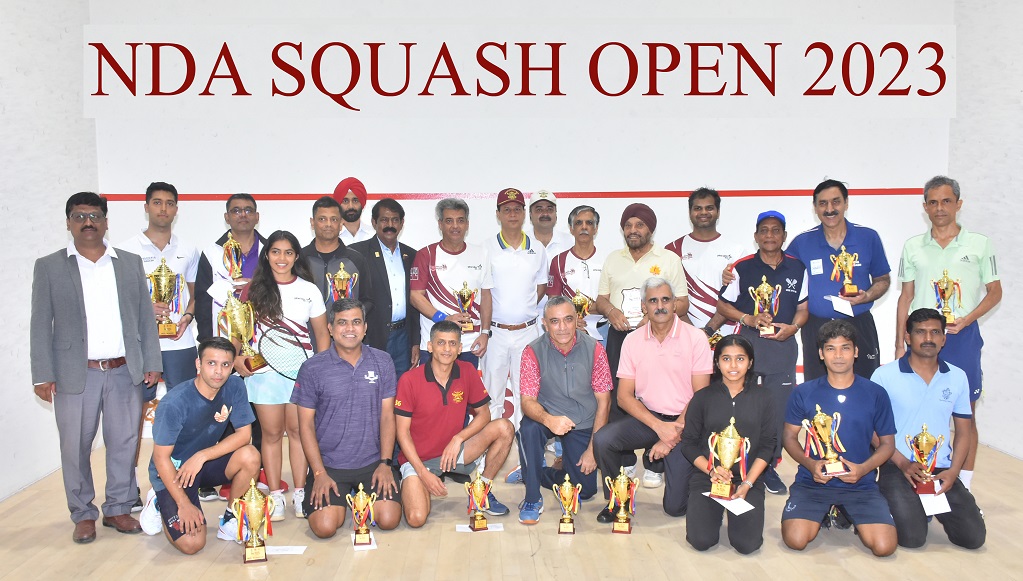 Pune, 18th September 2023: Commemorating '75 Glorious Years of National Defence Academy Khadakwasla' the Academy hosted 'NDA Open Squash', a Two Star National ranking squash tournament held under the aegis of Squash Racket Federation of India (SRFI). The matches were conducted in the state-of-the-art Indoor Sports Complex at the National Defence Academy from 15 September 2023 to 17 September 2023. The tournament witnessed intense competition, featuring a total of 198 participants, comprising national level players including serving officers, veterans and cadets of NDA.
This prestigious event encompassed 10 distinct categories for both men and women, showcasing the diverse talent and dedication within the sport. The youngest contender being a mere 10 years old, while the oldest competitor, at 86 years of age, exemplified the enduring spirit of enthusiasts.
The 'NDA Open Squash' culminated with a prize distribution ceremony, where trophies and cash prizes were conferred to the top two players in each category.
The winners in respective categories were as follows:-
| | | | |
| --- | --- | --- | --- |
| S No | Category | Name of Winner | State |
| (a) | Senior Men | Mr Chatainya Shah | Maharashtra |
| (b) | Senior Women | Ms Janet Vidhi | Maharashtra |
| (c) | Men Over 35 | Mr Paul Ipe | Karnataka |
| (d) | Men Over 40 | Mr Sanjay Pawar | Maharashtra |
| (e) | Men Over 45 | Mr Benjamin Nedarapalli | Maharashtra |
| (f) | Men Over 50 | Brig Anuj Kalia, VSM | Armed Forces |
| (g) | Men Over 55 | Gp Capt Saurabh Deokuliar | Armed Forces |
| (h) | Men Over 60 | Col Ashun Bahl (Retd) | Armed Forces |
| (j) | Men Over 65 | Mr Vijay Jaini | Haryana |
| (k) | Men Over 70 | Mr Kishan Lal | Maharashtra |