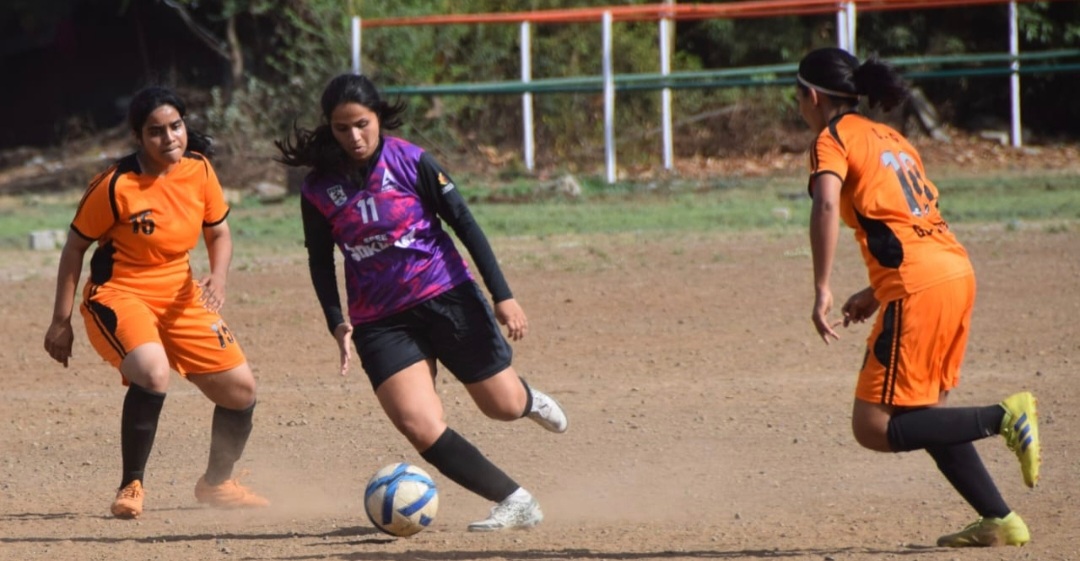 Pune, 24th May 2022: Debutants Aspire F.C played out an entertaining draw in the Women's League of the Poona District Football Association (PDFA) League 2021-22, here on Tuesday.
At the SSPMS ground, Aspire F.C and City Girls Go Sports fought a stiff battle before ending up sharing a point each after a 1-1 result in Pool-A. Both goals were scored in the second half, with Vedangi Gandle (39th) giving City Girls Go Sports the lead, before Vaishnavi Barate's long ranger slipped past the rival's goalkeeper who erred in collection.
Deccan XI and Saswad were big winners of the women's league. In Pool-B: Deccan XI got past F.C Beckdinho 6-1 with Swamini Kakade (6th) and Ankita Kale (36th) netting in the first half for the winners. Later, Shreya Hanchate (46th); Sanika Deshpande (59th); Maitreyee Birajdar (60th); Kalyani Desale 60+2) completed the tally. For FC Beckdinho Aishwarya Jagtap (35th) pulled one back.
In Pool-A: Saswad F.C aided by a 4-goal effort by Akanksha Kakade (2nd, 5th, 7th, 14th) scored a 6-0 win over Keshav Madhav Prathistan (KMP). Akshata Jagtap (4th) and Prachi Khaire (12th) completed the tally.
In the Second Division League, National Youth F.A (NYFA) and NDA Youth Sports Club played out a high-scoring 10-goal encounter which NYFA won 7-3.
NYFA had Rahul Sikdar (14th, 54th), Dhananjay Ladkat (25th), Vaibhav Joshi (27th, 51st), Omkar Joshi (32nd), Hrishikesh Shewale (33rd) score, while Rakesh Salunke (18th), Harikrishna (48th), Hemant Rawat (54th) netted for the losers.
RESULTS
At SSPMS: Women's League
Pool-A: Aspire FC: 1 (Vaishnavi Barate 50th) drew with City Girls Go Sports: 1 (Vedangi Gandle 39th)
Pool-A: Diego Juniors: 3 (Leisha D'Costa 17th; Bhargavi Pawar 49th, 56th) bt Commandos: 0
Pool-B: Deccan XI: 6 (Swamini Kakade 6th; Ankita Kale 36th; Shreya Hancate 46th; Sanika Deshpande 59th; Maitreyee Birajdar 60th; Kalyani Desale 60+2) bt FC Beckdinho: 1 (Aishwarya Jagtap 35th)
Pool-A: Saswad FC: 6 (Akanksha Kakade 2nd, 5th, 7th, 14th; Akshata Jagtap 4th; Prachi Khaire 12th) bt KMP: 0
At SSPMS:Second Division
Pool-A : Valley Hunters: 2 (Omkar Nirse 5th, 55th) bt F.C Joseph: 1 (Ayan Khan 50th)
Pool- B: Rahul F.A: 5 (Anand Shende 15th; Ravi Yadav 22nd, 30+1; Shashank Tiwari 46th; Hitesh Lulla 56th) bt PCH Lions: 2 (Mendros Franics 28th; MD. Shariff 48th)
Pool- B: Bopodi S.A: 2 (Ronnie Rozario 10th; Harshal 31st) bt Greenbox Chetak 'B': 1 (Rishikesh Khilari 59th)
Pool-B : NYFA: 7 (Rahul Sikdar 14th, 54th; Dhananjay Ladkat 25th; Vaibhav Joshi 27th, 51st; Omkar Joshi 32nd; Hrishikesh Shewale 33rd) bt NDA Youth Sports Club: 3 (Rakesh Salunke 18th; Harikrishna 48th; Hemant Rawat 54th)
At SP College: Third Division:
Pool-D: Legends F.A: 4 (Pintu Das 10th; Akash Sanke 19th, 29th; Rohit Prasad 29th) bt Bhor F.C: 1 (Ranjeet Bhelke 7th)
Pool-D: Poona Social Sports Club: 1 (Sanjay Thapa 48th) bt Daksha F.A: 0
Pool-E: Junnar Taluka: 2 (Sourabh Patil 30th; Amol Dharmare 36th) bt Giantz 'B': 1 (Adnan Shaikh 57th)
Pool-E: Saswad FC: 0 drew with Noisy Boys: 0