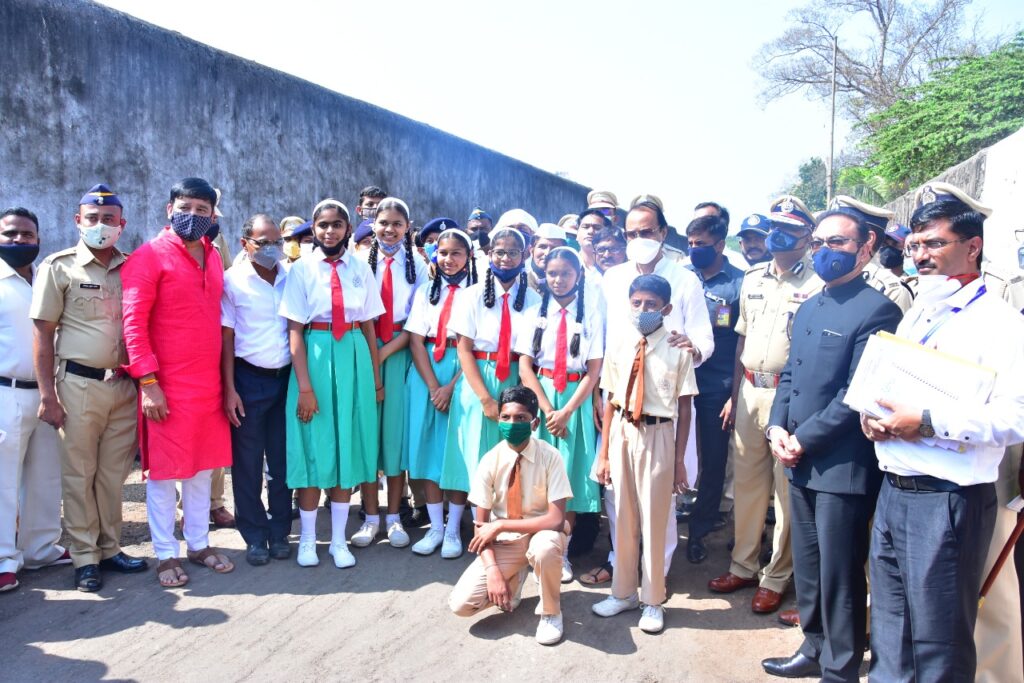 Pune, January 26, 2021: Chief Minister Uddhav Thackeray said that prisoners in jails can be considered as manpower. Some of them deviate from the path of life and land here. We should bring them on the right track. He also hoped that Yerawada Jail would become a cultural centre for responsible citizens.
An innovative concept of 'prison tourism' is being implemented in the state. The initiative was launched today on the auspicious occasion of Republic Day from the 150-year-old Yerwada Central Jail.
CM Thackeray was speaking through a videoconferencing system, while Home Minister Anil Deshmukh from Gondia had also joined through videoconferencing.
Deputy Chief Minister and Guardian Minister of Pune District Ajit Pawar, MLA Sunil Tingre, Commissioner of Police Amitabh Gupta, District Collector Dr Rajesh Deshmukh, Additional Director General of Police Sunil Ramanand, Deputy Inspector General of Prisons Yogesh Desai were also present at Yerwada jail.
Chief Minister Thackeray said, "We used to have a 'Fill Jail' (Jail Bharo) movement in the past. People used to come prepared for the movement. The police wanted to arrest them and then release them later. But now a new type of 'prison trip' will come. I would call it 'Jail Firo'. Now, this is a new type, people will say that we went to Mahabaleshwar, Lonavla and the jail. But going to jail doesn't mean you'll have to commit a crime. We have shown a new way of tourism called 'Jail Yatra'."
On this occasion, the Chief Minister recalled about the days of Shiv Sena founder late Balasaheb Thackeray in Yerwada jail. He also quoted an excerpt from his book 'Gajaadche Diwas'. The Chief Minister said that he used to come to Yerwada to meet the Shiv Sena founder. "He used to send letters at that time, but the Shiv Sena chief never used language that disappointed us in the letter", CM Thackeray recalled about his father.
The late Shiv Sena founder has given detailed information about what happened each day in the book 'Gajaadche Divas ..'
The Chief Minister also mentioned the imprisonment of the revolutionary Chapekar brothers, Kala Pani punishment of Swatantryaveer Savarkar in the Andamans and the torture he suffered. He also proudly mentioned that it was due to the sacrifices of these heroic revolutionaries that we were able to achieve the goal of independence and republic.
The Chief Minister said that behind the walls of these cells, which we call prisons, people who were throwing sparks of the revolution were kept. The British may think that by throwing them in such a dark cell, their morale will be broken. But that did not happen.
He also said that these cells would have to be visited to make people aware that they got this freedom because of the hardships faced by some revolutionaries. The walls of these rooms will start talking about what happened. In that sense, the experiment is innovative.
Chief Minister Thackeray congratulated the Home Minister, Home Department, police personnel and wished them all the best for this unique experiment of jail tourism.
Deputy Chief Minister Ajit Pawar also lauded the innovative initiative. He read out a letter written by Shiv Sena chief Balasaheb Thackeray to Meenatai Thackeray from Yerwada Jail, praising the efforts made by various initiatives to change the mindset of the inmates. He said that prisons have a special significance in the history of India's independence. The jail housed Mahatma Gandhi, Sardar Vallabhbhai Patel, Pandit Jawaharlal Nehru, Sarojini Naidu and other leaders of the freedom struggle. Given the historical significance of these prisons, 'prison tourism' is a different concept.
Home Minister Anil Deshmukh said that many great freedom fighters were lodged in Yerwada Jail. The important 'Poona Pact' between Mahatma Gandhi and Dr Babasaheb Ambedkar was signed under the mango tree in Yerwada Jail. Apart from this, the Chapekar brothers of the freedom struggle were martyred for the country in this place. In order to make the public understand this history, prison tourism has been started from Yerwada Jail in the first phase. In the second phase, the concept will be implemented in Nashik, Thane, Ratnagiri and other prisons of historical importance. He expressed the belief that school as well as college students, history students and citizens will experience the moments of their history through this prison tour.
Deputy Chief Minister Ajit Pawar inspected Gandhi Yard, Tilak Yard and Fashi Yard in the jail premises.
Additional Director General of Police Sunil Ramanand informed about the various activities being implemented in the jail. Prison Superintendent UT Pawar, Superintendent Engineer Atul Chavan, Tehsildar Tripti Patil and prison officials were also present on the occasion.
Follow Punekar News: