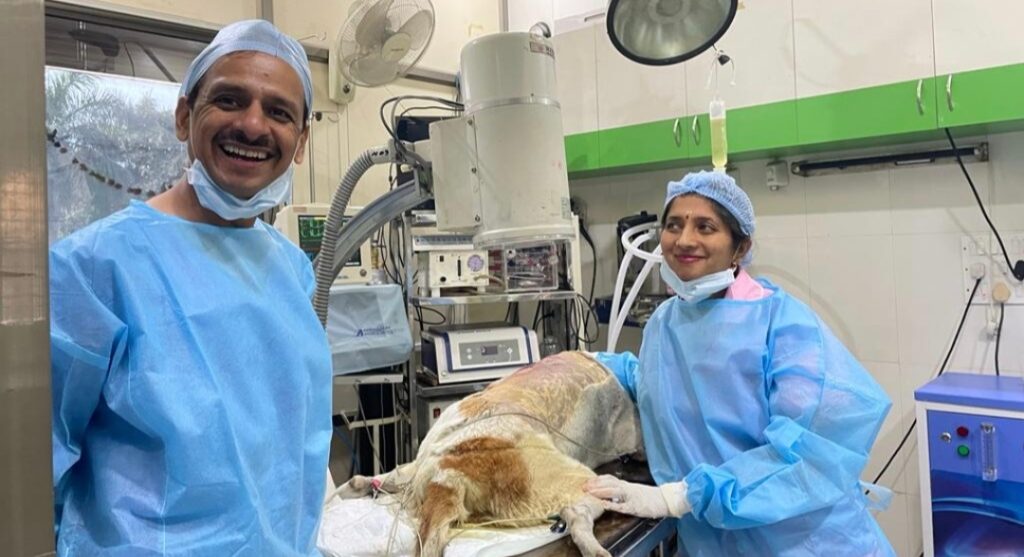 Pune, 6th May 2022: A team headed by Dr Narendra Pardeshi, India's leading Vet Surgeon from Pune Small Animal Clinic successfully gave a fresh lease of life to a Pune-based 7-year-old female dog that met with a road accident and got paralyzed below the waist. The dog that wasn't able to walk without support successfully underwent spinal cord stabilization surgery and physiotherapy via crowdfunding. The stray dog responded well to the treatment and started walking like before.
Simran, a stray met with a ghastly road accident after a vehicle dashed into her at Aundh, Pune. Amar Talreja who runs his own construction business and usually hangs out with his friends at a nearby café where Simran was fed, saw her in an injured state, conscious but couldn't move due to paralysis of both the hind legs. "I have been going to the cafe with my friends for the last 9 years. Simran is a cheerful dog and loved by everyone. Most of the people coming to the café would feed her. I was in immense pain after seeing her plight. Many suggested putting down the pet as they didn't see any hope of her surviving and walking again. ," said Talreja.
However, Talreja was determined to save the dog's life and approached Dr Narendra Pardeshi who helped the dog to stand on her feet again.
Dr Narendra Pardeshi, India's leading Vet Surgeon from Small Animal Clinic, Pune said, "Talreja visited us for a second opinion on whether the dog can be saved. We assured him that we certainly can try to help the dog get back on track. On arrival her 3 X-rays, CT scan, and blood test were done as she was seriously injured and was unable to stand or walk. It was confirmed that the dog had a contusion at the lumbar vertebrae that led to paralysis. We needed to stabilize the spinal cord to regenerate the spinal nerves. This will aid the dog in walking. Spinal cord surgeries in dogs and cats are very rare. But, we wanted to save her so we performed it without giving a second thought."
Dr Pardeshi added, "In the spinal cord, stabilization surgery was scheduled. Due to the contusion on the wound, the spinal cord gets damaged. So, that part of the spinal cord is aligned by reducing the pressure on the spinal nerve. The paralysis in the hind leg gets reduced and the prognosis of spinal injury improves. The procedure lasted for around 3 hours and was uneventful. She was discharged on the same day. For about a month she was with plaster around the trunk and was made sure that she doesn't move as the spinal cord wires are thin. If the dog stands then there can be pressure and her condition will be the same as before the procedure. The plaster was there around for a month depending on her healing along with injections, saline, and catheterization so that urine and motions are away from the body so that there is no swelling of the wound. After taking physiotherapy for the one-and-half months, the dog is able to walk now."
"I was appalled to see Simran who was hit by the car and struggling to move. I thank Dr Pardeshi and his team for giving her a new lease of life. Dr Pardeshi didn't charge any consultation fees from us. He attended the dog even at night when required and charged only for instruments used for the surgery. He didn't charge us any extra amount at all. I would also like to appreciate each and everyone coming to the café who participated by contributing whatever they can to raise money for Simran's treatment. I am glad that Simran is back at the café and has started walking. She is much better now, and we are relieved now that our efforts have paid off. She can pee and poo by herself," concluded a good Samaritan Amar Talreja.