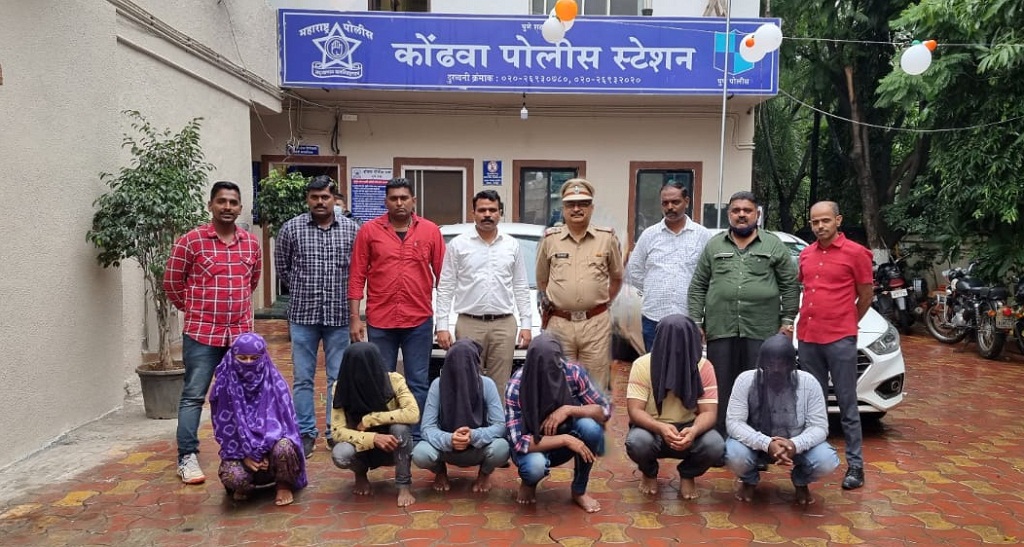 Mubarak Ansari
Kondhwa, 16th August 2021: The officials from Kondhwa police station under Pune city police have arrested a gang who looted people through honeytraps by luring them on social media.
The arrested persons have been identified as labourer Ravindra Bhagwan Badar (26) of Bhigwan, Sachin Vasudev Bhatulkar and Rohini Vasudev Bhatulkar (19), both natives of Akola district who resided in Yewalewadi, farmer Anna Rajendra Salunke of Bhat Nimgaon in Indapur, farmer Amol Sahebrao Dhawale (32) of Solapur district who lived here in Baner, driver Manthan Shivaji Pawar (24) of Indapur.
According to police, the complainant is a builder who resides in New Panvel. A few days ago, he got acquainted with a girl on Instagram who had created a profile in the name of Pragati. They started chatting on Instagram and WhatsApp. Later, she called him to meet at a flat in Yewalewadi. There, she allegedly forced him to have physical relations with her. As he was preparing to leave, she called her accomplices who beat him. They demanded Rs 50 lakh from him else threatened to file a rape case against him. The complainant agreed to pay them Rs five lakh.
The accused forcibly took Rs 50,000 cash from him and made him withdraw Rs 30,000 from ATM. A total of Rs 80,000 was taken from him. They also made him write that he would marry the woman.
Later, the accused used to often call the complainant and demand the remaining amount out of Rs five lakh he had assured to give. Fed up with the calls, he lodged a complaint with the Kondhwa police station.
While investigating the case, Police Naik Ganesh Chinchkar had received information that one of the accused, Badar, was near Garwa Hotel in Bopdev Ghat. Accordingly, a team comprising Police Sub Inspector (PSI) Prabhakar Kapure and policemen Yogesh Kumbhar, Mahesh Rathod and Abhijit Ratnaparkhi arrested the accused under the guidance of senior police inspector Sardar Patil.
Later, other accused persons were also caught. Kondhwa Police have appealed to people to approach them if the gang has extorted money from them.
Join our WhatsApp Group, Telegram, and Twitter for every update about Pune and PCMC