Pune: Bullet Train To Pass From Six Talukas Of Pune District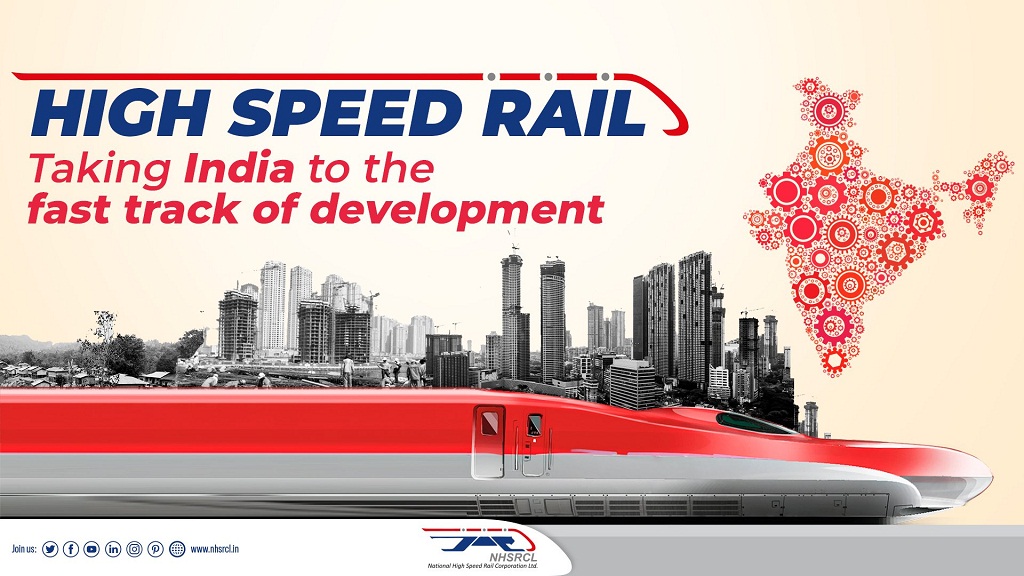 Mrunal Jadhav
Pune, July 22, 2021: Mumbai-Pune-Hyderabad High-Speed Railway (Bullet Train), an ambitious project of the Central Government, will pass through 90 villages in seven talukas of the Pune district. Survey has started from Indapur and Baramati talukas.
For this bullet train, the land will be acquired from Mumbai to Hyderabad in a length of about 650 km with a width of 17.5 m and 11 stations are proposed. The bullet train project will benefit the states of Maharashtra, Karnataka and Telangana. The bullet train will pass through 90 villages in Maval, Khed, Haveli, Purandar, Daund, Baramati and Indapur talukas of Pune district. The bullet train will start from Kurwande-Lonavala in Pune district and Chakati is the last village in Indapur taluka. The train will enter Solapur district after Chakati.
Currently, a survey of bullet train routes is underway in Baramati and Indapur talukas, and farmers in Indapur taluka have started opposing the proposed bullet train project. This includes many farmers, including Prithviraj Jachak, the former president of the Sugar Association. The land survey of farmers affected by the Bullet Train project is underway. Work is underway to get information about the area from which the bullet train will pass, and the horticulture and agricultural areas are being classified. Also, there will be a survey of project affected families. Work is also underway to know the expectations of the project victims. What effect can a bullet train have on the environment? Also, a survey is underway on what will be its social impact? The company has been directed to complete the survey in the next two months.
A Survey of project affected families will be conducted accordingly
– How many houses will go on the track of the bullet train?
– What is the current financial situation of the families?
– What are the current means of livelihood?
– How many members are there in the family and what work do they do?
– How will the bullet train project affect the families?
Bullet train passes from these villages of the taluka
Maval- Kurwande, Lonavla, Kusgaon Budruk, Dongargaon, Aundhe Khurd, Aundholi, Devale, Bhaje, Malwali, Patan, Karla, Shilatne, Boraj, Takve Khurd, Mundhavare, Valak, Vadivale, Nane, Khadkala, Naigaon, Kanhe, Jambhul , Ambi, Varale, Nanoli by Chakan, Indori, Sudwadi, Sudumbare.
Khed- Khalumbre, Nighoje, Kuruli, Moi, Chimbali, Alandi, Charholi, Dhanore.
Haveli- Moshi, Dhulgaon, Charholi Budruk, Chikhli, Nirgudi, Wadgaon Shinde, Lohgaon, Wagholi, Manjari Khurd, Manjari Budruk, Shewalwadi, Fursungi, Kadam Wak Wasti, Loni Kalbhor, Ramoshiwadi, Alandi Mhatobachi, Tarde, Valati, Shindwane.
Purandar- Waghapur, Ambale, Tekwadi, Malshiras, Rajuri, Pise.
Daund- Khor, Padvi
Baramati- Wadhane, Kharadewadi, Undwadi Katphal, Saval, Katewadi. Dandwadi, Naroli, Kololi, Supe, Sablewadi, Jaradwadi, Karkhel, Gadikhel,
Indapur- Lakdi , Nimbodi, Sansar, Jachakvasti, Belwadi, Thoratwadi, Kardanwadi, Paritwadi, Kalamb, Nimsakhar, Khorochi, Boratwadi, Chakati.
Also Read Pune District Received Five Percent Excess Rainfall Till Now
Join our WhatsApp Group, Telegram, and Twitter for every update about Pune and PCMC