Pune Cantonment: 22 new COVID cases reported today, Check area wise report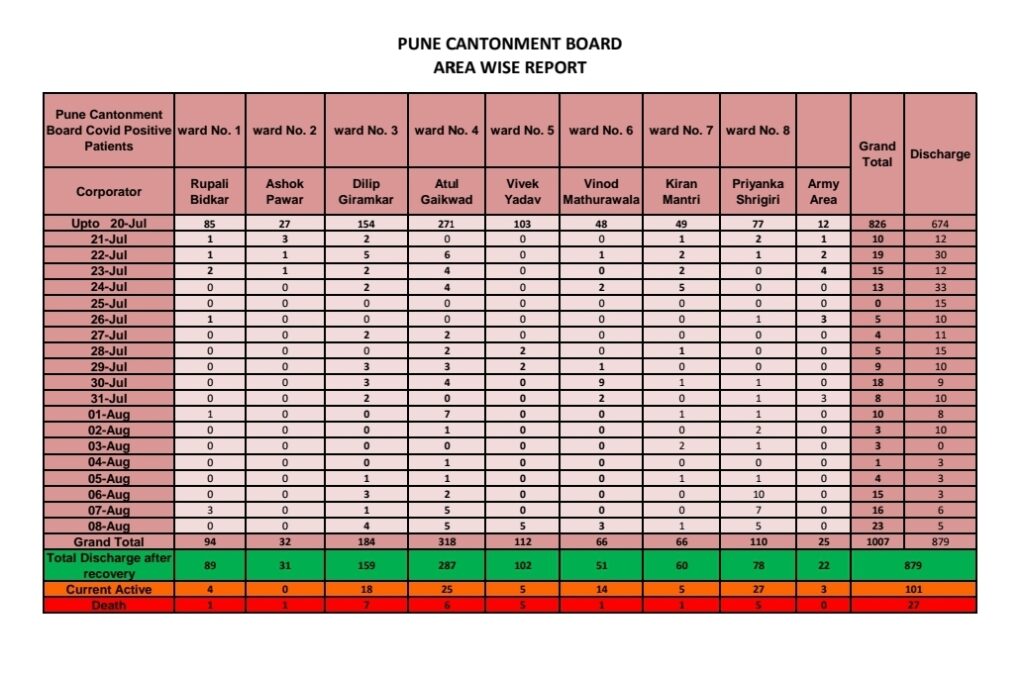 Pune, August 8, 2020: With 22 new Coronavirus Disease (COVID-19) cases today, the total tally of positive patients reached 1007 in the Pune Cantonment Board (PCB) area. Out of 1007, a total of 879 people have been cured while 27 have died.
According to PCB, there are still 101 active patients undergoing treatment, and 25 of them are from ward no. 4 and 27 from ward no. 8, while others are from the remaining five wards. 25 cases have been reported from the Army Area out of which 22 have recovered and 3 patients are still admitted in the hospital . Ward no. 2  have zero active cases in the Pune Cantonment area.
Across Maharashtra, 3,38,262 patients have been cured while the Case fatality rate in the state is 3.45%. As of today, there are 1,47,048 active cases in the state. The recovery rate in the state is 67.26% while the fatality rate in the state is 3.45%. Currently, 9,89,612 people are in home quarantine and 35,625 people are in institutional quarantine. Out of 26,47,020 laboratory samples, 5,03,084 have been tested positive (19%) for COVID-19 until today.
According to the Union Health Ministry, the number of Coronavirus positive patients has reached 2,088,611 across the country. Out of this, 1,427,005 have been cured and discharged from hospitals while 42,518 people have died and one patient has migrated out of the country. There are still 619,088 active patients undergoing treatment in hospitals across the country.
Follow Punekar News: