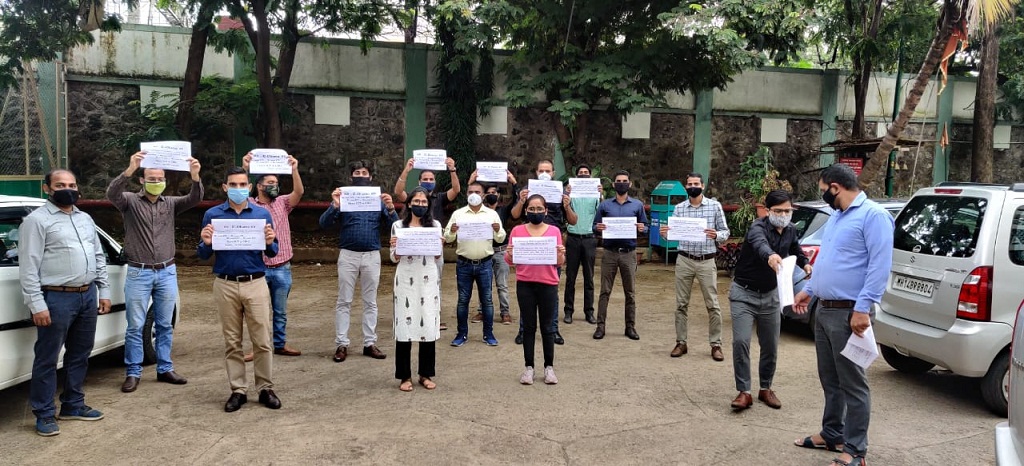 Mehab Qureshi
Pune, September 5, 2020: The officers of Central Goods and Services Tax (CGST) raised their voices by performing an e-dharna on Thursday(August 27) opposing the Central Board of Indirect Taxes and Customs (CBIC) decision of stopping interstate transfers. While many of the officers hail from northern states of India, 'they are homesick and under mental breakdown in the wake of the Coronavirus disease (COVID19) pandemic'.
What's the actual matter?
In 2016, CBIC removed an 'absorption clause' from the recruitment rules, thereby freezing the Intercommisonerate Transfers (ICT) suddenly from one state to another. No specific reason was given by CBIC for stopping ICT. However two years ago in a meeting with the All India Central Exercise Inspectors' Association (AICEIA), the board informed that few members claim seniority after getting their transfers, therefore ICT is banned, said Sushant Tyagi, vice president of AICEIA's west zone.
Meanwhile, an e-dharna was observed at GST Bhavan, Pune, on August 27. At least 40 members wore black ribbons and masks as a sign of disapproval of the CBIC's decision."Physical distancing and all other safety measures were taken. We recorded a good number of videos stating our problems and all those videos have been submitted to CBIC", informed Tyagi.
Why do officers want transfers?
"There is no humanity left in our department. One of our officers is married for more than six years but he only gets a month in a year to visit his family. This is the situation that our officers are going through. Many officers work under the pretext that maybe after a few years they would be eligible for transfer, but now all the hope has abated", said, Sumit Kumar, president of Pune's AICEIA.
He added, "Whenever we talk about transfer, CBIC officers tell us to leave the job, file a divorce and so on. We are tired and fed u. There is no ray of hope anymore, and some officers have resigned because they couldn't live distant from their loved ones."
"My father passed away last year due to liver cancer. Because of the ban on ICT, I wasn't even able to take care of my father in his last days. All my siblings are public servants. All I have left is my mother, and I want to spend my time with her", said an inspector demanding reinstating of ICT.
Another officer added, "A married couple working in different cities but of the same CGST department aren't given transfers, despite having children. This is exceptionally inhumane."
Despite our several letters and application, there is no response from CBIC. "We have also proposed a flowchart explaining and promising that 'no seniority' would be claimed by any of the members of our department. Nevertheless, we demand to reinstate ICTs because this has now started taking a toll on our mental health resulting in less efficiency. If we are treated fairly, and our demands are met, we can work better", summed AICEIA Pune president.