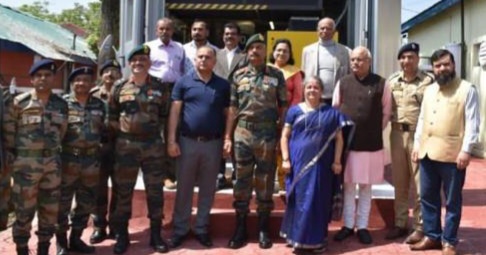 Pune, 3rd May 2022: After setting up the first oxygen generating project in 2019 for the soldiers working on hostile battlefields like Siachen through public participation, in just three years the second project has been dedicated to the Army by the Pune couple. The project was recently inaugurated at Kupwada in Jammu and Kashmir. The project, which produces 224 liters of oxygen per minute, will benefit more than 60 thousand soldiers and locals every year.
The oxygen project was set up by Soldiers Independent Rehabilitation (SIRFF) of Yogesh Chithade, who had served in the Air Force for some time, and his wife Sumedha Chithade, a retired teacher.
Director-General of Military Medical Services Air Marshal D. P. Joshi (Retd.), Col. Rajendra Jadhav (Retd.) Of Maharashtra Soldiers Welfare Department, Col. Bipin Shinde, Col. Joglekar, SIRF Trustee Chandrasekhar Borole, Shobha Borole, etc. were present on the occasion.
Giving insights on the project, Yogesh said, "In 2015, we felicitated the three living Paramvir Chakra winners in Pune with the sentiment that they should be good role models for the common man and students. This time, the experience of Captain Banasinghe, the hero of Siachen, inspired us to set up an oxygen production project for the soldiers working in adverse conditions at the border. In 2017, we just came up with a project."
"After that, focusing on this oxygen project, we gave lectures across the state and appealed to the citizens for help. Veterans, retired army officers, housewives, retirees, and ordinary citizens all contributed in their own way. The first oxygen project worth Rs 2.5 crore was inaugurated on October 4, 2019, in Siachen. It is being used by 30 thousand to 35 thousand soldiers, locals, and tourists," he added further.
After this, efforts were started to set up an oxygen generating plant at Kupwada in Jammu and Kashmir. Sumedha informed that lockdown and Corona caused some problems while raising funds. "However, we raised funds by reaching out to more and more citizens through webinars and online meetings," she added further.
The head of the Army's Chinar Corps, Lt. Gen. D. P. Pandey inaugurated the second Oxygen Generation Project at Kupwada built at a cost of Rs 3 crores on April 15, 2022. At this time Rajya Sabha MP Dr. Vinay Sahastrabuddhe, Vajr Division Chief Major General Abhijit Pendharkar, etc. were present for the inauguration.
Meghna Vinayak Kale from Mumbai has gifted a generator set in memory of Vinayak Kale for this second oxygen plant. The government provides various facilities for the armed forces. "However, the support of individuals like the Chithde couple is our real strength," said the retired military officers present.
"Forgetting their home, caste, religion, creed, our jawans are deployed at the border. The government is trying its best for them. However, we feel that we as citizens should do something for them. We made the same appeal to the people. And we got a huge response. We are grateful to everyone who contributed to this project," said Chithade.
From now on, the Chithade couple is aiming to set up souvenir shops for the wives of martyred army men, lone retired officers, old age homes for soldiers as well as solar plants for military hospitals.
Also Read Pune Police Issue Notices To 800 MNS Workers In Pune
Also Read Pune Couple Dedicates An Oxygen Plant To The Indian Army Serving In Siachen
Also Read Cricket: This Year's Women's T20 Challenge To Be Held In Pune
Also Read Pune: Second Wife and Lover Arrested, Two Years After Pune Man's Body Was Found
Also Read Maharashtra: MHT-CET Revised Time Table Issued, Check Dates
Also Read A Shopkeeper from Pune Passes Diploma with Distinction After 11 Years Gap, With The Help From Engineer Wife