Pune: COVID-19 patient's close brush with death at Sassoon General Hospital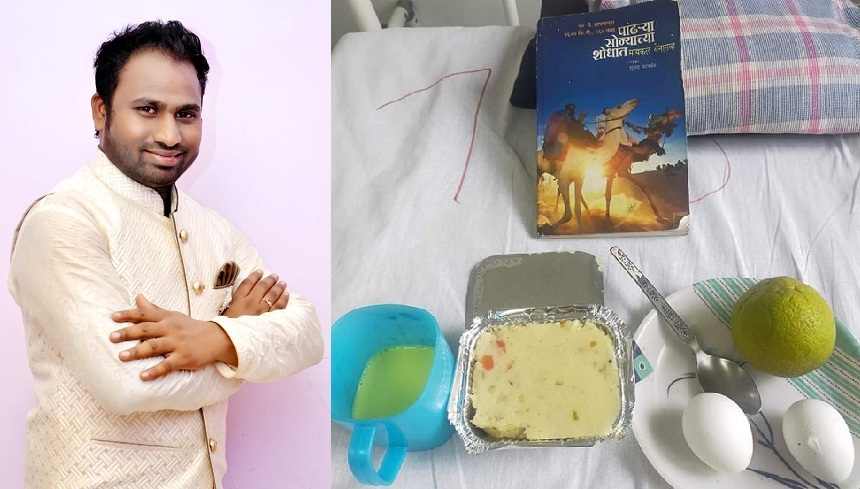 Manasi Saraf Joshi
Pune, June 20, 2020: "Twice I had experienced death in the last 12 days. But I am grateful to the doctors, nurses, sisters and brothers at Sassoon General Hospital (SGH) for giving me this life", said social worker Manoj Shetty (33). He has been admitted at SGH since June 8, 2020, being a COVID-19 positive patient.
After 12 days of rigorous treatment and the utmost care, Shetty is all set to be discharged from the hospital in the next couple of days, but not without thanking enough the doctors and staff here. He runs a mobile repairing shop at Sadashiv Peth and is the resident of Yerwada. He got drenched in rain on June 1 when Nisarg cyclone hit the state and caught pneumonia. Despite taking treatment at the family doctor for five days his temperature refused to die down. Then, he was admitted at SGH.
Sassoon the best hospital: "I was admitted at Sassoon hospital and like many others, I had my doubts owing to the negativity surrounded the hospital", Manoj said adding but I was pleasantly surprised with the treatment, health and hygiene I was provided here.
After the admission in the hospital within half an hour, lots of tests were conducted including BP, diabetes, COVID-19 and others. I was tested positive for COVID-19 as well as here I came to know that I had diabetes too and my sugar levels were as high as 400. The timely and accurate treatment helped me recover from this disease", Manoj informed.
Treatment regime: "Twice I went blank during the treatment and I was given oxygen too, but unceasing and untiring efforts of the doctors, nurses and other staff members helped me not only recover physically but mentally too", he mentioned.
"In these 12 days I had been given some 65 saline bottles and the staff ensured that I am not at discomfort at any moment", he explained adding that the care and affection I got here I swear many would not get even at home.
Being a diabetes patient, every two hours I was given something to eat, the food was of high quality. Every patient in this ward was given food according to his/her health condition", he added. The toilets are clean. Every morning we get new masks to use.
Positive attitude makes the difference: Similarly, from last couple of days the staff is engaging the patients into exercise for body and mind and a common prayer", he said. "The breakfast is full of proteins with two eggs, milk and fruit along with Upma or Poha, then the lunch would consist of roti, rice, dal, salad and a vegetable. Again for evening snacks, there would be some health munching and for dinner again, roti, sabzi, rice and dal. Still, if someone felt hungry, s/he would be provided with milk, fruit or some light snack", he said.
Along with me, my family members which include my wife, 1.5-year-old daughter, elderly father and mother too had shown mild symptoms of CoVID, but they were quarantined at Balewadi centre and now they are at home since all of them recovered quickly", he informed.
PPE kits and staff: Manoj, however, has only one complaint that because of the PPE kits he hasn't been able to see the faces of the doctors and other staff members who gave him a new life. Since all the time, the doctors and others wear the PPE, I could not see their faces and thus, I don't know their faces", he said. Nevertheless, they are Gods to me", he said.
"The only message I want to give is to remove fear from your mind and you will be recovered from any disease", he signed off.