Pune Football: Strikers FC, CMS Falcons into last four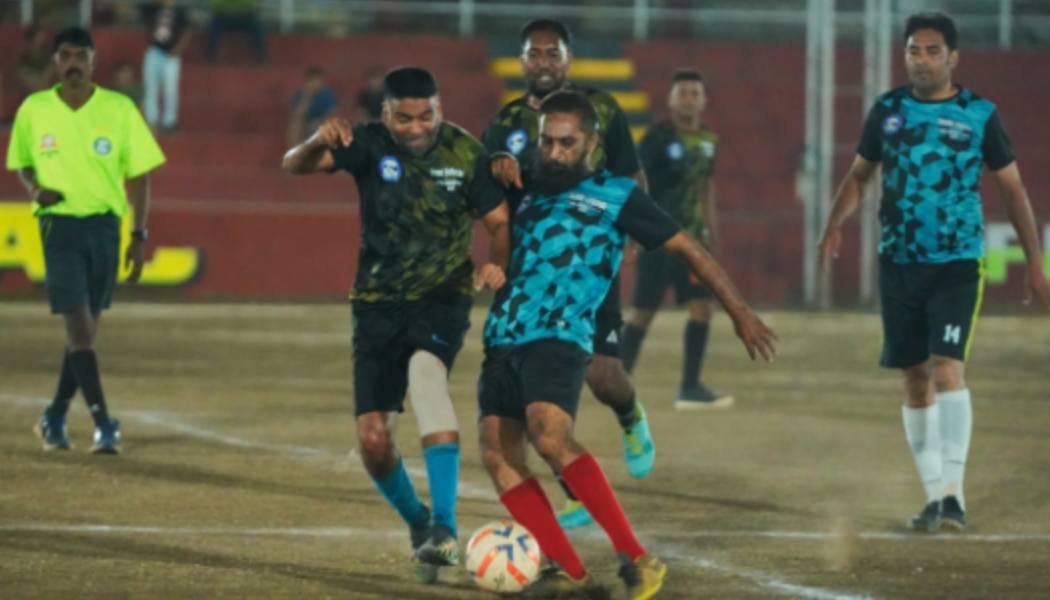 Nigdi, 26 May 2023 : Strikers FC prevailed 3-2 against Amar FC in a thrilling game to enter the semi-finals of the CMS Champions Cup 2023 11-a-side football tournament being held at the Madan Lal Dhingra stadium in Nigdi late on Thursday. Forward Subodh Lama gave Strikers FC a fast start as he scored twice in the opening six minutes but Amar FC pulled one goal just before half time through Varun Lad. That gave Amar FC the momentum to level the scores in the second half as Gaurav Swaminathan made it 2-2 five minutes into the restart. But Strikers FC had the final say as substitute Amit Rawat headed in the winning goal 10 minutes from the end.
It was a double treat for CMS Falcons as their 'A' team and 'B' team both progressed to the semifinals with wins over GX Warriors and Swaraj FC respectively.
Results (Quarter-finals):
CMS Falcons B 1 (Anand Vinod 56′) beat Swaraj FC 0;
Strikers FC 3 (Subodh Lama 4′, 6′, Amit Rawat 50′) beat Amar FC 2 (Varun Lad 30′, Gaurav Swaminathan 35′);
CMS Falcons A 0 drew with GX Warriors 0; CMS Falcons A advance 4-3 via penalty shootout.
CMS Falcons A: Anup Nair scored, Sahil Bhokare missed, Manish Thakre scored, Ashley Das missed, Kevin Ghadge scored, Joel Lalremruata scored.
GX Warriors: Jabir scored, Denzil Travis scored, Sahil Rokade missed, Swapnil Shinde scored, Vivek Nath missed, Fahed Khan missed.
40+ Age Category: Pune Veterans 2 (Michael D'Cruz 16′, Srinivasan Pillai 18′) beat Khadki Masters 0.