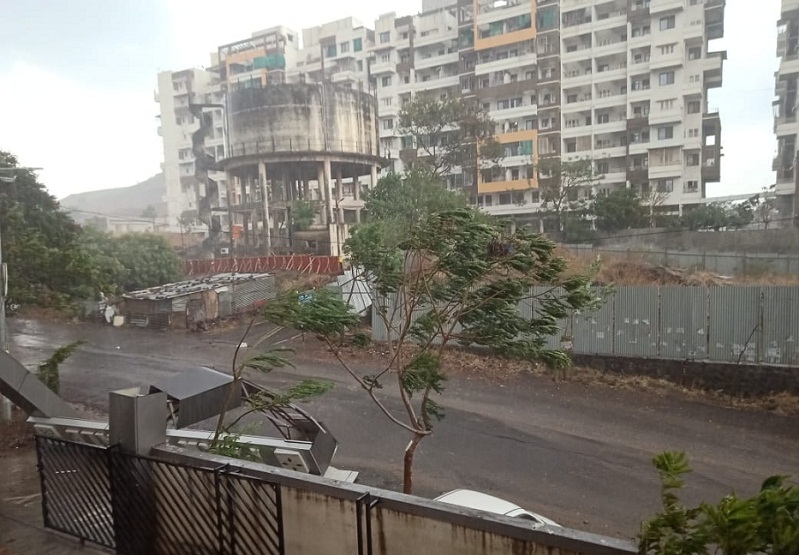 Mehab Qureshi
Pune, October 13, 2020: The city and suburbs are likely to receive heavy rain with thunderstorms till Saturday, October 17, stated a circular issued by the Pune district disaster management authority on the advice of the Indian Meteorological Department (IMD).
The disaster management authority has warned people of the potential danger and has issued safety measures for the citizens and guidelines for the government officials. Pune district disaster management authority CEO Dr Jayshree Katare issued the order today.
Instructions to people:
Citizens should not stand under trees, do not take any calls and stay away from electric devices if lightning strikes while it is raining. 
Avoid getting out of the house unless you need to. If you are out of the house or in an unsafe place, take shelter in a safe place till the rain stops. In such cases, take shelter in a home or under the building.  
When it is raining heavily, no one is allowed to go near any water bodies.
For help in case of any kind of emergency due to torrential rains, call the toll free disaster management number 020 26123371/1077 in the district. 
Don't believe any rumours and don't spread rumours. An official source should confirm any such news. Citizens should not take selfies in floodwaters.  
DAMINI Lightning Alert -This app gives information about the advance lightning in your area. It also provides information on measures to protect against lightning strikes.  
Instructions issued to authorities by the IMD
To avoid loss of life and financial loss, search and rescue squads, rescue materials, etc. should be kept ready. 
Care should be taken not to disrupt road traffic due to falling trees with the onset of storms.  
All district and lower-level officers should keep an eye on the situation at their respective headquarters and take appropriate measures where necessary.  
Proper planning should be done so that search and rescue operations will be carried out immediately.  
Necessary precautions should be taken to prevent emergencies in old buildings and bridges.
Traffic should be diverted to a safe place or temporarily stopped at such sites. 
Ambulances, swimmers, health officials, JCB machines, should be ready to evacuate people stranded due to heavy rains.  
Necessary instructions should be given not to travel in the affected areas due to excessive coordination with proper coordination between ST, Railways, Public and Private Transport Services so that in case of emergencies, the response system and necessary equipment can be transported smoothly in the affected areas.
Follow and connect with us on WhatsApp Facebook Twitter Linkedin YouTube Instagram