Pune: Now Food, Rest Houses on Highways for Migrant Labourers Walking Home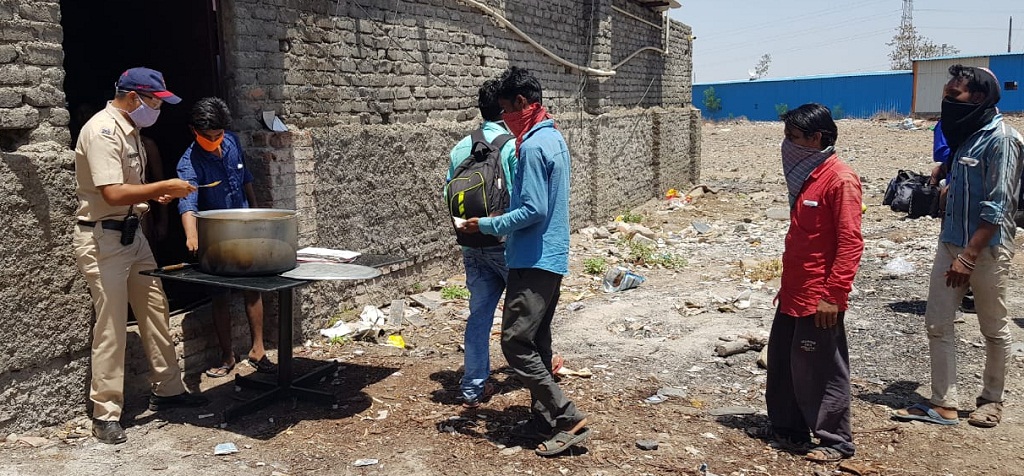 Pune, May 10, 2020: Against the backdrop of COVID-19, a large number of workers from other states and districts are migrating on foot via the National Highways passing through Pune district. Currently, it is summer season and while travelling on foot or by other means, they need to be provided with rest as well as snacks, meals, toilets and all ancillary facilities.
Considering all these factors, Pune District Collector Naval Kishor Ram has directed Tehsildars to arrange facilities for labourers on Pune-Bangalore highway, Pune-Solapur highway, Pune-Ahmednagar highway, Pune-Mumbai highway and Pune-Nashik highway in different parts of Pune district with the help of local Gram Panchayat by taking funds from the State Disaster Management Fund.
In various states of the country, migrant workers and other people are stuck due to lockdown following Coronavirus outbreak. Inter-district and inter-state movement of people has been allowed following certain guidelines. However, hundreds of workers from Pune as well as other districts are seen walking on the highways on their way to their homes.
Currently, it is summer and while travelling by foot or other means, people need rest, breakfast and lunch. On the Pune-Bangalore, Pune-Solapur, Pune-Nagar, Pune-Mumbai and Pune-Nashik highways in Pune district, the Tehsildar has been provided funds from the State Disaster Management Fund. Instructions for arranging facilities for labourers with the help of local Gram Panchayat has been given by District Collector Ram.
The facilities will be provided at regular intervals on the highways at Mangal Karyalaya, Dhaba or other public places. The Tehsildar should immediately approve the proposal sent by Gram Panchayat. As soon as the proposal is approved, the concerned Gram Panchayat should start the rest house as per the above instructions. The rest house should have tea, snacks, meals as well as toilet and rest facilities. Care should be taken to ensure that the workers are provided with handwashing facilities, sanitizers as well as social dusting etc. at the place of rest. District Collector Ram has also instructed that with the help of local police station, police security should be maintained at the place of this rest house.
The order further stated details of each labourer arriving at the rest house should be recorded in a separate register and the contact number, signature, address of the concerned labourer should be included in the register. Apart from this, instructions have been given to the concerned Gram Panchayat to submit daily reports of labour attendance at rest houses to the Tehsildars and block development officers. Sub-divisional officers, Tehsildars and block development officers must visit these rest houses from time to time and care should be taken to provide quality facilities to the workers.