Pune: PMC Declares Guidelines For International Passengers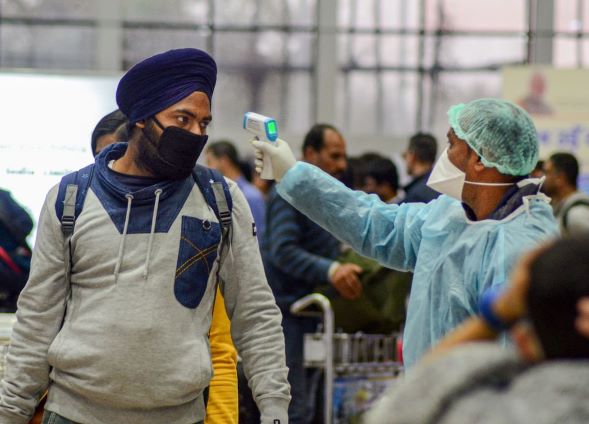 Mehab Qureshi
Pune, December 22, 2020: Considering the prevailing situation of Coronavirus (COVID-19) deadlier strain found in United Kingdom (UK), Pune Municipal Corporation (PMC) has decided to suspend all the flights originating from UK to India from 22 December 2020 till 31 December 2020.
In an order, PMC stated, "It has been reported that distinct phylogenetic cluster of SARS – CoV – 2 (named lineage B.1.1.7) has been detected. This SARS – CoV – 2 is spreading and growing rapidly in the United Kingdom (UK). In view of this, all the flights originating from the UK into India have been suspended temporarily."
PMC has also declared Standard Operating Procedures (SOP) for international passengers arriving at the Pune International Airport, Lohegaon.
1. All the passengers arriving from Middle East / European countries should be subjected to mandatory Institutional quarantine at their own cost in the nearby hotels for seven days.
2. If the passenger is found symptomatic on arrival, then he will be shifted directly to Naidu Hospital, Pune for future evaluation and treatment.
3. On arrival, no RT – PCR test will be conducted However RT – PCR test will be conducted during 5 to 7th day at the hotels at the cost of the quarantined passengers. If the report of the test is found negative, the passenger would be discharged from the institutional quarantine after 5 to 7 days with the advice of 7 days mandatory Home If the test result is found positive but the Passenger is asymptomatic then he will be continued in the same hotel in quarantine or in the COVID – 19 Hospital till 14 days.
 4. Arrangements to be made by PMPML to transport all the passengers coming from these countries to the hotels.
5. The passports of all the passengers will be deposited with the hotel and returned at the time of discharge from the hotel quarantine.
 6. The arrangement for the testing of these passengers to be made through linking of private laboratories to the quarantine hotels and the same will be charged to the passengers.
7.Revenue & PMC Joint Teams will monitor the operation and ensure the Implementation of all guidelines.
8. PPE Kits to be provided to Immigration Officers as well as everyone working on the airport by Pune International Airport Authority.
9. RTPCR is compulsory on the arrival of passengers from any other country. Test is mandatory at their own cost. Then they will go for 7 days Home Quarantine.
10. The passengers who traveled to the UK in last 15 days) must report to PMO helpdesk (02025506800/01/02/03)
These guidelines are applicable to all passengers arriving at Pune International Airport from Middle – East and European countries including transit passengers) irrespective of their further travel plans, till further orders.