Pune: Liver Transplant Survivor Excels With 96.52% In MHT CET Exams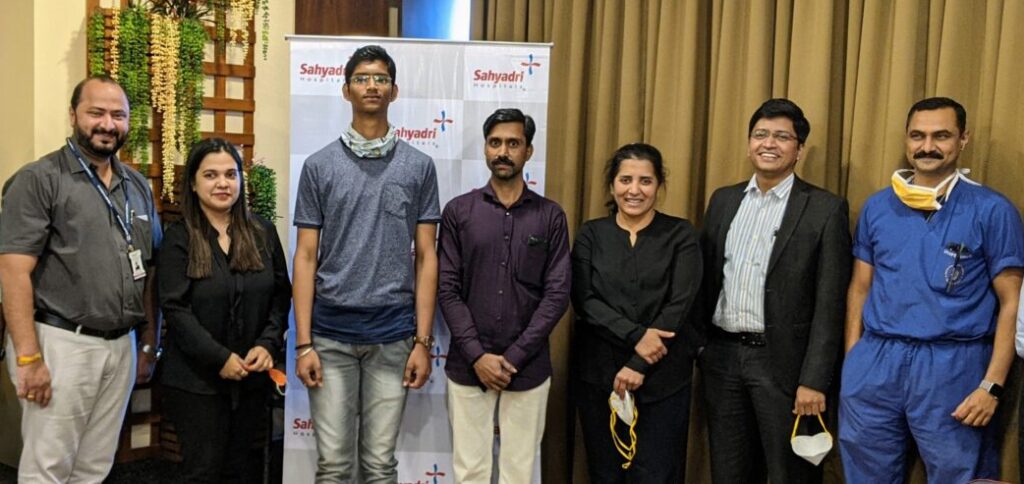 Pune 22 December 2020: Sahyadri Hospitals today felicitated 19-year-old Yash Gapelli from Ahmednagar for fighting all odds and excelling in MHT CET exams with 96.52%. Yash had undergone a critical liver transplant surgery in 2018 after being diagnosed with Wilson disease. Apparently at Sahyadri Super Specialty Hospital, Nagar Road, he became the first pediatric living donor liver transplant patient to undergo a living liver transplant.
Dr Bipin Vibhute, Hepatobiliary and Liver Transplant Surgeon Sahyadri Hospitals, said that we are extremely happy for Yash and his family for their sheer determination and positive attitude towards life despite all odds. In fact, the boy lives up to his name 'Yash'.
Having graduated from Class X with 91%, Yash looked to soar to the heights of success. It was about in 2017 when things started looking grim. With constant swelling in his hands and feet, episodes of nose bleeding, and burning sensation in his eyes – he was diagnosed with Wilson's disease.
Dr. Dinesh Zirpe, Liver Transplant & GI Surgeon, Sahyadri Hospital adds, "When Yash and his family came to visit us, his health was already deteriorating. Thankfully, the boy's aunt had a matching blood group and she was found fit for organ donation after a complete liver assessment. The transplantation surgery was conducted and lasted for 10 hours. Considering his young age and multisystem involvement, this was a high-risk procedure."
Considering the family's financial condition, the treatment was fully financed by Sahyadri Super Specialty Hospital, Nagar Road in association with the Chief Minister's Medical Assistance Fund, Tata Trust, Transplants-Help the Poor Foundation, Milap, PM Fund, Rotary International, Oswal Bandhu Samaj and The Pravin Agarwal Foundation.
Dr Vibute added that Yash was discharged within seven days of the transplant and we had celebrated the occasion with cake cutting along with his parents and hospital staff. We are delighted that Yash has given us another reason to celebrate and we are sure that there will be many more to come. Yash is a living example of how life can be after any transplant. With adequate care and a positive attitude, there is no limit to what one can do.
Dr Sunil Rao , Group Medical Director Sahyadri Hospitals said that "With a view to make pediatric tertiary healthcare easily accessible to all, Sahyadri Hospital had launched 'Mission Prerana' in association with Chief Minister's Medical Assistance Cell and Rotary International under the aegis of 'Mission Muskan'. Under this groundbreaking initiative, Sahyadri Super Speciality Hospital, Nagar Road, has been transformed into a dedicated Paediatric Tertiary Care Unit, which has been beneficial to many underprivileged children.
Dr Vibhute said it breaks our heart to see the pain that small kids suffering from severe diseases go through for no fault of theirs and the despair that the parents are in such situations. But then there are those like Yash who turn the tables on every problem and give us all hope and reason to smile. 'Mission Prerna' is certainly helping in that direction.
The transplant team then comprised of liver transplant expert Dr. Bipin Vibhute, Dr. Dinesh Zirpe, Dr. Manish Pathak, Dr Sheetal Mahajani, Dr.Snehawardhan Pande, Dr. Anirudh Bhosale, Dr. Manoj Raut, Dr Abhijeet Mane transplant coordinators Rahul Tambe, Arun Ashokan, and Aman Bele.
About Wilson Disease
Typically, Wilson disease is an inherited condition that causes the body to retain excess copper. The liver does not release copper into bile as it should. As the copper builds up in the liver, it begins to damage the organ. The liver then releases the copper directly into the bloodstream, which carries it throughout the body. The copper buildup leads to damage in the kidneys, brain, and eyes. If not treated, Wilson's disease can cause severe brain damage, liver failure, and death. Often an otherwise apparently normal child can suffer from life-threatening acute liver failure in this setting, warranting urgent liver transplantation