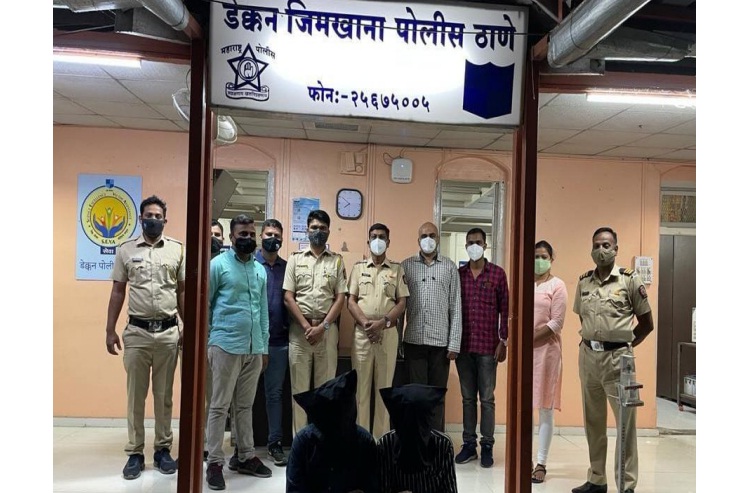 Mubarak Ansari

Pune, 17 April 2021: The officials from Deccan Gymkhana police station of Pune city police have arrested two persons for allegedly running a racket of providing fake RT-PCR reports for coronavirus (COVID-19). Police said that they have provided fake reports to many people.
Due to the COVID-19 pandemic, the government has made it mandatory to carry a negative RT-PCR report for going to work as well as for travelling to various destinations. Also, due to the surge in demand for these reports, the labs are taking around 4-5 days to give the results. Many people have had to cancel their flight tickets for not being able to get the test reports on time.
Pune: RT-PCR Covid Test Report Delayed For Days; Citizens, Administration Wonder How People Are Travelling? 
In the present case, an admin manager of GenePath Diagnostics on JM Road lodged a complaint, following which, an FIR has been registered against Sagar Ashok Hande (25), a native of Nanded district, who lived in Kothrud and Dayanand Bhimrao Kharate (21), a native of Osmanabad district, who lived in Warje Malwadi.
Pune: People Miss Flights As They Are Unable To Get Mandatory RT-PCR COVID Test Reports On-Time, Labs Say Overburdened With Demand
According to police, they had received information about fake COVID-19 RT-PCR reports being issued in the name of GenePath Diagnostics, JM Road, Shivajinagar. During the investigation, cops reached the accused who confessed to having prepared fake reports for several people.
Senior Police Inspector Murlidhar Karpe, in charge of Deccan Gymkhana police station, told Punekar News, "Both accused used to work as lab technicians with different labs. Later, they left their jobs and got engaged in preparing fake RT-PCR reports. During the preliminary investigation, we found out that the accused charged Rs 500-1000 for a report. Till now, we have learned about 20 such fake reports being issued under the names of different labs."
The accused persons were arrested on Saturday. They will be produced before a judicial magistrate court on Sunday.
Police have charged the accused of offences under Sections 419, 420, 465, 468, 469, 471, and 336 of the Indian Penal Code (IPC).
The action was taken under the guidance of Additional Commissioner of Police (West Region) Sanjay Shinde, DCP Shrinivas Ghadge, ACP (Vishrambaug Division) Malojirao Patil, Senior Police Inspector Muralidhar Karpe. The team included Assistant Police Inspector Babasaheb Zarekar, Police Sub Inspector Abhijit Kudale and police personnel Inamdar, Devdhe, Shinde, Patil and Panpatil.
Pune City Police has appealed to the citizens to get the COVID test report from an approved lab only to avoid being cheated.
Follow Punekar News: