Pune Police's hilarious 'Harry Potter' post on keeping cyber threats at bay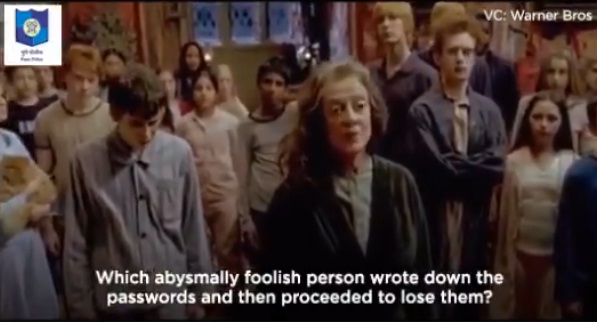 Shikha Chaurasia
Pune, 01 August 2020: Pune City Police is famous for using quotes, scenes and dialogues from films for spreading social awareness amongst citizens.
This time, they have used a scene from the famous Hollywood classic 'Harry Potter' and urged people to keep their passwords private and not share it with anyone to keep cyber threats at bay.
This clip was posted on July 31 which is also the birthday of Harry Potter. Netizens are saying that the person who posted this clip is a 'Potter head' which is a famous term for Harry Potter fans.
They shared the post on Twitter, it is a scene from Harry Potter and the Prisoner of Azkaban. In the video, Professor McGonagall can be seen getting angry and asking which student (Neville Longbottom) wrote all the passwords and then left the note lying around. She says, "Which abysmally foolish person wrote down the passwords and then proceeded to lose them?"
Since the video has been shared on Twitter it has gained 2,800 views and 52 likes. Some netizens have lauded this move and have thanked Pune Police was spreading awareness in such an entertaining matter.
One user tweeted, "Amazing-this handle is managed by a potter-head!"
Another user tweeted, "Don't let the Muggles get you down. @jk_rowling Happy Birthday JKR and Harry!!!"
The most magical way to keep cyber threat at bay – keep your passwords to yourself. Always.#CyberSafety #HarryPotter #HappyBirthdayHarry pic.twitter.com/dqQXIdKTpE

— PUNE POLICE (@PuneCityPolice) July 31, 2020