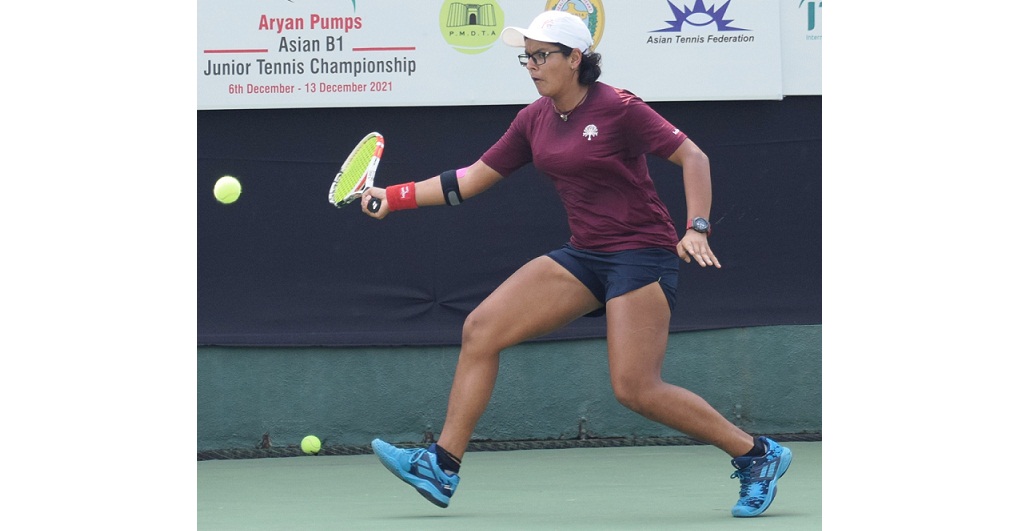 Pune, 10th December 2021: Indian players Saheb Singh Sodhi and third-seeded Shruti Ahlawat came out with blistering performances to enter the finals of the boys and the girls' section in the Aryan Pumps Asian Junior Tennis Championship organised by Deccan Gymkhana under the auspices of ITF, Maharashtra State Lawn Tennis Association and Pune Metropolitan District Tennis Association and played at the Deccan Gymkhana Tennis courts in Pune on Thursday.
In the boys' semifinals, Maharashtra player Sodhi overcame pain in the triceps and cramps to oust second-seeded Nishant Dabas 1-6, 6-3, 7-6(7-3) in an hour and 51-minute contest.
"In the first set my body was not supporting me that's why I could not play it well but then in the next set I decided I will not give up and then controlled the game from there onwards," said Sodhi who trains under Kedar Shah at Bounce Tennis Academy, Pune.
"When I was 4-3 up in the third set, I got the cramp and that's why my intensity got bit low and the match went into the tie-break, In tie-break for me it was turning out be very tiring as I had pain in my triceps and was also getting trouble from back spasm and cramps that's why I took a medical time out," added Sodhi who was also runner up of junior national tennis tournament, where he lost finals against Chirag Duhan in Chennai.
Sodhi will face fifth-seeded Max Batyutenko of Kazakhstan who defeated sixth-seeded Chirag Duhan 6-3, 6-4.
In the girls' event, Ahlawat who has already won five ITF titles this year will aim for another title as she ousted sixth-seeded Hayu Kinoshita of Japan6-4, 6-2 in an hour and 22 minutes. 
" From the first point I felt the game was in my control and my mindset was, I have to focus on my game and do whatever I can now. Credit to my coach Pundreek Chaturvedi for helping me out for the last two years."
"The opponent ( Kinoshita) 's game style was very unique, she hits the ball hard and also runs for every ball. She is an aggressive baseline player and served very well," said Ahlawat who trains at Elite Sports Academy in Delhi.
Ahlawat will now face the winner of last week's Under 18 Grade 3 tennis tournament Sara Saito of Japan who ousted top-seeded Yu-Yun Li of Taipei 6-3, 6-4.
The final will be played from 10 am onwards.
In the doubles, top seeds Tanapatt Nirundorn of Thailand and Woobin Shin of Korea defeated second-seeded Nishant Dabas and Chirag Duhan 2-6, 6-3 (10-4) to conquer the trophy.
In the girls' doubles contest, the Indian-Kazakhstan pair of, Sandugash Kenzhibayeva and Suhitha Maruri defeated the fourth-seeded pair from Kazakhstan Erkezhan Arystanbekova and Zhanel Rustemova 6-4, 2-6 (10-8).
The doubles winners got 300 points while the runner up got 210 points respectively. The prizes were given away at the hands of SB Patil Finance Director Aryan Pumps and Sunder Iyer, Hon Secretary of MSLTA. 
 Following are the Results: Boys Singles: Semifinal: Saheb Sodhi (Ind) bt Nishant Dabas (Ind) [2] 1-6, 6-3, 7-6(7-3); Max Batyutenko (Kaz) [5] bt Chirag Duhan (Ind) [6] 6-3, 6-4;
Girls Singles: Semifinal: Sara Saito (Jpn) [4] bt Yu-Yun Li (Tpe) [2] 6-3, 6-4; Shruti Ahlawat (Ind) [3] bt Hayu Kinoshita (Jpn) [6]6-4, 6-2;
Doubles Final: Boys: Tanapatt Nirundorn (Tha) /Woobin Shin (Kor) [1] bt Nishant Dabas (Ind) [2] /Chirag Duhan (Ind) 2-6, 6-3 (10-4)
Doubles Final: Girls:
Erkezhan Arystanbekova (Kaz) /Zhanel Rustemova (Kaz) [4] bt Sandugash Kenzhibayeva (Kaz) [3] /Suhitha Maruri (Ind) 1-6, 6-3, 7-6(7-3). 
Join Punekar News Whatsapp Group, Telegram, Instagram And Twitter For Regular Update about Pune City And Pimpri-Chinchwad
Advt
To Download PEO Privilege App on this link  https://t6kq7.app.goo.gl/zpka